Premium Series
Exceptional durability, energy efficiency, strength, quiet operation and appearance, inside and out.
Contact us about this product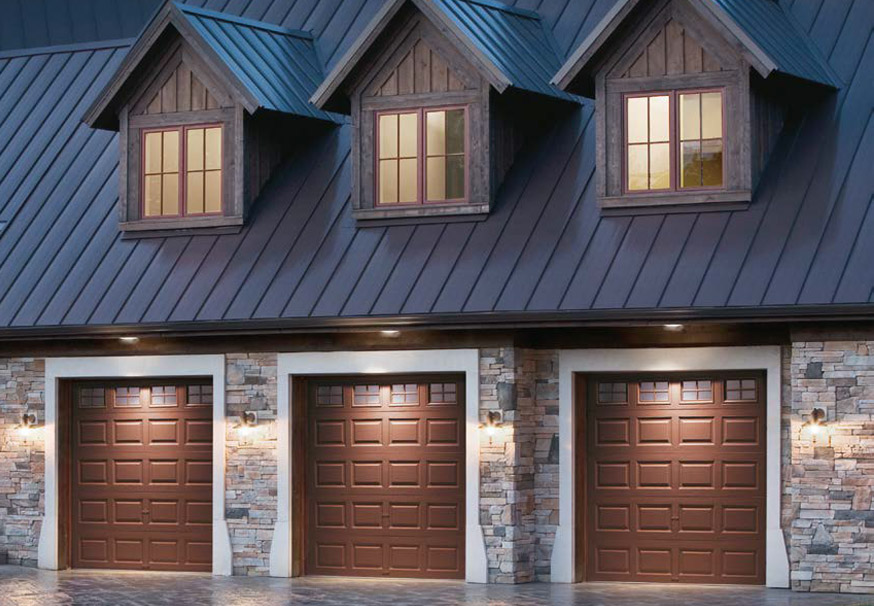 Choose a garage door that enhances your home.
Galvanized and pre-painted steel is bonded and molded to Intellicore® or polyurethane foam for exceptional durability, energy efficiency, strength, quiet operation and appearance, inside and out. 1-3/8" or 2" thick with a thermal break, depending on the model. Choose from a wide range of design options to create a garage door that fits your budget and enhances your home's curb appeal
Classic™ Collection
PREMIUM SERIES
Three-layer insulated sandwiched steel construction (steel + insulation + steel)
Two thickness options, 1 3/8" and 2"
Two insulation options: polystyrene or Intellicore®
R-Values range from 6.5 - 18.4
Three panel designs to choose from: Elegant Long (shown here), Short or Flush
Eight factory finish paint colors or Ultra-Grain® stained wood look
Click on Construction or Design Options for more information
WindCode rated available
Add one of our many window options for that custom touch
Classic or decorative, Clopay has a window option to complement your home. You can choose from classic windows in single pane glass, Plexiglas or obscure glass for extra privacy. Or you can customize your residential garage door by adding a designer touch from our line of decorative windows and inserts. Learn more

Liftmaster® Elite Series™
Clopay recommends the LiftMaster® Elite Series opener for these garage doors.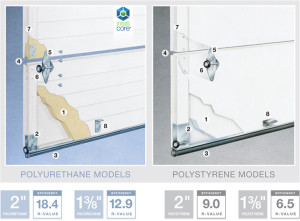 2" or 1-3/8" insulation provides superior R-values.
Patented Safe-T-Bracket® helps prevent serious injury that could occur if the bottom bracket were removed with the garage door closed and under tension.
Bottom weatherseal in a rust-proof aluminum retainer helps prevent elements from entering garage.
Weather-tight tongue-and-groove section joints help seal out wind, rain and snow.
Galvanized steel hinges attached to backup plates are durable, reliable and secure.
Nylon rollers are smooth and quiet.
Prepainted white end stiles and interior steel backing create a clean, finished appearance.
Inside/outside step plates and grip handles make doors easy and safe to operate.
Garage doors featuring Intellicore® insulation technology represent the ultimate smart choice for homeowners. Clopay's Intellicore® is a proprietary polyurethane foam that is injected into a garage door, expanding to fill the entire structure. The result is a door with incredible strength and durability. Read More.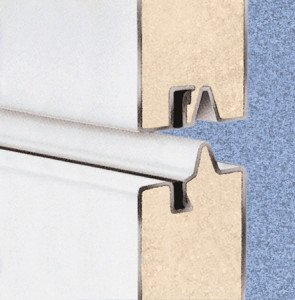 Greater Energy Efficiency
Thermal break separates the interior from the exterior skin to improve energy efficiency and comfort.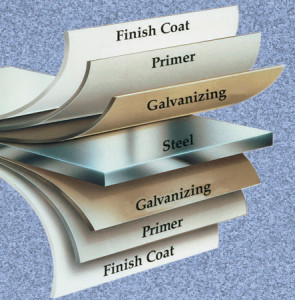 Rust-Prevention System
Steel skins are protected through a tough, layered coating system, including a hot-dipped galvanized layer, a protective metal oxide pretreatment, and a baked-on primer and top coat.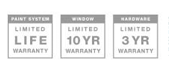 Top Sections
Solid Top Sections

Elegant Short

Elegant Long

Flush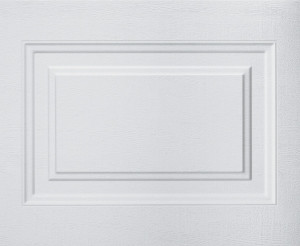 Decorative panel edging and natural embossed woodgrain texture improve appearance close-up and from the curb..
Colors

White

Almond

Desert Tan

Sandtone

Bronze*

Chocolate

Black*

Gray
Hunter Green
*Not available in all models
Painted steel surface simulates a real stained door without the need of staining and the ongoing maintenance of wood.
Woodgrain runs horizontal on stiles and vertical on panels for an authentic, natural look.
Available in Medium or Cherry finishes that complement Clopay Entry Doors, shutters and other exterior stained wood products.
Exterior steel surface on an Ultra-Grain® painted door has a stucco texture to create a more natural woodgrain appearance.
Ultra-Grain is not avalable on flush panel doors.