Garage doors are large and extremely heavy moving objects that weigh anywhere from 100 to 600 pounds. To move something of this size and bulk in a smooth, consistent and efficient manner, garage doors are sprung to counterbalance the weight. As you can probably imagine, a loaded spring in a garage door system is under tremendous tension and can be potentially dangerous if not handled properly.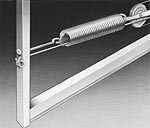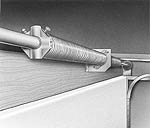 Why Do Garage Door Springs Fail and Break?
A broken garage door spring is a common repair issue. Springs can fail for several reasons:
Wear and tear: Like most mechanical objects, a garage door spring will wear out eventually, even if it receives regular maintenance. The life span of a standard spring is 10,000 cycles (a cycle represents one opening and closing activity). The more frequently you operate the door, the sooner you'll need a spring replacement.
Rust: The harsh northern Illinois climate, especially the frequent winter snowfalls, can take a toll on garage door springs. All that moisture leads to damaging corrosion that weakens the coils and accelerates their failure.
Lack of maintenance: Without regular service, such as timely lubrication and adjustments, your springs will fail sooner and require premature replacement.
Incorrect installation: It's crucial to install garage door springs properly to ensure maximum performance, longevity and safety. Make sure to enlist the services of an experienced, professional garage door company to handle the task.
Signs You Need a Garage Door Spring Repair or Replacement
Damaged garage door springs can exhibit several telltale signs:
Rusted appearance: A garage door spring coated with rust has a short life span and can be dangerous. Replace it as soon as possible.
Unusual noises: While a garage door makes noise during operation, a unique squeaking or grinding sound can indicate the springs are failing. If you hear a sudden loud bang, it usually points to a snapped spring.
Unbalanced door: Does your garage door look crooked? It's likely that one of the extension springs — located on either side of the inside of the opening — is broken.
Loose or broken cables: If your garage door cables appear slack, it could mean a spring has lost its tension and is starting to unwind.
The door falls too quickly: If your door lowers faster than usual when you attempt to close it, a spring is probably damaged or broken and can no longer support the door's weight.
You can't open the door: When you're unable to open the door manually, even after pulling the door opener's emergency release cord, you're dealing with a broken spring.
A-All Style Garage Door Offers Reliable Garage Door Spring Replacement and Repair Service
If you need a garage door spring repair, don't attempt to repair it without the proper tools and knowledge. Only a highly trained expert has the know-how to balance your door for optimal performance and longevity. Instead, call the local professionals at A-All Style Garage Door. Our team of experienced technicians can repair a broken garage door spring on virtually any type or size of door quickly and efficiently.
From free, in-home estimates by friendly representatives to an all-work guarantee on garage door spring repairs and replacements, it's our goal to provide you with complete peace of mind.
As a family-owned company with over 40 years of local experience, we're focused on building long-term relationships with our valued customers, friends and neighbors. Whether you need a garage door spring repair or replacement, we're the single source for everything you require. Our service area includes Plainfield, Bolingbrook, Lockport, Naperville and surrounding areas.
Keep Your Garage Doors Running Smoothly With A-All Style Garage Door's Troubleshooting Guides
While a garage door spring repair or replacement requires professional service, there are some projects you can tackle yourself. Use our troubleshooting guides to help meet your DIY needs in these areas:
Get in Touch to Replace a Garage Door Spring
Only a professional with the appropriate tools and training is qualified to replace or repair a garage door spring. Don't risk damaging your property or suffering a personal injury. A-All Style Garage Door makes repairing a garage door spring as safe, convenient and cost-effective as possible.
Visit our Ask The Door Guy FAQs page for more information on replacing a broken garage door spring. And give us a call to schedule your appointment for a free in-home estimate today!