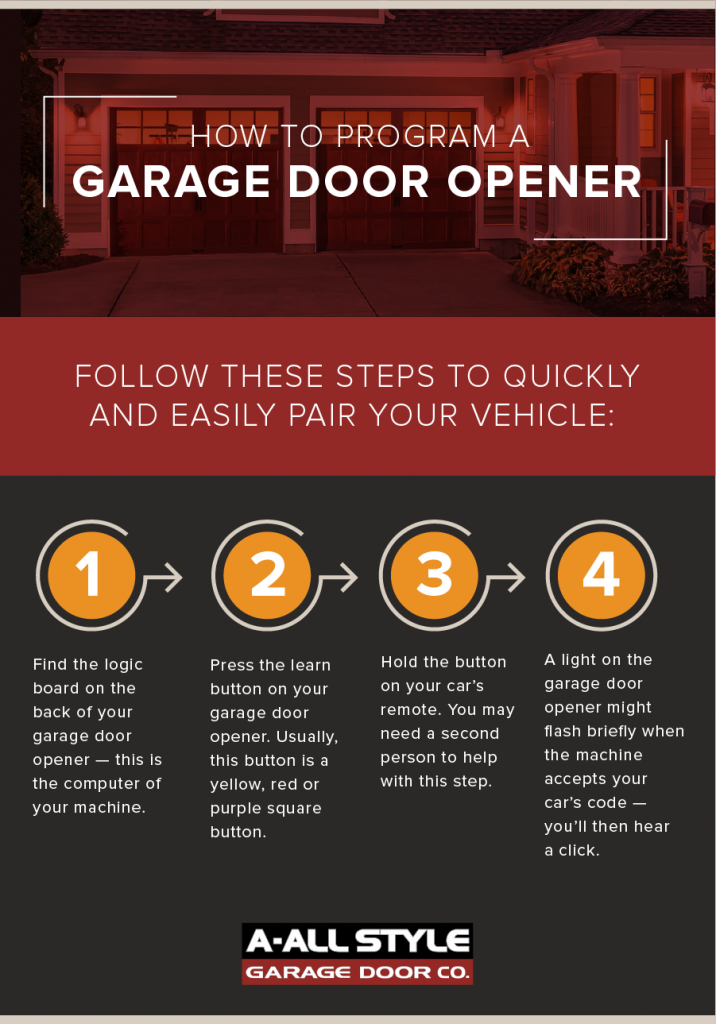 You've got a new car and want to have the convenience of opening your garage by programming it directly from your vehicle, instead of carrying around a clunky remote. Typically, following the instructions provided in your owner's manual will work to pair your car to the garage door opener — most problems syncing the two systems arise from owners not following the manual's instructions.
However, sometimes you find that you've followed the instructions, and you're still having no luck programming your car to open the garage door. There are several possible causes for this issue. Most cars are easy to program, but some newer luxury cars, like Audi, have complicated navigational screen menus, requiring extra steps that ask you to get in and out of the car. You may need to have a second person there to assist you or hire a professional garage door expert to help you set up the opener.
Meanwhile, older cars may be a bit more challenging to pair with a newer garage door opener and may need a repeater — a device allowing compatibility between a garage door opener and a car. Newer garage door opener models have newer and safer protocols for transmitter signals, and the repeater will be needed to relay the outdated car signal.
If you're still having problems programming your garage door opener to your vehicle, try using these solutions.
How to Program a Garage Door Opener in Your Car
So you've followed your owners manual, and you're still not able to pair your car to the garage door opener. You keep re-reading the instructions thinking that you missed a step, but many manuals sometimes don't include a step for how to program your car to the garage door.
Follow these steps to quickly and easily pair your vehicle:
Find the logic board on the back of your garage door opener — this is the computer of your machine.
Press the learn button on your garage door opener. Usually, this button is a yellow, red or purple square button.
Hold the button on your car's remote. You may need a second person to help with this step.
A light on the garage door opener might flash briefly when the machine accepts your car's code — you'll then hear a click.
Specific Garage Door Programming Using Your Car's Homelink or Car2U for Lift Master or Genie
Below are steps for programming a car remote to different Lift Master or Genie rolling code garage door openers — this is a security measure that changes the garage door openers coded signal each time the remote is used to prevent others from stealing entry. You'll begin by following these steps:
Hold down the two outside buttons on your car's remote to clear any previous programming
Press the button in your car that you want to use for controlling the garage door, plus the button on the garage door remote simultaneously until the car's LED lights flash
For setting a HomeLink garage door opener, the final step will depend on the manufacturer of your machine:
Genie: Locate and press the learn button located behind the light lens. An indicator light will flash when pressed. After pushing the learn button, return to your car's remote button and press three or four times until the garage door moves.
Lift Master:With a Lift Master, you'll find the learn button on the back of the terminal screw board. Press it and then, within 30 seconds, hold the button on the car's remote until the garage door opener's light flashes or until you hear the receiver click.
For a Car2U system, press your machine's learn button then return to your car within 10 to 30 seconds. Press and hold the Car2U system button that you want to use for controlling the garage door. Immediately release the button once the garage door moves. Once the button is released, the indicator light will blink rapidly until the program is complete. Press and re-release the button to confirm you paired the two with success.
Call the Garage Door Experts at A-All Style Garage Door
If you're located in the southwest suburbs of Chicago and need help setting up your car's garage door remote, then trust the experts at A-All Style Garage Door.
We're a local and family-operated company and pride ourselves on attention to detail and dedication to offering the highest quality customer service and garage door repair, maintenance and installation.
We offer a three-year parts and labor warranty on our services and specialize in the best quality garage door openers and doors including Lift Master and Clopay® — and are proud to be an authorized Clopay® garage door dealer.
If you need help setting up your car's garage door opener or require garage door maintenance, contact us online or call us today at 630-739-7170.