How LED Lights Cause Interference With Your Garage Door Opener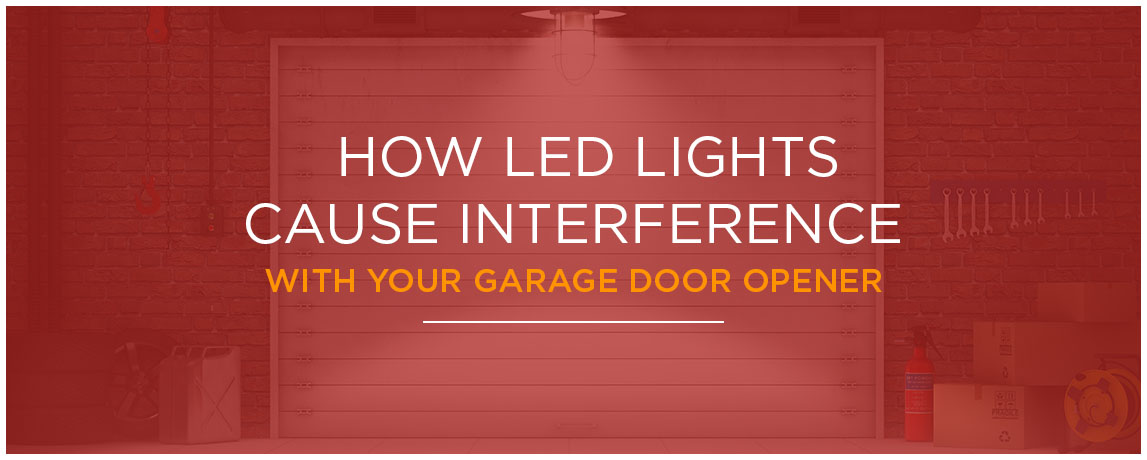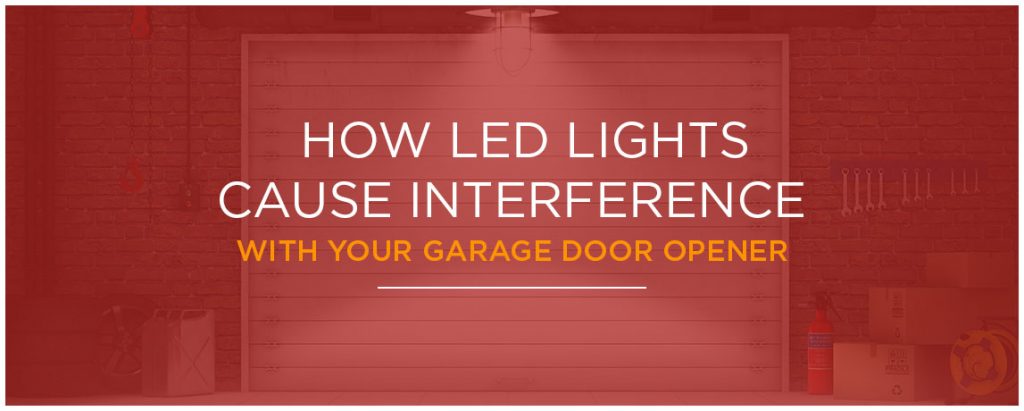 Have you noticed lately that your garage door opener has stopped working? You've changed the batteries in the remote and held the garage door opener at different distances and angles, with no luck improving the odds that the garage door will open.
If you still can't get the door to lift as usual, consider the presence of LED lights in your garage. While these bulbs are energy-efficient and can save you money on your utility bills, they may be interfering with the signals in your garage door remote.
HOW LED BULBS WORK
LED lightbulbs have increased in popularity among homeowners because of their energy efficiency, which results from pulse-width modulation. LED bulbs appear as a continuous stream of light, but with pulse-width modulation technology, the light flashes at a rate of 15 times per second. Control circuits inside the bulb operate this scheduled flash and rely on a frequency between 30 and 300 megahertz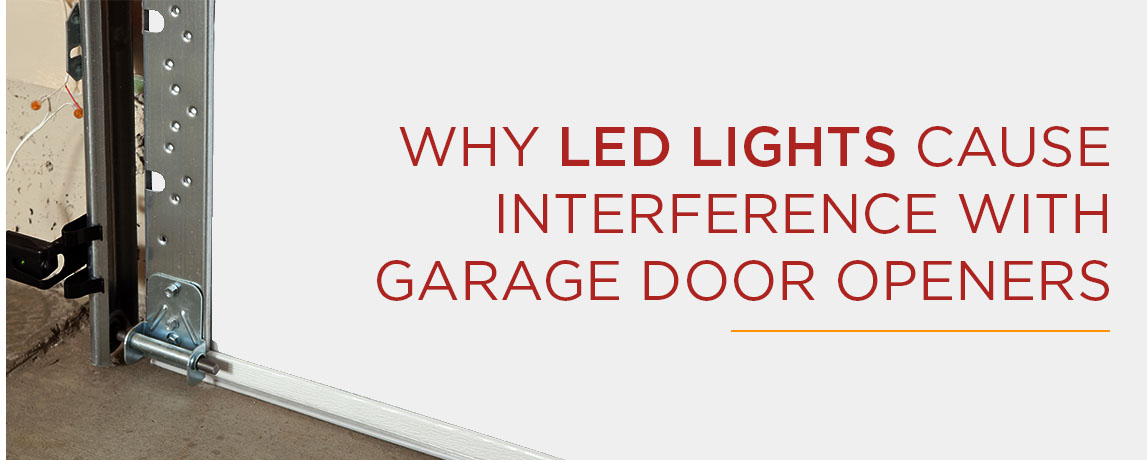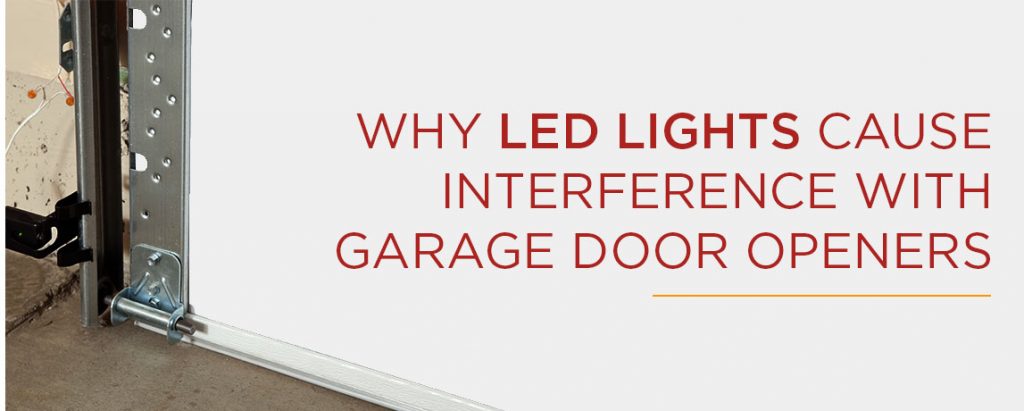 WHY LED LIGHTS CAUSE INTERFERENCE WITH GARAGE DOOR OPENERS
Garage door openers operate by using radio waves, similar to how a remote-controlled car works. LED lights have drivers inside the bulbs, which produce a field that interferes with the garage door — preventing the door from opening.
Garage doors operate using frequencies between 28 and 360 MHz. Because these two devices use intersecting frequencies, they can interfere with each other.
SO DOES THIS MEAN YOU CAN'T USE LED LIGHTS IN YOUR GARAGE?
Luckily, you can still have the energy efficiency of LED lights, but you'll have to pay a bit more for quality, name-brand bulbs. Because of the demand for lower prices for LED lightbulbs, companies have produced lower-quality bulbs.
Companies manufacturing products that rely on radio signals — like LED bulbs and garage door openers — have few industry regulations governing frequency emissions so that signals can interfere with other products.
As a result, and due to an increased demand for cheaper products, these lower-quality bulbs don't have the shielding that blocks the radiofrequency interference affecting your garage door, unlike most name-brand lights. You can also look for LED bulbs that specifically note their design blocks radio wave interference.
CAN LANDSCAPE LED LIGHTS INTERFERE WITH MY GARAGE DOOR OPENER?
LED lights inside and outside your garage door may interfere with your garage door opener. If you have one LED light outside your garage, it's unlikely it will impact the garage door opener. Multiple LED landscape lights are a different story. Having many LED lights outside your garage door can block the garage door opener signal. A solution to preventing a signal block is purchasing high-quality LED bulbs or adding ferrite beads to the wiring on each fitting.
FIXING LED LIGHTS IN YOUR GARAGE
If LED lightbulbs are the reason your garage door fails to open correctly, how can you fix this problem? Possible solutions for LED lights interfering with a garage door opener include the following.
Switching to a name-brand LED light: Look for a Federal Communications Commissionlogo showing FCC compliance, including for minimum radio frequency interference.
Changing the garage light fixture to a less energy-efficient option: Upgrading your garage door LED light fixtures can help LED lights work efficiently and lessen the interference to your garage door opener.
Contacting a garage door professional to help diagnose the issue: A professional technician has the knowledge and experience to point out an LED light issue and provide helpful solutions to keep your garage door opener operating efficiently.
Adding ferrite beads to the wiring: Securing ferrite beads to your LED light wiring can help block the LED light frequency that interferes with the garage door opener.
CONTACT A-ALL STYLE GARAGE DOOR TODAY
At A-All Style Garage Door, we can help solve your LED lights' interference with your garage door opener, so you never need to worry about an improperly functioning garage door opener.
We're a locally owned, family-owned company helping the residents of Plainfield, Bolingbrook, Naperville and throughout Chicago's southwest suburbs with their garage door installations, maintenance or repair needs.
We service LiftMaster openers and Clopay® garage doors, plus we are an authorized Clopay® dealer. We also offer a full one year warranty on both parts and labor on all new garage doors, openers, and installations.
To learn more about LED light interference or schedule garage door maintenance, call us at 630-739-7170 or contact us online.
Garage Door Services for Realtors


As a real estate agent, you know one of the best things a seller can do for their home is to boost its curb appeal. The first thing people see when they walk up to a home is the exterior, and the first impression a buyer gets can make or break a sale. While many people assume improving curb appeal means giving the home exterior a new coat of paint or sprucing up the landscaping, it can also include a garage door repair or replacement.
Depending on the size of a garage, the door can take up a considerable amount of the visible space on a home's exterior. If the door has clearly seen better days, it can detract from what is otherwise a great house. Convincing a seller to upgrade or replace a garage door can make their home more attractive, lead to a quicker sale and possibly have a positive effect on the home's sale price.
What You Need to Know About Garage Doors
When a seller is ready to put their home on the market, they may not consider how their garage door will affect the sale. This may be especially true if:
The seller has already moved out of the home.
The seller is now living in another city or state.
The seller used the property as a rental.
The seller never lived in the home.
A home inspector may uncover an issue with the garage door when completing an inspection for a potential buyer or the seller. If the seller knows about a problem with the garage door before they list the house, they need to state the issue as part of the seller's disclosure.
As the real estate agent, you may want to encourage your client to inspect the garage door before listing the home and to fix or replace the door as needed. Knowing the types of problems garage doors commonly face and the basics of garage door materials and styles can help you make the most appropriate recommendations for your clients.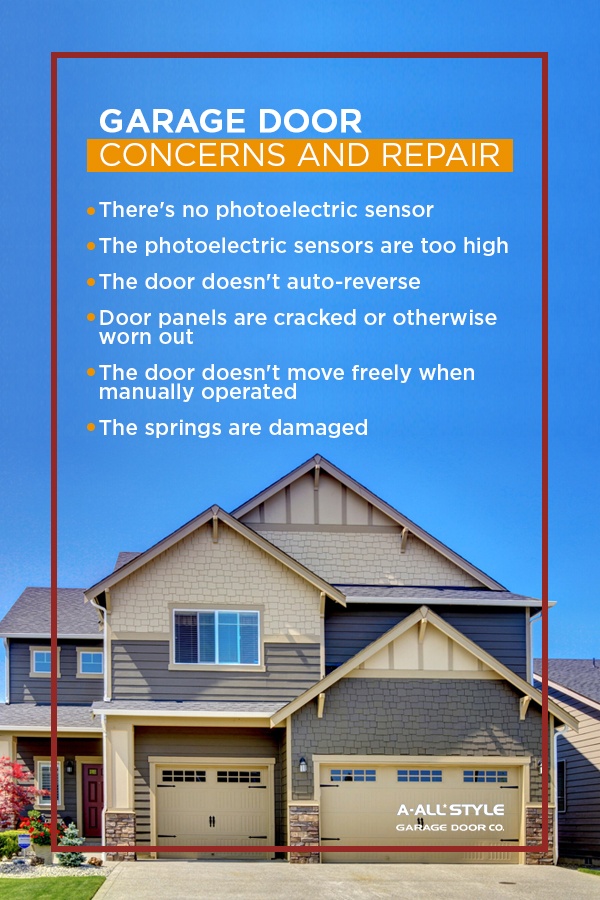 Garage Door Concerns and Repair
A garage door may fail an inspection for several reasons. You can recommend either repairing or replacing a garage door or opener, if you identify one of the following causes for concern:
There's no photoelectric sensor: If the garage door opener is over 25 years old, it might not have photoelectric safety sensors installed. Photoelectric sensors stop the door from closing when an object blocks them. The sensors have been a standard since 1992, but it's possible an older garage door may not have been updated.
The photoelectric sensors are too high: Photoelectric sensors need to be no more than 6 inches off the ground to work effectively. If they are higher than that, they may not be able to detect small objects or animals that roll or run under a garage door as it closes.
The door doesn't auto-reverse: Even older garage doors without sensors should have an auto-reverse feature to pull the door back up if it comes into contact with something. A door that doesn't auto-reverse and completely return to the open position can be a serious safety hazard.
Door panels are cracked or otherwise worn out: Along with checking for safety features, a home inspector will also examine the condition of the garage door. A garage door that has cracked, separating, worn or fatigued panels may not pass the inspection.
The door doesn't move freely when manually operated: A garage door should have handles that are easy to grip. It should also be easy to open the door manually once it's disconnected from the operator.
The springs are damaged: The springs on a garage door need to be intact and in good working order for it to pass inspection. A door with damaged springs is a safety hazard.
Depending on what the inspector finds, you may recommend that your client completely replaces the garage door or opener, or that they repair it. For example, if the photoelectric sensors aren't in the right position, it is often simple to lower them. In the case of a very old door or a door that has significant signs of wear, replacement is often the best choice.
If your client is hesitant to make any improvements to the door, it can be a good idea to point out that not fixing the issues can delay the sale. If a buyer is interested in the home but the inspector finds problems with the door, the buyer can walk away if the seller doesn't negotiate or refuses to fix the problems. Being proactive about the garage door can help you and the seller streamline the sale process.


Garage Door Materials, Styles and Sizes
Along with knowing the potential issues a garage door can have, it helps to know what sorts of materials, styles and sizes are available for garage doors. The materials commonly used for garage doors include:
Aluminum and glass:Aluminum and glass garage doors let light shine into the garage. They still provide some privacy as the homeowner can choose a desired transparency level for the glass.
Steel: Steel is one of the most popular materials for garage doors — for a good reason. It's sturdy, available in a wide range of colors and easy to maintain. If a seller wants to replace an existing garage door with a steel door, they will have many options.
Wood:Wood doors have a warmth and beauty that appeals to many homeowners and buyers. Although wood typically requires more effort to maintain, it can be the right choice for certain types of homes.
The style of a garage door should complement the style of the seller's home. For example, a modern or contemporary home will most likely work well with a trendy glass and aluminum garage door. A Victorian home will usually pair well with a carriage house style door. Windows can be a good feature to have on a variety of door styles, as they add light to the garage. If the windows are high enough on the door, they can still allow for privacy.
Another conversation you may want to have with a home seller concerns the size of the garage door. Standard door sizes usually range from 8 or 9 feet wide by 7 feet high for one-car garages to 16 feet wide by 7 feet high for two-car garages. Custom door sizes are available, as well. If your clients aren't living nearby, you may need to go to the house and measure the garage door yourself to confirm its size. When measuring the width and height of a door, measure within the frame.


Garage Doors Can Improve Resale Value
There are several reasons you may recommend new garage doors for home sales. One of the biggest reasons for an upgrade is that replacing an older, worn-out or damaged garage door can have a significant effect on the resale value of a home.
Often, home renovations or upgrades don't pay off when it's time for a homeowner to sell. A seller isn't likely to recoup all the funding they've put into a kitchen remodel or bathroom renovation, for example. Some remodeling projects have a bigger pay off than others — including replacing a garage door.
According to the 2020 Cost vs. Value report, it cost $3,695 to:
Remove and dispose of an old 16-by-7-foot garage door and its tracks.
Install a heavy-duty, 16-by-7-foot steel garage door with windows and new tracks.
The value of the replacement door when the home sells is estimated to be $3,491, allowing the seller to recoup 94.5% of the cost. Keep in mind that the price for each garage door replacement may vary based on the size of the door, the chosen material and more.
Installing a new garage door isn't just a sound investment for a homeowner who's eventually hoping to sell. It can also help the home sell more quickly once it's on the market and might lead to a higher sale price. Around 70% of real estate agents believe a new garage door helps speed up the sale of a home, while more than 80% believe a garage door can affect the sale price of a home.
Garage Doors Can Improve Curb Appeal
One of the first things potential buyers see when they come to view a home is the garage door. Whether the garage holds one car, two cars or has custom dimensions, it takes up a considerable amount of space on the front of a home. Some garage styles, like those on a snout house, are more prominent and extend across the facade of the house. When you're trying to make a sale, the last thing you want is for a buyer to turn around and leave without looking at the inside of a home because they aren't impressed with what they see outside.
Convincing the seller to update their garage door can do wonders for the curb appeal of the home. Some things to consider when upgrading the garage door include:
Switching to a lower-maintenance material: Some garage door materials are easier to care for and lower maintenance than others. For example, though wood can be aesthetically pleasing, it's less durable than steel or aluminum and glass. Wood garage doors also need regular upkeep if a homeowner wants them to remain in optimal condition. If a wood door is past its prime, upgrading to a steel door with a wood-like finish can improve the look of the home while alleviating the maintenance responsibilities for the potential new owner.
Updating the style of the door: Over the years, a home might have seen numerous updates or renovations. One of these renovations may have included replacing the original garage door with a style that doesn't work with the rest of the home exterior. Replacing out-of-place doors with a style that matches or coordinates with the home can do wonders for the overall aesthetic of the property. For example, you might decide to replace a traditional paneled garage door with a carriage house style door to complement a Victorian home.
Adding windows to the door: A few windows near the top of a garage door can elevate its overall appearance. The windows create visual interest on the exterior of the home and give people something to look at. Plus, they help to brighten up the interior of the garage and make it a little less gloomy.
Improving the color of the door: Some exterior paint colors recall trends that have long passed. Even if a seller isn't fully on board with replacing their garage door, you may be able to convince them to repaint the door. If you get permission to change the color of the garage door, pick a shade that coordinates with the rest of the home and won't go out of style any time soon. Neutrals such as white, ivory or gray can all be good choices.
Adding insulation: Although potential buyers won't be able to see that a door is insulated from the curb, there are benefits to choosing an insulated garage door as a replacement. An insulated door helps the garage stay warmer in the winter and cooler in the summer. It can also help protect items stored in the garage from extreme temperature fluctuations. An insulated garage door is often more durable than a door that isn't insulated, which can be appealing to potential buyers.
Find Garage Doors for Realtors at A-All Style Garage Door
You have a lot on your plate — especially if you're working with a seller who lives in another state or who can't be on-site to take care of home improvements. If you and the seller agree that repairing or replacing a garage door is a good option, A-All Style Garage Door is here to help. We provide fast and affordable garage door services to the southwest suburbs of Chicago, including garage door replacements and repairs. We have an extensive inventory of garage door parts and supplies available, allowing us to fix an issue promptly and minimize any delay or disruption.
If your client wants the house sold quickly, you have a potential offer and the garage door hasn't passed inspection, call us at 630-739-7170. We'll get the door repaired or replaced so that you, the seller and the buyer can proceed with the sale of the home. Contact us today to request an estimate or to schedule a repair.
DIY – Easily Add Wi-Fi to an Existing Garage Door Opener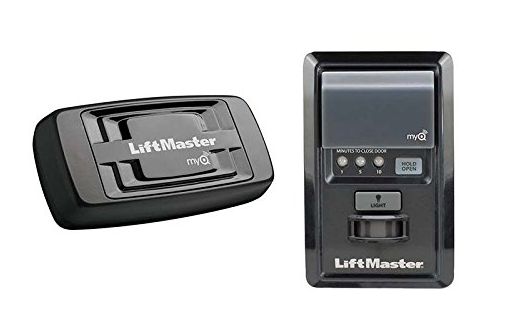 With the latest MyQ technology and Wi-Fi-accessible garage door openers, you now have the convenience and added peace of mind to securely monitor or operate your garage door from anywhere in the world by using your smartphone. Many new garage door opener devices are manufactured with these capabilities already built in, but can you benefit from this security technology if your device doesn't already have these features?
Fortunately, for most garage door openers manufactured after 1993, there are accessories you can install yourself easily to retrofit your garage door opener for Wi-Fi and MyQ technology. This solution is ideal for newer openers that still operate reliably and efficiently, but just lack the technology — and many of these accessories will be compatible with your device. However, for older devices — especially those older than 10 years — replacing your garage door opener to a more effective and dependable device already equipped with MyQ and Wi-Fi may be a more suitable solution.
Our current favorite device to easily retrofit your existing garage door opener for use with your smartphone is the LiftMaster MyQ Retrofit Package. This works with most major garage door opener brands including LiftMaster, Chamberlain and Sears.
How to Add MyQ and Wi-Fi to Your Garage Door Opener
If your garage door opener doesn't already have Wi-Fi and MyQ capabilities, you can simply retrofit the opener with a Wi-Fi controller. To properly use MyQ from your phone, your garage door system must have access to an internet connection.
To set up your Wi-Fi and MyQ, follow these simple steps:
Check Wi-Fi in the Area: Your Wi-Fi controller will need to be mounted on the ceiling near your current garage door opener, but to properly function, your home's Wi-Fi must reach that area. To test the strength, climb a ladder and hold your phone near the opener. An adequate signal will be at least two bars. If the internet connection isn't strong enough, you'll need to purchase a Wi-Fi extender or a new mesh router.
Add Wi-Fi Range Extender (if needed): With a Wi-Fi extender, this device will receive the signal from your home's router then broadcast that signal further, providing additional coverage from the internet router source.
Purchase a Wi-Fi Garage Door Controller: This device will receive the Wi-Fi connection and operate the MyQ capabilities. To ensure your Wi-Fi controller works with your current opener, check your model and reference the manufacturer website. The door controllers can operate two or three openers and be connected to several other home automation systems you may have, like Nest, Apple HomeKit or XFINITY Home, among others.
Install Equipment: At this time, mount your controller to the ceiling near your garage door opener and then connect the device to your home's Wi-Fi connection. Then, mount any door sensors, connect the door sensor to the opener and pair the door sensors to the controller.
Finalize Installation: To ensure your new system is working properly, download the free MyQ app to your phone and try operating the garage door from your device.
Call A-All Style Garage Door to Learn More
If you need assistance installing your new Wi-Fi garage door controller or want to learn more about our wide selection of technologically advanced LiftMaster garage doors equipped with these capabilities, call the professionals at A-All Style Garage Door today. We specialize in garage door opener installations and additional garage door services. With more than 35 years of garage door expertise, we're your trusted, knowledgeable and reliable garage door service company throughout the southwestern Chicago suburbs area, including the Bolingbrook, Naperville and Plainfield communities. To learn more, call us today at 630-739-7170 to speak to a team member or fill out our online form to schedule an appointment.
What's the Difference Between MyQ, Wi-Fi and Bluetooth Garage Door Openers?
Not too long ago, garage door openers were simple and their only responsibility was reliably raising and lowering your garage door with the click of a remote. But with today's technology, your garage door opener is capable of controlling so much more. Many LiftMaster garage door openers, among others, are equipped with MyQ technology and Wi-Fi or Bluetooth capabilities that allow you improved safety and security at your home. But what exactly is included with all of these advanced capabilities, and is a new garage door opener equipped with this technology right for your home?
What Is a MyQ Garage Door Opener?
With MyQ technology, you have ultimate control over your home's garage door system from anywhere. Utilizing advanced two-way communication technology, you can monitor and control your garage door opener or lights using any internet-enabled smartphone, tablet or computer. By simply downloading a free app to your iOS or Android device, you can check if you accidentally left the garage door open when you left for work, open or close the door remotely if you want someone to check on your home while you're away or even program the lights to come on when you arrive home.
For user convenience, MyQ technology is compatible with many garage door openers manufactured after 1993, and many newer models are built with MyQ technology already enabled in the machine.
Not only can MyQ technology help you better monitor garage door activity and allow you to control the door and lights remotely, but it can also be connected to several home security systems, including Wink, Nest, SmartThings, XFINITY Home and also Apple HomeKit with an additional adaptor purchase so Siri can assist you.
Bluetooth vs. Wi-Fi Garage Door Openers
To use the latest MyQ technology, the system must have internet connectivity. While searching for your new smart garage door opener, you may see many machines featuring Wi-Fi or Bluetooth accessibility. But is there a difference? And which is the superior preference?
Both of these forms of technology will allow your garage door opener to connect to your phone. However, Wi-Fi is the better option. With Wi-Fi connectivity, your garage door will be connected to your home's internet and you can remotely monitor your garage door from anywhere, while with Bluetooth you must be within a 20-foot range of the garage door opener.
How Does MyQ Work?
So once you've got internet connectivity and MyQ set up, how does the system actually work? While the technology seems complicated, the process of remotely controlling your garage door is actually simple:
Your garage door opener with MyQ technology is connected to your home's Wi-Fi.
When you send a command from your smartphone, that signal is relayed to a hub.
This signal then triggers a sensor in the opener that activates the garage door to open or close or control the lights.
Experience the Future With a New Garage Door Opener Available at A-All Style Garage Door
When you're ready to experience the simple and secure convenience of a new smart garage door opener, call the experts at A-All Style Garage Door. We provide a wide variety of chain- and belt-operated LiftMaster garage door openers available in the Elite and Premium Series. All of these models feature MyQ technology and Wi-Fi connectivity so you can easily access and monitor your garage door activity from anywhere.
Since 1981, A-All Style Garage Door has been the most trusted and knowledgeable garage door company serving the southwestern Chicago suburban area, including Bolingbrook, Plainfield and Lockport. For all of our new garage door opener installations, we even offer a one-year parts and labor warranty. To learn more about our selection of the latest Wi-Fi and MyQ garage door openers, call us today at 630-739-7170 or complete our online form to schedule services.
Clopay® Slate Finish Garage Doors
At A-All Style Garage Door, we're thrilled to not only provide the best-quality Clopay garage doors in the Chicago southwestern suburban area, but we also now offer Clopay's slate grey finish color option. Grey is one of the trendiest garage door color options today and can perfectly complement and modernize your home's exterior — whether your architecture is considered more classic or contemporary.
This new color offering combines khaki, charcoal and black shades to create a stunning, distinct and transitional pigment option that can highlight or accentuate your home's current coloring and trim. To complement your home's style, we're offering our new slate grey color on several of our Clopay garage door designs.
Is a Grey Color Garage Door Right for You?
Do you enjoy keeping up with the latest home design trends? Currently, using dark colors on the exteriors of homes is a popular way to add drama and visual appeal without having to use those brighter, bolder hues. Garage doors occupy a large percentage of your home's exterior and finding the ideal balance between blending in and standing out can be tricky for homeowners. With a new slate grey garage door, you can achieve the perfect symmetry of enhancing your home without going overboard.
A new slate grey garage door from Clopay will elevate your exteriors and are ideal for:
Any Home Architecture or Material: Grey is a classic color and can complement most home exteriors, including stone, wood, stucco or even vinyl siding. Because of grey's neutrality, this color can be transformed to work with rustic designs, naturally dark Victorian or gothic architecture or juxtapose the clean appearance of modern homes.
Complements Other Coloring: Because grey is considered a neutral color, this shade can easily enhance other coloring options on your home, from bold to understated trim, shutter or front door colors.
Adds Depth: For homes with intricate and dramatic elements, grey can add depth and subtle contrast, so the garage doesn't just blend into the background, but can positively stand out on your home.
Design Your New Slate Grey Garage Door With A-All Style Garage Door
At A-All Style Garage Door, we offer a wide selection of Clopay residential garage doors in a variety of styles that can all be incorporated into your home's architecture and are available in the newest and trendiest color today — slate grey. We're an Authorized Clopay Dealer, meaning our team is consistently dedicated to providing the best-quality and most attractive garage doors for your home, utilizing the most skilled, friendly and knowledgeable professionals in the area, so you're guaranteed superior services. For all of our local customers, we provide a three-year parts and labor warranty on all new garage door installations and free estimates on your new grey garage door.
Since 1981, A-All Style Garage Door has been committed to providing the highest-quality, most dependable garage door solutions to residents throughout the Bolingbrook and Naperville, IL, areas. We're excited to begin working with you to design a stunning slate grey garage door for your home that will enhance the overall home design and appeal. Schedule a free design consultation and quote by filling out our online form.
MyQ and Wi-Fi Garage Door Benefits
You've had your garage door opener for many years and you've been hearing about the latest opener technologies, including Wi-Fi access and MyQ. But are these features really necessary and convenient when your machine has been operating reliably all this time without advanced tools? With Wi-Fi accessibility and MyQ technology, your garage door opener will not only open and close as needed, but you can also improve security measures at your home and remotely control your door from anywhere with just your smartphone.
Benefits of MyQ and Wi-Fi Garage Door Openers
Smart garage door openers are the most advanced and simple-to-use operating systems that allow you off-site monitoring and control by using only your smartphone, tablet or computer. All you have to do is download the free MyQ app. In addition to its easy-to-use interface, installing a new MyQ-enabled garage door opener allows you:
Monitoring Anywhere: With your smartphone, you can easily control your garage door from anywhere. You can check to see if it was accidentally left open when you left for work, open the door for the dog walker and get real-time alerts when loved ones come and go.
Added Security: By using the MyQ app, you can safely monitor up to two garage doors and 16 MyQ-enabled accessories. These smart MyQ garage door openers can also be integrated with your home's security system, including Nest, Wink, SmartThings, XFINITY Home and Apple HomeKit. With MyQ openers, you can even customize and schedule times you want your garage door to open and close or turn the lights in your home on or off.
Safety Features: Garage doors can never be too safe, and these smart garage door openers will flash the lights and have a beep alert throughout its cycle when operated using MyQ technology, in addition to the door's standard safety features.
Operational Flexibility: When you go out of town on vacation, would you like a more secure way to let the house sitter or other visitors inside? With MyQ, you can operate the door from anywhere to allow guests or schedule times you'd like the door to operate. By using your MyQ app, you can also control your home's lights remotely, access your home's security cameras and adjust the temperature.
Simple Setup: To set up, your garage door opener is installed wirelessly and you download the free Android or iOS app to begin monitoring from anywhere. After the initial installation, there's no service fee or subscription charges.
Can I Use My iPhone as a Garage Door Opener?
While this latest technology is designed to help monitor and even open your garage door from anywhere, using your iPhone or other smartphone device is not an ideal method for opening and closing your garage door on a daily basis as a remote replacement. It's much better to use your garage door opener that comes with your garage doors or vehicle – the process is faster and the beep alert that is added for safety can get pretty annoying if you are using it while at home when you can see that the garage door is already cleared.
Understand MyQ Garage Door Benefits Today With A-All Style Garage Door
Why are you still using your old garage door opener when such easy monitoring, security upgrades and peace of mind are readily available? With A-All Style Garage Door, our team can help you select and install a new MyQ and Wi-Fi enabled garage door courtesy of LiftMaster, designed to make your daily life more secure and convenient.
At A-All Style Garage Door, we have over 35 years of garage door experience throughout Bolingbrook, Naperville, Lockport, IL, and the surrounding southwestern Chicago suburbs. We pride ourselves on superior workmanship, friendly and local expertise and top-quality products and services. We even offer a one-year parts and labor warranty for all new garage door opener installations. Schedule services today by completing our contact form or calling 630-739-7170.