Reasons to Have a Keyless Garage Door Opener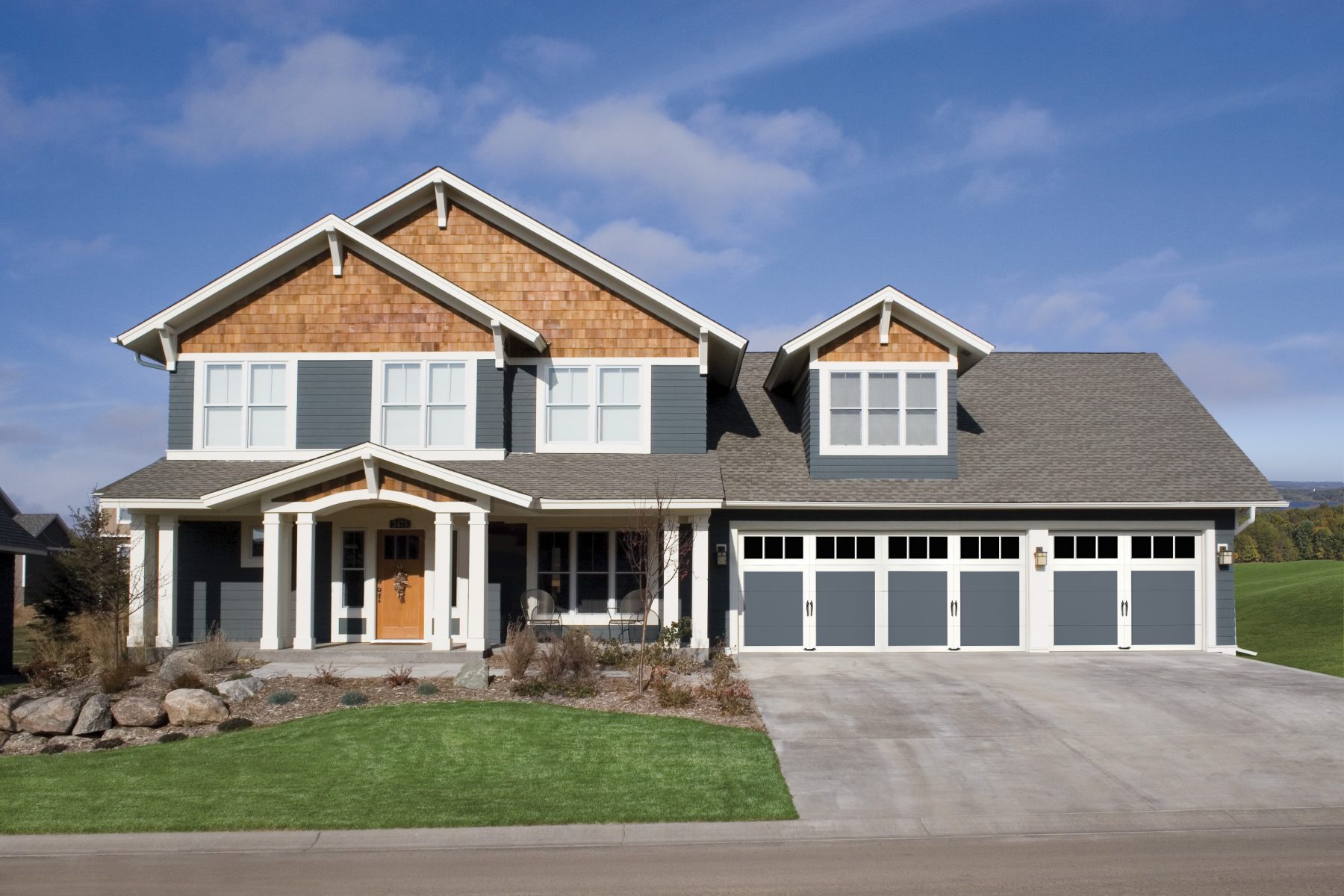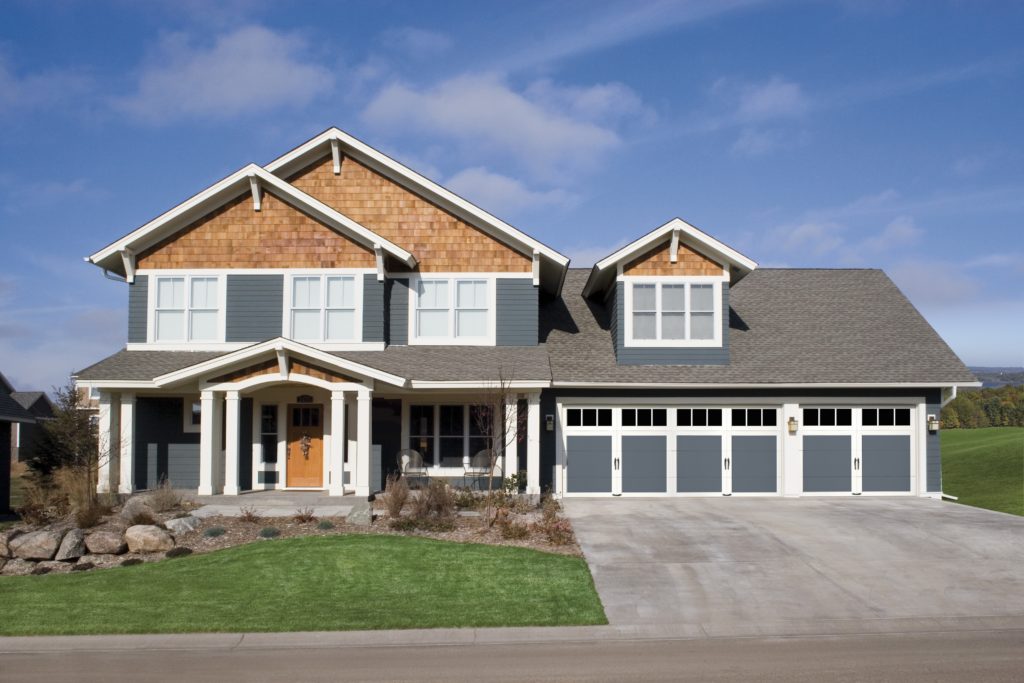 Are you considering getting a keyless garage door opener system? Are you wondering if a keyless garage door is safe? If you are working with a traditional key and lock garage door, even one that also has a remote garage door opening system, you may be wondering if you should make the switch to a keyless garage door opener. Here's what you need to know about garage door keyless entry systems.
Benefits of a Garage Door Keypad
There are several reasons why people choose a keyless garage door system, as we've listed out below:
No Lost Keys
Most of the time, you'll probably use your remote garage door opener to open your garage door. But what if you're locked out of the house and the car is in the garage, or you've misplaced that opener? With a keyless garage door entry system, it's no problem. As long as you have the code, you can get in.
Security
Remember, these keyless entry systems are much tougher to hack than systems of old. You can also change the combination whenever it suits you if you are concerned that someone has stolen it or you just want to update your code.
On the other hand, most people frequently forget who they've provided a key to, either a neighbor or a friend – and if you lose a key – you'll need to change your locks, which requires additional cost and hassle when compared to simply updating the code on a keyless garage door opener.
Temporary Codes
Possibly one of the most useful features of a garage door keypad is the ability to distribute temporary codes. Let's say you are in a situation where you have a guest coming over, but you can't be home to let them in. You may be reluctant to give them the code to your garage door, so instead, you can assign them a temporary code that only works for a limited period of time. They can get in when you want them to without giving away your regular security code.
Learn More About Ways to Upgrade Your Garage Door
Adding Windows to Your Garage Door
If you live in the southwest suburbs of Chicago or surrounding areas, call A-All Style Garage Door for installation of your garage door keyless entry system. We offer a full line of LiftMaster® garage door opener systems, including wall mount systems, we can install quickly and easily. They also include the MyQ® control panel, which allows you to operate your garage door with your phone or other digital device anywhere you can get a wireless signal. To learn more, contact us today.
Maintenance Tips For Wood Garage Doors

To make sure that your wooden garage doors are looking their best and last a long time, we suggest several maintenance tips for reliable upkeep:
Keep them clean. The simple step of regularly cleaning your wood garage doors makes a huge difference in how they look and last. Build-up of dirt or moisture can cause garage doors to bend and warp.
Keep them protected. The other key to proper wood garage door upkeep is keeping them protected. The sun and harsh weather can shorten the life of natural wood garage doors, so make sure they are refinished every few years. Use stains and paints suggested by your door manufacturer.
Perform regular maintenance. Problems with the hinges, tracks and lift mechanisms of your garage doors can affect how long they last. The wood panels can be damaged if your doors aren't lifting up straight due to an issue with the tracks for example.
There's a reason so many customers choose wood garage doors. These doors, and especially Clopay Brand Wood Doors, are built to high standards, with top-quality stains on all six sides for maximum protection against the elements.
Keep Your Garage Door Running Smoothly With A-All StyleGarage Door's Troubleshooting Guides.
Keep Your Door Looking Great
If you are in the Chicago Southwest Suburbs, contact our garage door experts here at A-All Style Garage today and we'll work with you to select the perfect wood garage doors for your home. For existing wood garage doors, we can provide regular maintenance to ensure your door keeps its natural beauty and functionality for years to come.
What to Do If Your Garage Door Is Frozen Shut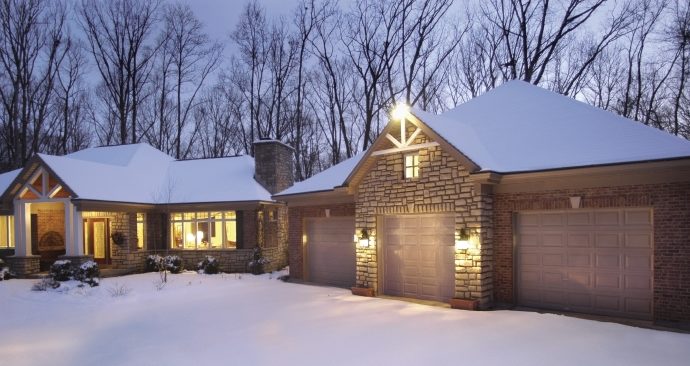 As the temperature drops and the snow starts to fly, problems with your garage door can arise. While it's not a common problem, from time to time you might find your garage door frozen shut. This is obviously a major inconvenience, especially if your vehicle is inside and you can't get it out. It can also prevent you from parking your car inside at night, leaving it exposed to harsh weather and freezing temperatures.
If you find your garage door is frozen shut, there are a few steps you can take to open it without causing damage:
Remove ice: In most cases when your garage door won't open in winter, it's because it's literally frozen to the ground or frame. Blowing snow can force its way around your garage door seals and create an icy barrier, freezing your garage door in place. You can carefully chip away at large ice build-ups along the bottom of your door, but be careful not to damage your door or doorframe.
Loosen door from seal: When your garage door is frozen against the seal, you shouldn't try to raise and lower your door. This can damage the seals or your automatic garage door opener. If after an initial try it won't go up, go outside and push with moderate force along the edges and bottom of your door. You don't want to force it out of the track, but simply break the ice seal that has formed.
Add heat: If it seems that the ice keeping your door blocked still won't let go, you can use a hairdryer to melt it. This will create water, which can quickly freeze again in cold weather, so you need to quickly mop it up and dry your seals so that it doesn't freeze again.
To make sure your garage door doesn't freeze again next time it gets cold, here are some handy tips:
Remove all snow and ice debris from around your door. Snow and ice around the door for prolonged periods of time can cause your garage door to freeze in place quickly.
Don't heat your car up in the garage. The heat from your exhaust can melt snow around your seal, which freezes as soon as you shut your door again.
Keep your seals clean and in good shape. Broken and worn seals tend to absorb more moisture and freeze more quickly than new, smooth seals.
Be prepared for Any Situation With These Guides From A-All Style Garage Door
Being stuck in your garage is never fun, and your safety is always first priority. If you are in Naperville, Bolingbrook, Plainfield and surrounding Chicago Southwest Suburbs, simply give us a call or schedule a repair. Our team at A-All Style Garage Door will respond as quickly as possible to get your garage door open safely.
The Dangers of Cheap Garage Door Service and Products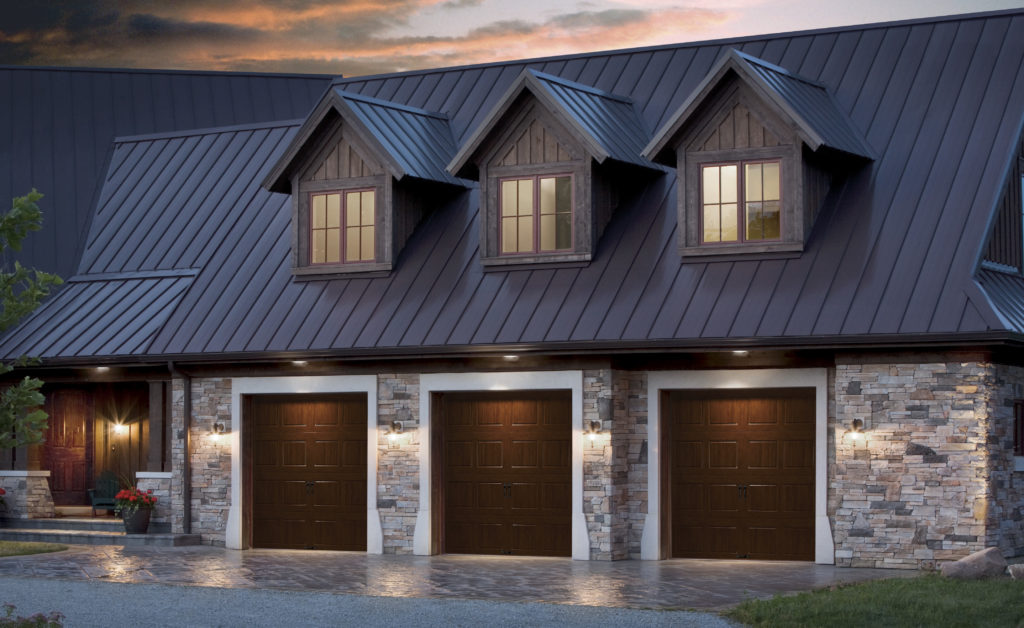 Many homeowners don't know where to start when searching for garage door products and services. They may look online for local providers, or they may ask friends and neighbors for recommendations. The process that leads you to your garage door product and service provider is incredibly important to the success of your project. It's important to look at other factors in addition to the lowest price if you want to avoid the dangers of cheap garage doors or garage door service. Here are a few ideas for making sure you find the best service provider for your home.
Finding the Best Service Provider
It's always tempting to go with the low bidder on home improvement projects, but you often get what you pay for in terms of garage door service. It's better to look for a blend of characteristics, including a reasonable bid, plus other important factors.
When searching for a garage door installation or repair professional, consider how long they've been in business. Not only is this a reflection of experience, but it's also an indication they are doing quality work with the ability to sustain a long-term pipeline of customers. An established full-time business – rather than working from an unmarked truck or as a side job – also indicates a commitment to the industry and a dedication to doing quality work.
Make sure your garage door pro is insured and they give you a contract in writing before work begins. You also want to ensure that the company you hire to work at your home knows and complies with all local rules and regulations.
You can also take advantage of the many online tools available for researching prospective service professionals. Check the company's standing with the Better Business Bureau as well as Google+ customer reviews, and take a look at review sites like Angie's List. It's far better to discover something about a service provider before work begins than during a project.
The Dangers of Cheap Garage Doors
When it comes to searching for your next garage door, think in terms of value rather than price. For example, you may find a garage door for half the price of one that looks similar, but there's often a good reason why one garage door is more expensive than the other – even when they look the same. One might be made of a stronger material, one that will last much longer and help save you money in the long run. Perhaps one includes insulation that will help make your home more efficient and save you money on heating and cooling.
A garage door should be tough and durable – qualities you'll rarely find in a cheap product. We experience harsh winters here in the Southwest Chicago suburbs, and only tough and durable garage doors can properly withstand the snow, wind and ice that come our way during the coldest months of the year. A tough, durable garage door can also withstand the daily demands of a household. A garage door is often a front door for families – the main point of entry into a home. All that raising and lowering of a garage door takes a toll after a while, and a cheap garage door product will fail and need extensive repairs far earlier than something more substantial.
Avoid Low Quality Garage Door Openers
What applies to garage door products also applies to garage door openers. A garage door opener is an electric appliance that should be able to work without issue for many years. That means quality design and construction, as well as features that will keep your garage door opener operating even in the case of power surges, outages, severe weather and other similar situations.
It's always a good idea to look for well-known brands such as Liftmaster or Clopay. These trusted manufacturers – both for garage doors and garage door openers – have track records of success in connecting customers with quality products for their homes. Beware the off-brand garage door or garage door opener that's trying hard to look like a product from a trusted brand – but without the long track record of quality design and construction, as well as dependable performance.
Check Out Our Other Buyer's Guides From A-All Style Garage Door
Why Choose A-All Style Garage Door
A garage door is an investment in your home, one that should help make it safer and more attractive. When you're looking for the perfect garage door service provider in Naperville and surrounding communities, look no further than A-All Style Garage Door. We've been proudly serving this area since 1981, and offer a three-year warranty on garage doors and one-year on openers.
We offer high-quality Clopay® garage doors and LiftMaster® garage door openers, and our team of highly trained technicians delivers the fast and effective service you deserve. Don't settle for just any garage door service provider – choose the company that is committed to doing things the right way.
Contact A-All Style Garage Door to schedule a repair or get a free estimate on a
Garage Door Safety Features and Tips
Last Updated on October 17, 2022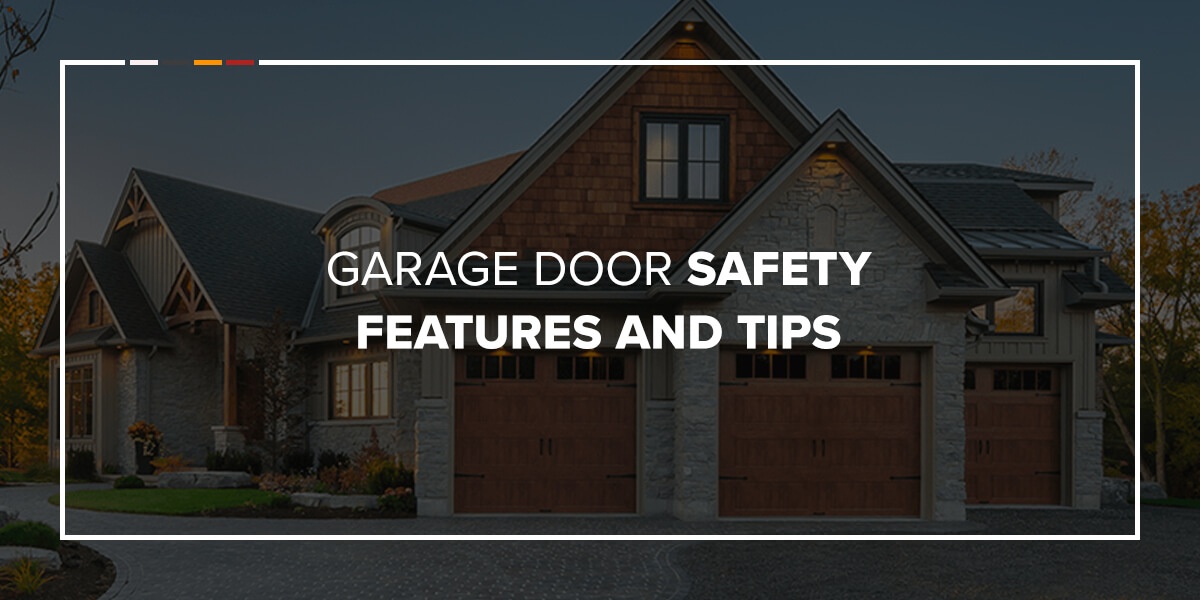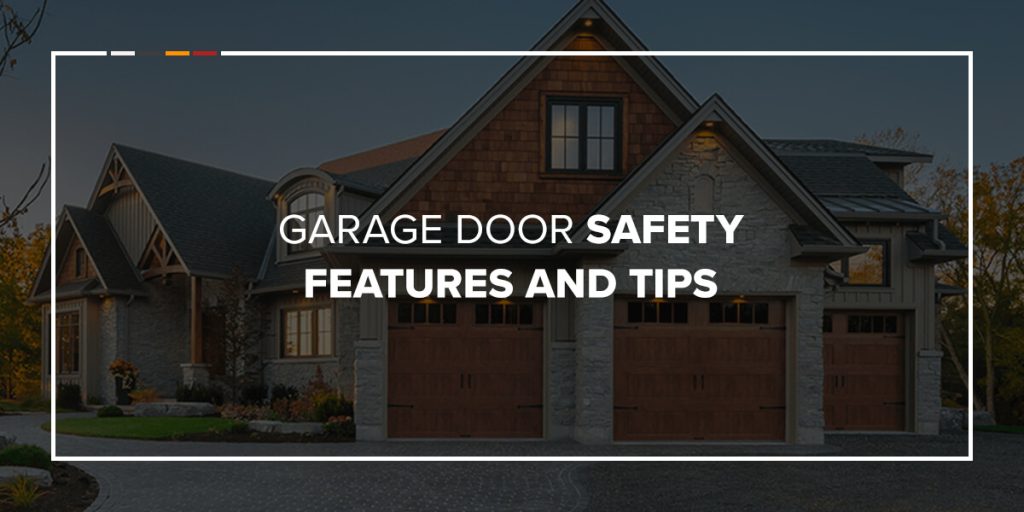 Garages are a commonplace feature in many homes. They provide a safe, secure area to store your vehicles, letting you reach them without walking through rain, wind or snow. However, accidents can happen when using a garage door, so keeping safety and security in mind is essential.
7 Garage Door Safety Feature Tips
Garage doors are heavy machinery that can harm people and things if not used properly. They also serve as an entry into your home, so you must secure them like you would a front door, back door or window. These garage door safety tips will help prevent accidents and garage door-related injuries.
1. Check Sensors
Most garage doors use sensors to open and close. Garage door safety sensors are usually black boxes at the door's bottom. If the sensors are misaligned, the garage door won't function properly. Checking them alerts you to potential problems and allows you to address them as soon as possible.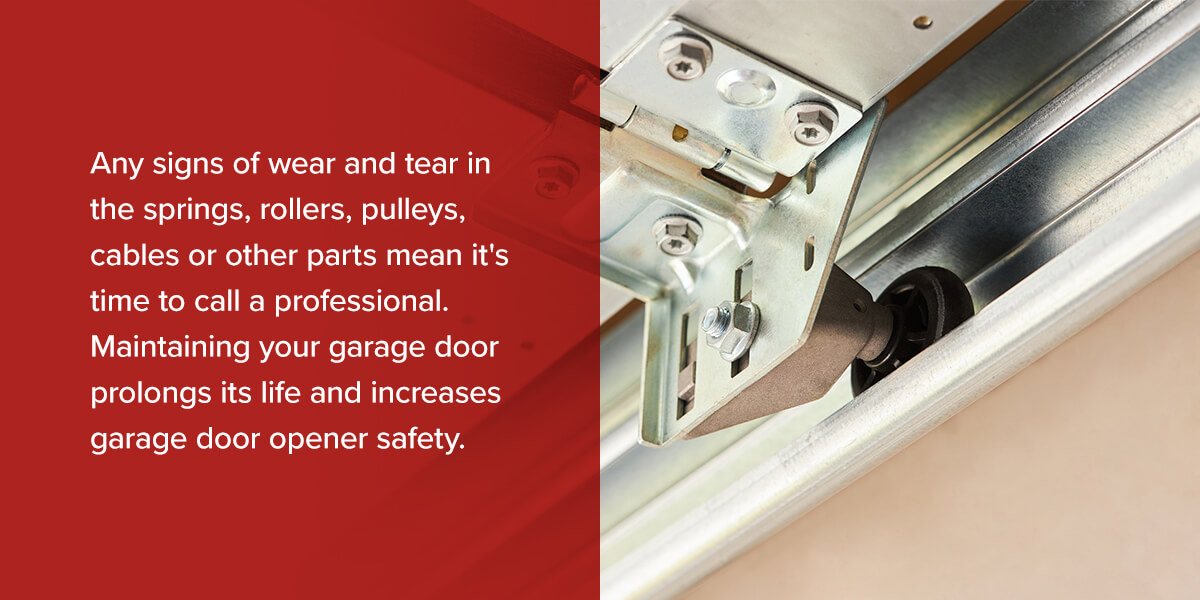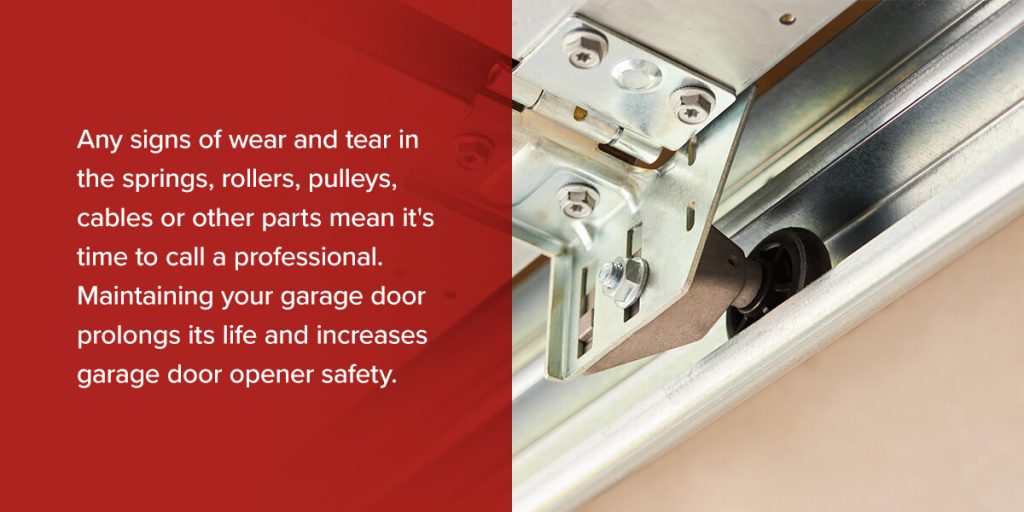 2. Perform Inspections
You should visually inspect your door and its parts monthly. Any signs of wear and tear in the springs, rollers, pulleys, cables or other parts mean it's time to call a professional. Maintaining your garage door prolongs its life and increases garage door opener safety.
3. Keep Children Safe
While garage doors today have safety features to prevent accidents and injuries, you can keep children safer with these garage door opener safety tips:
Always ensure the door's path is clear before opening it.
Don't allow children to touch or hang on the garage door.
Keep the garage door passcode a secret.
Don't leave toys in the path of the garage door.
Ensure keypads or control buttons are more than five feet off the ground so children can't reach them.
4. Know How to Operate Your Door Manually
You must manually open your door when the power goes out or the door malfunctions. Any motorized garage door will feature an emergency release for these situations. The owner's manual will show you where to find the emergency release so you can operate the door without power.
5. Test the Reverse Function
Most manufacturers install a reverse function on garage doors to prevent accidents. Routinely checking this function helps avoid future mishaps. You can test it by placing a roll of paper towels or another object in the door's pathway and pressing the button to close it. If the garage door does not recognize something is in its path and reverse, the reverse function isn't working correctly and needs repairs.
6. Protect Your Home
Your garage door opener works like a key to your home. You can keep your home more secure with the following tips:
Keep your garage door opener hidden: It can be tempting to leave the opener on your car's visor or dashboard, but these are the first places most will think to look. You can keep the opener in your glove box, in your home or elsewhere. If you keep it in your car, ensure you keep the doors locked.
Lock the door that connects your home and garage: While your garage door does provide a measure of safety, go an extra step by locking the door that links your garage and home. If someone makes their way into your garage, you can help stop them from entering your house by locking the entryway.
Consider a vacation lock: Many garage doors include a vacation lock feature that prevents them from opening and closing while you're out of town. If you don't have a vacation lock, consider unplugging the garage door opener if you're gone for an extended period.
Use a rolling code: New technology makes it possible for your garage door to change its access code each time someone uses the transmitter. This feature is another way to ensure access to your home is limited only to people with keys and the garage door opener.
7. Consider MyQ Garage Door Openers
WiFi-enabled garage door openers offer more safety features than traditional ones. MyQ technology allows you to control your garage door with your smartphone for increased convenience and security. MyQ garage openers offer:
Real-time notifications: You receive notifications on your smartphone or similar device when your garage door opens and closes, letting you know when someone comes or goes.
Remote access: You can check the status of your door and open or close it from anywhere.
Secure packages with Key: Amazon offers in-garage delivery with Key to eligible Amazon Prime members in select cities and surrounding areas. All you have to do is link your myQ account to the Key app.
Daily schedules: You can preset times for your garage door to close or turn the lights on or off.
Real-time diagnostics: MyQ lets you know when there is a problem with your garage door. The myQ app can connect you with trusted dealers to schedule repairs and share the diagnostic report for faster repairs.
Advanced security features: Battery backup, automatic garage door locks and the ability to close your door remotely enhance your garage's security.
Hire A-All Style Garage Door for Services and Repairs
One of the most effective ways of maintaining your garage door safety is to find a professional service for your repairs. A-All Style Garage Door is a family-owned and operated business founded in 1981. We specialize in residential overhead door sales and installation and repair services and are a certified LiftMaster dealer.
You won't be disappointed when you hire A-All Style Garage Door for your garage needs. We service the areas of Bolingbrook, Plainfield, Lockport, Naperville and throughout Chicago's southwest suburbs. Contact us with any questions or to schedule a free inspection.