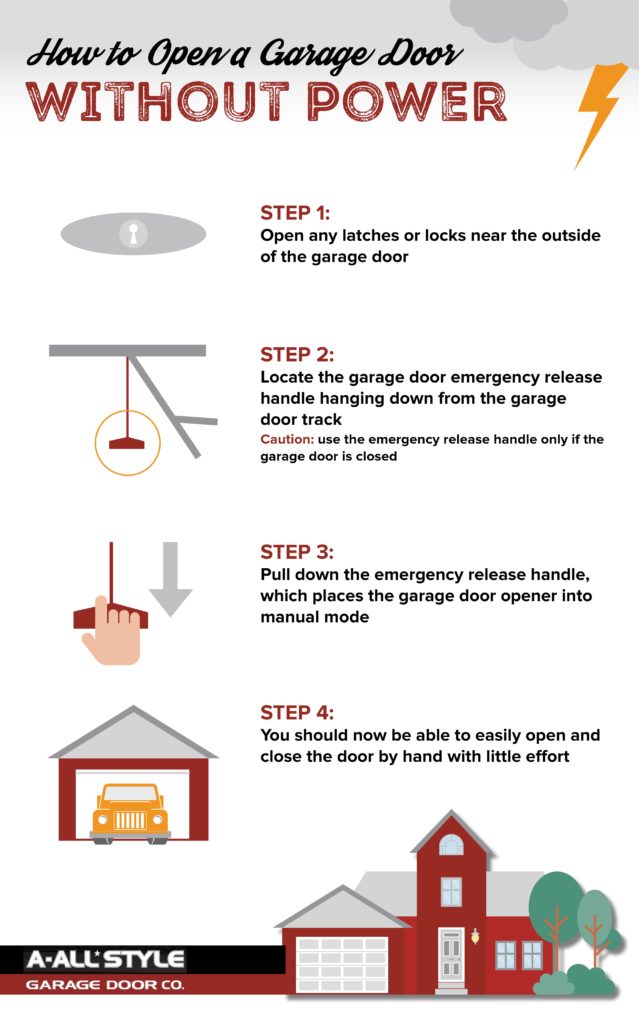 Opening a garage door manually is easy if you follow a few simple steps.
Here's a look at how to open a garage door when the power's out and your opener isn't operating:
Bypass the Opener: All automatic garage door openers have a bypass function for safety reasons. Most garage door opener models offer the bypass in the form of a garage door release handle that hangs down from the unit. You may have noticed this rope and handle dangling down and wondered what exactly it does. When you pull the handle, it places the opener into manual mode. It is best to do this with the door closed. If the door is up, you may feel the weight of the door after pulling the handle – gravity will start to pull it shut.
Opening and Closing the Door: To open the door from the inside, simply use the pull handle to lift the door if there is one available. If you're outside the garage and need to shut the door, some garage doors feature an exterior handle that you can use to open and shut the door. Handle or no handle, always be careful not to place your fingers between the sections when opening or closing a door.
When Power Returns: To reattach your garage door to the garage door opener, pull down on the handle and hit the garage door opener button. When the opener connects with the manual handle, the automatic function will re-engage and you'll be back in business.
Opening your garage door without power should be easy, but that's not always the case. At A-All Style Garage Door, we know that garage door issues aren't always simple and straightforward, or you may want to avoid any potential safety issues by contacting a professional.
We offer scheduled service, as well as emergency services when your garage door or garage door opener is not working correctly. We care deeply about our work and service, as well as your complete satisfaction. To ensure you're pleased with our work, we offer a three-year warranty on garage doors and one-year on openers.
Be prepared for Any Situation With These Guides From A-All Style Garage Door
Since 1981, we've been helping Naperville-area homeowners just like you get the benefits of a high-functioning garage door they've always wanted.
Garage Door Issues? Contact us today for fast repair service!