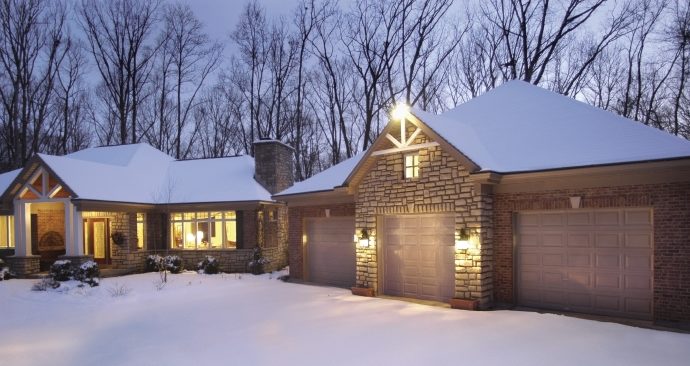 As the temperature drops and the snow starts to fly, problems with your garage door can arise. While it's not a common problem, from time to time you might find your garage door frozen shut. This is obviously a major inconvenience, especially if your vehicle is inside and you can't get it out. It can also prevent you from parking your car inside at night, leaving it exposed to harsh weather and freezing temperatures.
If you find your garage door is frozen shut, there are a few steps you can take to open it without causing damage:
Remove ice: In most cases when your garage door won't open in winter, it's because it's literally frozen to the ground or frame. Blowing snow can force its way around your garage door seals and create an icy barrier, freezing your garage door in place. You can carefully chip away at large ice build-ups along the bottom of your door, but be careful not to damage your door or doorframe.
Loosen door from seal: When your garage door is frozen against the seal, you shouldn't try to raise and lower your door. This can damage the seals or your automatic garage door opener. If after an initial try it won't go up, go outside and push with moderate force along the edges and bottom of your door. You don't want to force it out of the track, but simply break the ice seal that has formed.
Add heat: If it seems that the ice keeping your door blocked still won't let go, you can use a hairdryer to melt it. This will create water, which can quickly freeze again in cold weather, so you need to quickly mop it up and dry your seals so that it doesn't freeze again.
To make sure your garage door doesn't freeze again next time it gets cold, here are some handy tips:
Remove all snow and ice debris from around your door. Snow and ice around the door for prolonged periods of time can cause your garage door to freeze in place quickly.
Don't heat your car up in the garage. The heat from your exhaust can melt snow around your seal, which freezes as soon as you shut your door again.
Keep your seals clean and in good shape. Broken and worn seals tend to absorb more moisture and freeze more quickly than new, smooth seals.
Be prepared for Any Situation With These Guides From A-All Style Garage Door
Being stuck in your garage is never fun, and your safety is always first priority. If you are in Naperville, Bolingbrook, Plainfield and surrounding Chicago Southwest Suburbs, simply give us a call or schedule a repair. Our team at A-All Style Garage Door will respond as quickly as possible to get your garage door open safely.