Last Updated on October 17, 2022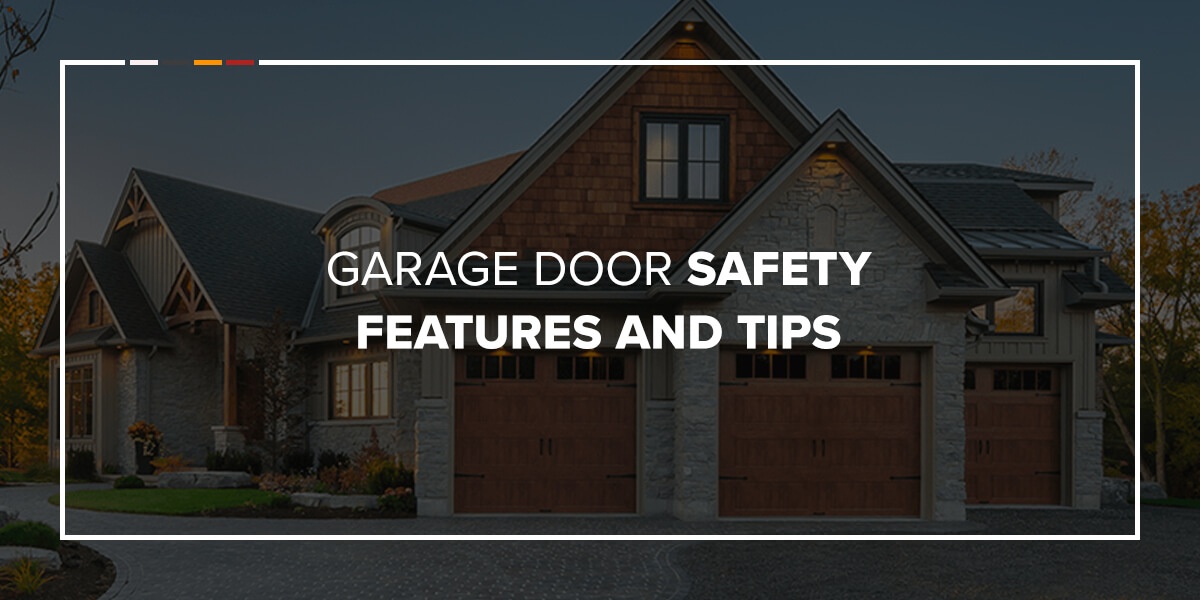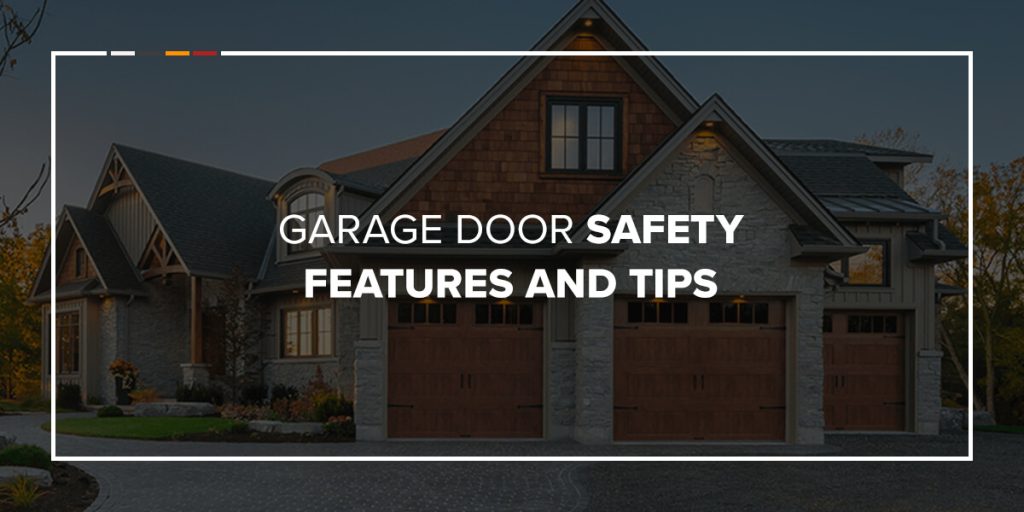 Garages are a commonplace feature in many homes. They provide a safe, secure area to store your vehicles, letting you reach them without walking through rain, wind or snow. However, accidents can happen when using a garage door, so keeping safety and security in mind is essential.
7 Garage Door Safety Feature Tips
Garage doors are heavy machinery that can harm people and things if not used properly. They also serve as an entry into your home, so you must secure them like you would a front door, back door or window. These garage door safety tips will help prevent accidents and garage door-related injuries.
1. Check Sensors
Most garage doors use sensors to open and close. Garage door safety sensors are usually black boxes at the door's bottom. If the sensors are misaligned, the garage door won't function properly. Checking them alerts you to potential problems and allows you to address them as soon as possible.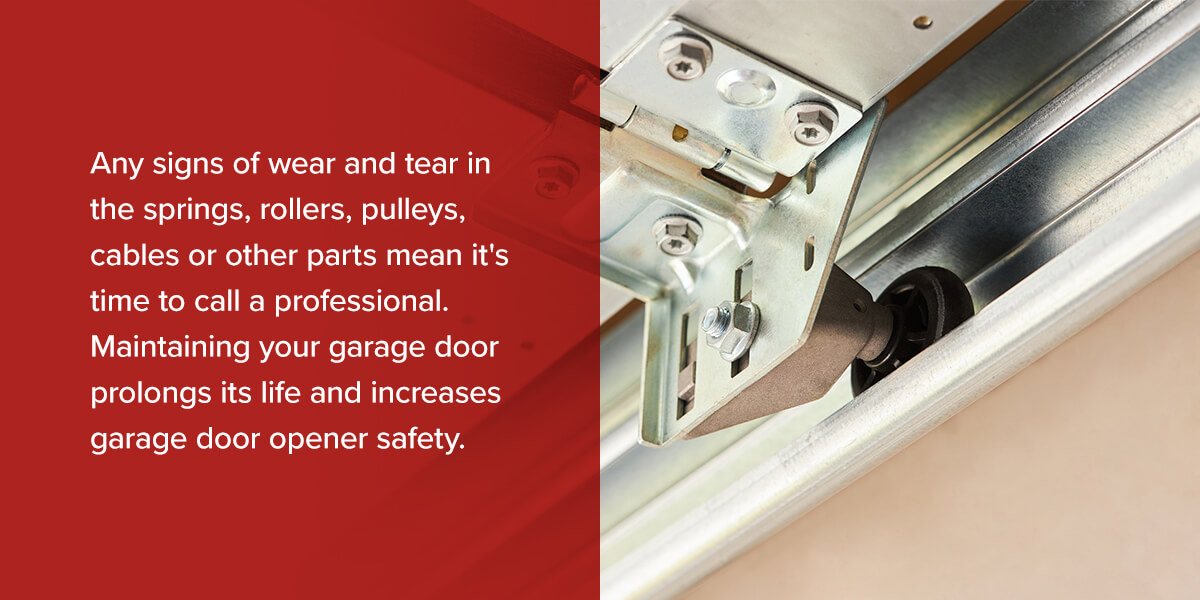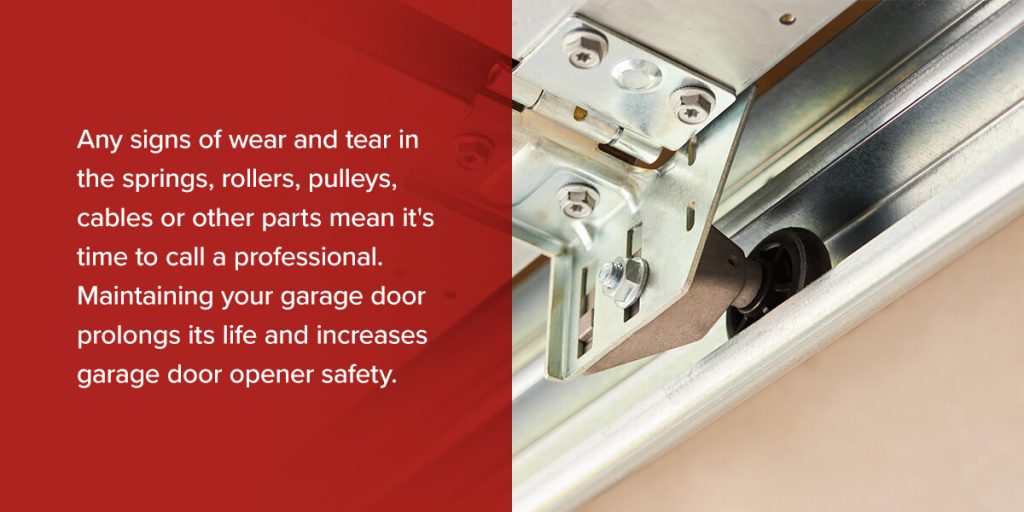 2. Perform Inspections
You should visually inspect your door and its parts monthly. Any signs of wear and tear in the springs, rollers, pulleys, cables or other parts mean it's time to call a professional. Maintaining your garage door prolongs its life and increases garage door opener safety.
3. Keep Children Safe
While garage doors today have safety features to prevent accidents and injuries, you can keep children safer with these garage door opener safety tips:
Always ensure the door's path is clear before opening it.
Don't allow children to touch or hang on the garage door.
Keep the garage door passcode a secret.
Don't leave toys in the path of the garage door.
Ensure keypads or control buttons are more than five feet off the ground so children can't reach them.
4. Know How to Operate Your Door Manually
You must manually open your door when the power goes out or the door malfunctions. Any motorized garage door will feature an emergency release for these situations. The owner's manual will show you where to find the emergency release so you can operate the door without power.
5. Test the Reverse Function
Most manufacturers install a reverse function on garage doors to prevent accidents. Routinely checking this function helps avoid future mishaps. You can test it by placing a roll of paper towels or another object in the door's pathway and pressing the button to close it. If the garage door does not recognize something is in its path and reverse, the reverse function isn't working correctly and needs repairs.
6. Protect Your Home
Your garage door opener works like a key to your home. You can keep your home more secure with the following tips:
Keep your garage door opener hidden: It can be tempting to leave the opener on your car's visor or dashboard, but these are the first places most will think to look. You can keep the opener in your glove box, in your home or elsewhere. If you keep it in your car, ensure you keep the doors locked.
Lock the door that connects your home and garage: While your garage door does provide a measure of safety, go an extra step by locking the door that links your garage and home. If someone makes their way into your garage, you can help stop them from entering your house by locking the entryway.
Consider a vacation lock: Many garage doors include a vacation lock feature that prevents them from opening and closing while you're out of town. If you don't have a vacation lock, consider unplugging the garage door opener if you're gone for an extended period.
Use a rolling code: New technology makes it possible for your garage door to change its access code each time someone uses the transmitter. This feature is another way to ensure access to your home is limited only to people with keys and the garage door opener.
7. Consider MyQ Garage Door Openers
WiFi-enabled garage door openers offer more safety features than traditional ones. MyQ technology allows you to control your garage door with your smartphone for increased convenience and security. MyQ garage openers offer:
Real-time notifications: You receive notifications on your smartphone or similar device when your garage door opens and closes, letting you know when someone comes or goes.
Remote access: You can check the status of your door and open or close it from anywhere.
Secure packages with Key: Amazon offers in-garage delivery with Key to eligible Amazon Prime members in select cities and surrounding areas. All you have to do is link your myQ account to the Key app.
Daily schedules: You can preset times for your garage door to close or turn the lights on or off.
Real-time diagnostics: MyQ lets you know when there is a problem with your garage door. The myQ app can connect you with trusted dealers to schedule repairs and share the diagnostic report for faster repairs.
Advanced security features: Battery backup, automatic garage door locks and the ability to close your door remotely enhance your garage's security.
Hire A-All Style Garage Door for Services and Repairs
One of the most effective ways of maintaining your garage door safety is to find a professional service for your repairs. A-All Style Garage Door is a family-owned and operated business founded in 1981. We specialize in residential overhead door sales and installation and repair services and are a certified LiftMaster dealer.
You won't be disappointed when you hire A-All Style Garage Door for your garage needs. We service the areas of Bolingbrook, Plainfield, Lockport, Naperville and throughout Chicago's southwest suburbs. Contact us with any questions or to schedule a free inspection.