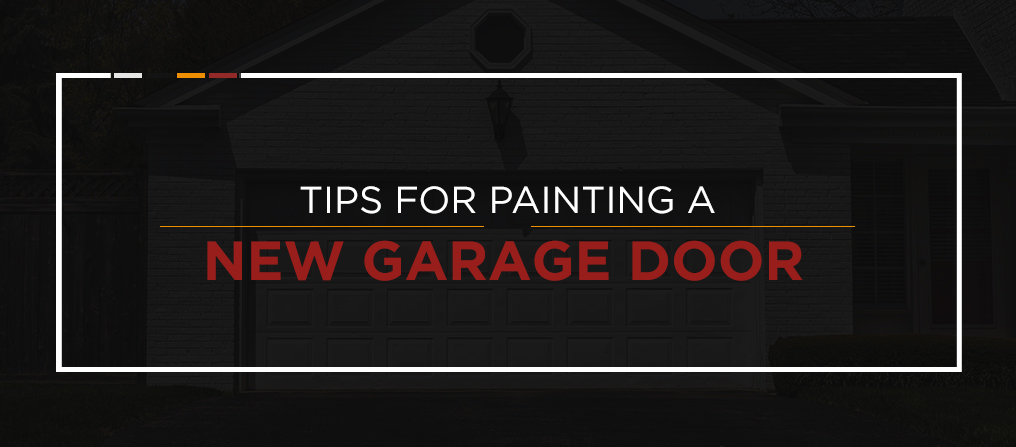 Choosing a garage door comes with so many options. Once you've picked out your door style and material, you still have to select a paint color. The right paint color can raise your home value, improve your curb appeal and transform the appearance of your home. Use this guide to help you get the best results when painting your garage door.
When to Paint Your Door
When painting a garage door, you'll want to pick a nice, clear day. Temperature, wind and humidity can all affect the results, so choose a weekend or a couple of days that are clear and moderate. If it's too hot or too cold outside, your paint won't dry correctly, so pick days between 50 and 85 degrees Fahrenheit. When preparing to paint, you'll want to be comfortable as you work, so keep that in mind.
Avoid windy days — wind can dry the top coat too quickly, leaving the undercoat wet and causing cracking and blistering. Too windy, too hot or too cold days and nights will create bumps, cracks, blisters and problems with paint binding. Avoid these issues by picking wind-free, temperate days and nights so your paint dries evenly.
You should also stay away from high humidity. Too much moisture in the air can draw the surfactant out of the paint, causing white or brown spots. Humidity can cause the paint to dry too slowly or lead to condensation on the door, too. Choose days with between 40%-50% humidity for the best results.
Finally, when picking a day to paint, keep in mind the type of paint you're using. If you're painting a metal garage door with oil-based paint, you should paint at temperatures above 40 degrees Fahrenheit. Oil-based paints can have longer curing rates, so you might have to wait up to 24 hours before applying the second coat. Latex-based colors should be used at 50 degrees or above to avoid water spots.
How to Paint Your Garage Door
Once you're ready to paint your garage door, you'll need to select materials, paint and colors to get the best results. Finding the perfect paint will depend on your preferences, budget and needs, so evaluate all your options when considering paints.
What Kind of Paint to Use
The type of paint you use will depend on the door material. If you're painting a wood garage door, a stain or a latex-based paint will give you the nicest look. You can use latex-based paint on most door materials, but oil-based paints perform well on metal garage doors.
Choose exterior paint to ensure your new coat stands up to the wear and tear of the outdoors. Also, take some samples and figure out what type of paint is already on your garage door. Don't put oil-based paint over latex — it won't go on or set correctly. Latex-based colors can go over oil-based, but it takes extra prep, primer and coats. Use the same paint type over the old coat to keep it as easy and convenient as possible.
What Finish to Pick
There are several types of garage door finishes to choose from. Each finish has a different level of shine, so look at samples to see which sheen you prefer for your garage door. The four finish options include:
Flat: A matte finish with no shine
Satin: A slight, subtle sheen
Gloss or semi-gloss: Some shine but not overly reflective
High gloss: High shine — the most glossy paint sheen
When choosing a garage door finish, keep your shade, door material and personal preferences in mind. While matte finishes are great for hiding scuffs and dents, they're often too porous for outdoor use. Satin finishes are excellent for concealing dents and scratches, and they don't draw attention to existing damage. Different garage door styles and materials work better with different finishes, so pick one that suits your door.
Gloss or semi-gloss sheens are some of the best options for garage doors. Gloss finishes are easier to clean than satin and stand up well to UV rays. Gloss sheens are also moisture-resistant, protecting your door and paint from water. Because it's more reflective, gloss isn't as good at hiding scratches and dents, but this shouldn't be a concern for your new garage door.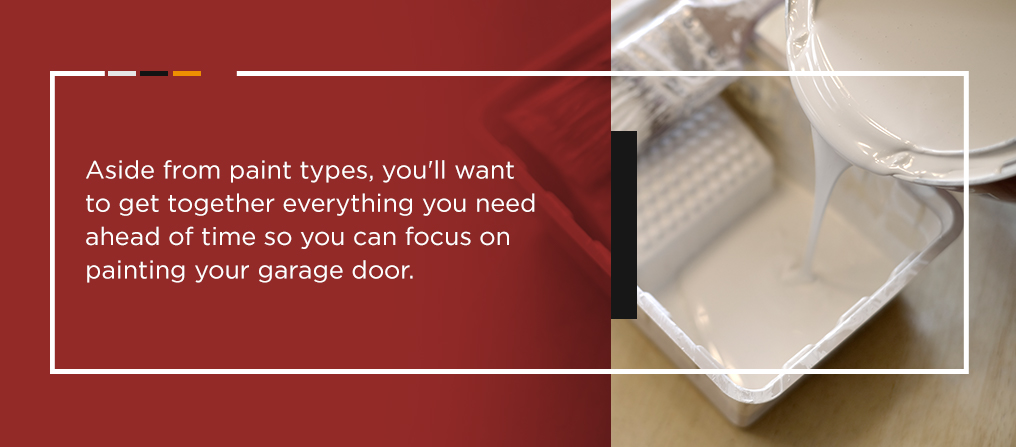 What Supplies to Get
Aside from paint types, you'll want to get together everything you need ahead of time so you can focus on painting your garage door. Having the right tools for the job ensures you keep the area clean and the paint job smooth and attractive. Here are the supplies you'll need for painting your garage:
Drop cloth
Stepladder
Fine-grit sandpaper
Painter's tape
Rubber gloves
Safety goggles
Paint coveralls or old clothes
Paint roller
Paint pans
Paintbrush with nylon bristles
Primer
Paint
Trim paint (if necessary)
When painting your garage, you'll want to select a good-sized roller for the job. The best roller covers for painting garage doors are three-quarters of an inch. These give you the most control and coverage to help your door turn out perfectly.
How to Pick a Color
While gathering everything you need for painting, you'll also have to pick a color. Many factors go into choosing a garage door color, so explore all your color options. Your garage door color can influence the value of your home, its curb appeal and even your love of your home.
To help you narrow down your options, look at colors that complement your house color. Try to stay away from exact matches for the majority of the house — complementary colors add depth and dimension to a home. Also, pick close shades in similar tones for a stylish home exterior. Blues, grays and dark greens work well with cool-toned homes, while red, browns and even blacks can bring out warmer shades. Explore garage door trends for style inspiration and discover your dream door color.
When in doubt, painting a garage door white is a tried and true option. White is a timeless, stylish color that adapts well to any home exterior. Choose between soft whites, off-whites and dozens of other shades to find the perfect color for your garage.
If you're touching up your garage or want to repaint in the same shade as the existing color, you'll want to find an exact color match. Use Clopay® garage door color matching to help you find the precise shade of your original paint color. Matching tools allow you to refresh your garage door without sacrificing your color scheme.
Choosing a brand new, custom color for your garage exterior? Consider using the Clopay Color Blast® system for your garage. Color Blast® paint is created especially for garage doors — it's a high-quality, durable paint that's perfect for steel and aluminum garage doors. With a resilient finish and a five-year warranty, the Color Blast® system is ideal for selecting your dream garage door color.
Learn More About Customizing Your Garage Door Color
Contact A-All Style Garage Door to Find Your Perfect Paint Color
Finding the right garage door color requires swatches, samples and design help. Trust A-All Style Garage Door to provide you with high-quality, expert service and assistance when selecting a new garage door color. We offer a wide selection of the finest Clopay color options to ensure you get the best possible color for your garage exterior.
We're committed to providing you with the best possible results, which is why we offer free at-home consultations. We'll bring swatches and samples right to your door so you can review design options in person. To schedule a service, contact us today and receive professional advice for painting your new garage door.