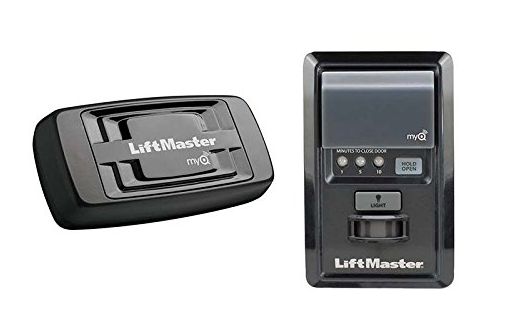 With the latest MyQ technology and Wi-Fi-accessible garage door openers, you now have the convenience and added peace of mind to securely monitor or operate your garage door from anywhere in the world by using your smartphone. Many new garage door opener devices are manufactured with these capabilities already built in, but can you benefit from this security technology if your device doesn't already have these features?
Fortunately, for most garage door openers manufactured after 1993, there are accessories you can install yourself easily to retrofit your garage door opener for Wi-Fi and MyQ technology. This solution is ideal for newer openers that still operate reliably and efficiently, but just lack the technology — and many of these accessories will be compatible with your device. However, for older devices — especially those older than 10 years — replacing your garage door opener to a more effective and dependable device already equipped with MyQ and Wi-Fi may be a more suitable solution.
Our current favorite device to easily retrofit your existing garage door opener for use with your smartphone is the LiftMaster MyQ Retrofit Package. This works with most major garage door opener brands including LiftMaster, Chamberlain and Sears.
How to Add MyQ and Wi-Fi to Your Garage Door Opener
If your garage door opener doesn't already have Wi-Fi and MyQ capabilities, you can simply retrofit the opener with a Wi-Fi controller. To properly use MyQ from your phone, your garage door system must have access to an internet connection.
To set up your Wi-Fi and MyQ, follow these simple steps:
Check Wi-Fi in the Area: Your Wi-Fi controller will need to be mounted on the ceiling near your current garage door opener, but to properly function, your home's Wi-Fi must reach that area. To test the strength, climb a ladder and hold your phone near the opener. An adequate signal will be at least two bars. If the internet connection isn't strong enough, you'll need to purchase a Wi-Fi extender or a new mesh router.
Add Wi-Fi Range Extender (if needed): With a Wi-Fi extender, this device will receive the signal from your home's router then broadcast that signal further, providing additional coverage from the internet router source.
Purchase a Wi-Fi Garage Door Controller: This device will receive the Wi-Fi connection and operate the MyQ capabilities. To ensure your Wi-Fi controller works with your current opener, check your model and reference the manufacturer website. The door controllers can operate two or three openers and be connected to several other home automation systems you may have, like Nest, Apple HomeKit or XFINITY Home, among others.
Install Equipment: At this time, mount your controller to the ceiling near your garage door opener and then connect the device to your home's Wi-Fi connection. Then, mount any door sensors, connect the door sensor to the opener and pair the door sensors to the controller.
Finalize Installation: To ensure your new system is working properly, download the free MyQ app to your phone and try operating the garage door from your device.
Call A-All Style Garage Door to Learn More
If you need assistance installing your new Wi-Fi garage door controller or want to learn more about our wide selection of technologically advanced LiftMaster garage doors equipped with these capabilities, call the professionals at A-All Style Garage Door today. We specialize in garage door opener installations and additional garage door services. With more than 35 years of garage door expertise, we're your trusted, knowledgeable and reliable garage door service company throughout the southwestern Chicago suburbs area, including the Bolingbrook, Naperville and Plainfield communities. To learn more, call us today at 630-739-7170 to speak to a team member or fill out our online form to schedule an appointment.