Tips for Painting a New Garage Door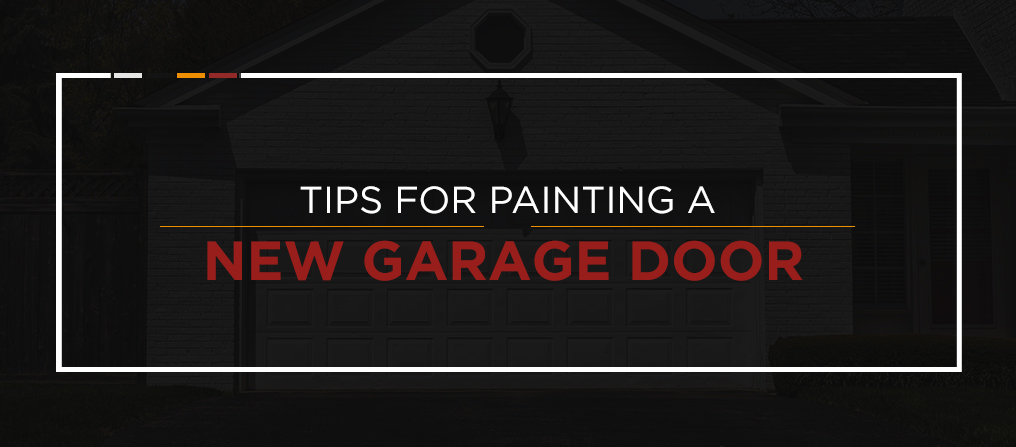 Choosing a garage door comes with so many options. Once you've picked out your door style and material, you still have to select a paint color. The right paint color can raise your home value, improve your curb appeal and transform the appearance of your home. Use this guide to help you get the best results when painting your garage door.
When to Paint Your Door
When painting a garage door, you'll want to pick a nice, clear day. Temperature, wind and humidity can all affect the results, so choose a weekend or a couple of days that are clear and moderate. If it's too hot or too cold outside, your paint won't dry correctly, so pick days between 50 and 85 degrees Fahrenheit. When preparing to paint, you'll want to be comfortable as you work, so keep that in mind.
Avoid windy days — wind can dry the top coat too quickly, leaving the undercoat wet and causing cracking and blistering. Too windy, too hot or too cold days and nights will create bumps, cracks, blisters and problems with paint binding. Avoid these issues by picking wind-free, temperate days and nights so your paint dries evenly.
You should also stay away from high humidity. Too much moisture in the air can draw the surfactant out of the paint, causing white or brown spots. Humidity can cause the paint to dry too slowly or lead to condensation on the door, too. Choose days with between 40%-50% humidity for the best results.
Finally, when picking a day to paint, keep in mind the type of paint you're using. If you're painting a metal garage door with oil-based paint, you should paint at temperatures above 40 degrees Fahrenheit. Oil-based paints can have longer curing rates, so you might have to wait up to 24 hours before applying the second coat. Latex-based colors should be used at 50 degrees or above to avoid water spots.
How to Paint Your Garage Door
Once you're ready to paint your garage door, you'll need to select materials, paint and colors to get the best results. Finding the perfect paint will depend on your preferences, budget and needs, so evaluate all your options when considering paints.
What Kind of Paint to Use
The type of paint you use will depend on the door material. If you're painting a wood garage door, a stain or a latex-based paint will give you the nicest look. You can use latex-based paint on most door materials, but oil-based paints perform well on metal garage doors.
Choose exterior paint to ensure your new coat stands up to the wear and tear of the outdoors. Also, take some samples and figure out what type of paint is already on your garage door. Don't put oil-based paint over latex — it won't go on or set correctly. Latex-based colors can go over oil-based, but it takes extra prep, primer and coats. Use the same paint type over the old coat to keep it as easy and convenient as possible.
What Finish to Pick
There are several types of garage door finishes to choose from. Each finish has a different level of shine, so look at samples to see which sheen you prefer for your garage door. The four finish options include:
Flat: A matte finish with no shine
Satin: A slight, subtle sheen
Gloss or semi-gloss: Some shine but not overly reflective
High gloss: High shine — the most glossy paint sheen
When choosing a garage door finish, keep your shade, door material and personal preferences in mind. While matte finishes are great for hiding scuffs and dents, they're often too porous for outdoor use. Satin finishes are excellent for concealing dents and scratches, and they don't draw attention to existing damage. Different garage door styles and materials work better with different finishes, so pick one that suits your door.
Gloss or semi-gloss sheens are some of the best options for garage doors. Gloss finishes are easier to clean than satin and stand up well to UV rays. Gloss sheens are also moisture-resistant, protecting your door and paint from water. Because it's more reflective, gloss isn't as good at hiding scratches and dents, but this shouldn't be a concern for your new garage door.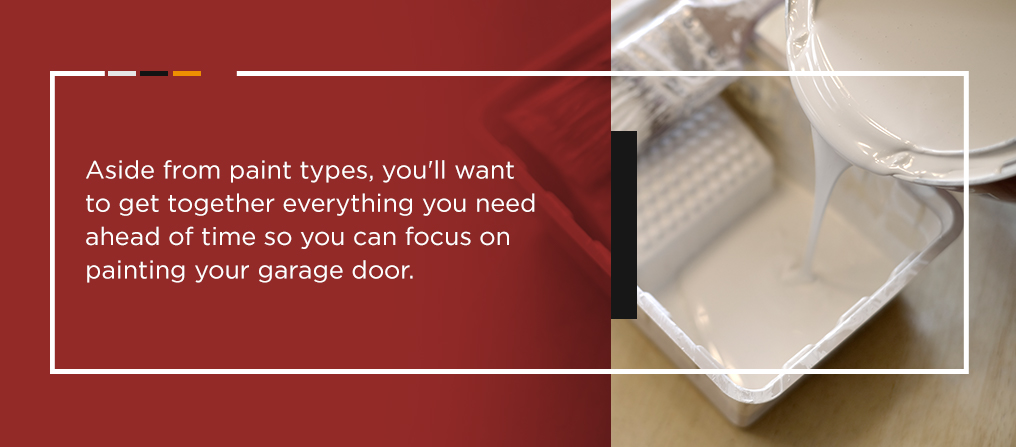 What Supplies to Get
Aside from paint types, you'll want to get together everything you need ahead of time so you can focus on painting your garage door. Having the right tools for the job ensures you keep the area clean and the paint job smooth and attractive. Here are the supplies you'll need for painting your garage:
Drop cloth
Stepladder
Fine-grit sandpaper
Painter's tape
Rubber gloves
Safety goggles
Paint coveralls or old clothes
Paint roller
Paint pans
Paintbrush with nylon bristles
Primer
Paint
Trim paint (if necessary)
When painting your garage, you'll want to select a good-sized roller for the job. The best roller covers for painting garage doors are three-quarters of an inch. These give you the most control and coverage to help your door turn out perfectly.
How to Pick a Color
While gathering everything you need for painting, you'll also have to pick a color. Many factors go into choosing a garage door color, so explore all your color options. Your garage door color can influence the value of your home, its curb appeal and even your love of your home.
To help you narrow down your options, look at colors that complement your house color. Try to stay away from exact matches for the majority of the house — complementary colors add depth and dimension to a home. Also, pick close shades in similar tones for a stylish home exterior. Blues, grays and dark greens work well with cool-toned homes, while red, browns and even blacks can bring out warmer shades. Explore garage door trends for style inspiration and discover your dream door color.
When in doubt, painting a garage door white is a tried and true option. White is a timeless, stylish color that adapts well to any home exterior. Choose between soft whites, off-whites and dozens of other shades to find the perfect color for your garage.
If you're touching up your garage or want to repaint in the same shade as the existing color, you'll want to find an exact color match. Use Clopay® garage door color matching to help you find the precise shade of your original paint color. Matching tools allow you to refresh your garage door without sacrificing your color scheme.
Choosing a brand new, custom color for your garage exterior? Consider using the Clopay Color Blast® system for your garage. Color Blast® paint is created especially for garage doors — it's a high-quality, durable paint that's perfect for steel and aluminum garage doors. With a resilient finish and a five-year warranty, the Color Blast® system is ideal for selecting your dream garage door color.
Learn More About Customizing Your Garage Door Color
Contact A-All Style Garage Door to Find Your Perfect Paint Color
Finding the right garage door color requires swatches, samples and design help. Trust A-All Style Garage Door to provide you with high-quality, expert service and assistance when selecting a new garage door color. We offer a wide selection of the finest Clopay color options to ensure you get the best possible color for your garage exterior.
We're committed to providing you with the best possible results, which is why we offer free at-home consultations. We'll bring swatches and samples right to your door so you can review design options in person. To schedule a service, contact us today and receive professional advice for painting your new garage door.
Troubleshooting Garage Door Sensors
If you've ever pulled out of your garage and discovered your door won't close, you've likely encountered problems with your garage door sensors. Although this isn't the only reason your garage door may not be operating correctly, it's one of the most common.
Luckily, there are some easy ways to troubleshoot your garage door sensors without immediately having to call a service.
How Do Garage Door Sensors Work?
When your opener receives a signal to close the garage door, it checks for a clear infrared signal from the sensors. If it receives a clear signal, the door closes normally. If it doesn't receive that signal, then you'll see flashing lights and the door will not close.
When the connection is free from obstruction, then your door should operate normally. If there is something in the way, — a person, a basketball or another object — those sensors won't be able to interact.
Here are some signs that something may be wrong with your sensors:
The Door Will Open But Won't Close
If your door is opening fine but isn't closing, this is a clear sign something is wrong with your garage door sensors. Make sure there isn't anything getting in the way of the two sensors. If there isn't, it's time to start troubleshooting.
Blinking Lights
Sometimes when you attempt to close your garage, the opener will start blinking. For some garages, the garage door sensor will have a red or green light that blinks several times, alerting you to an issue. If your garage door sensor has no light, this is another indicator of an issue.
4 Ways to Troubleshoot Your Garage Door Sensors
Once you identify there's an issue, it's time to figure out how to fix your garage door sensors. Although it might seem complicated at first, there are a lot of simple strategies you can utilize to troubleshoot your sensors and, hopefully, get them to work again.
Follow these four simple ways to troubleshoot your garage door sensors:
1. Fix Alignment
One of the most common reasons your garage isn't closing is because of poor alignment. It's easy for those little sensors on either side of your door to get out of line. They reside in small frames that can easily shift over time. For an easy fix, examine these sensors. You should see a small green or yellow light on your Liftmaster garage door sensor.
If it's on, this will tell you it's working properly. If it's off, that likely means it's been knocked out of place. You can loosen the wing nut on the sensor frame to adjust it. Gently align the sensor so it's sitting squarely in the frame — that light should pop back on.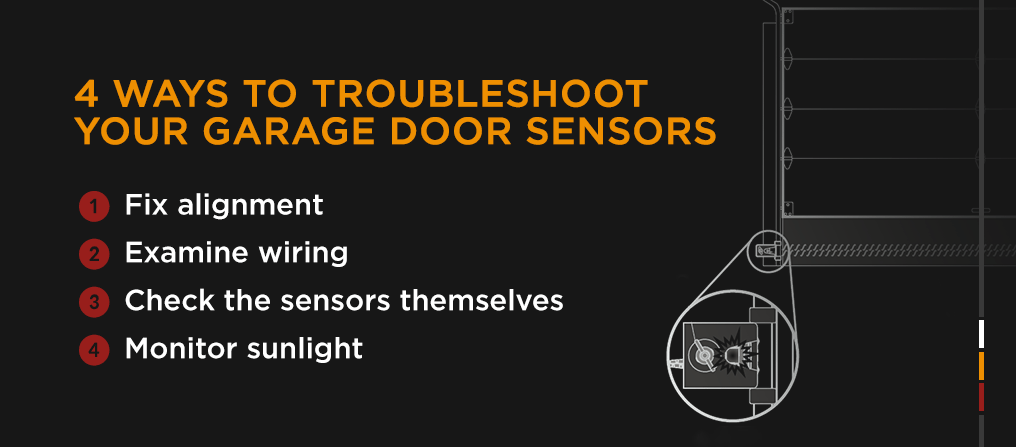 2. Examine Wiring
Another area of your garage you'll want to examine is the wiring. You don't have to be an electrician to figure out if something is wrong — simply follow the wires from your sensors up to your opener, checking to see if there are any snags or imperfections in the path. If you see any breaks in the wire, this could be the source of your issue.
Be careful trying to fix any of these wires yourself — although wiggling these and testing them out could alert you to an issue, they may also pose a potential safety issue. It's best to contact a professional service so you can be confident in your safety.
3. Check the Sensors Themselves
The sensors themselves may also be the problem. To figure out if this is the issue, remove the sensors from the bottom brackets and attach them to the opener. This will allow you to troubleshoot your sensors without involving the wiring, so you'll know if the sensors themselves are causing the problem.
4. Monitor Sunlight
This is one factor many people don't think about when it comes to garage door sensors — sunlight. In some areas, sunlight may hit your garage door sensor, interfering with the infrared and causing your garage door to stay open.
If you notice you're only having issues at certain times of the day, it could be because of sunshine. One easy way to fix this is to place a piece of cardboard between your sensor and the garage door — just make sure it's not blocking the receiver.
Benefits of Troubleshooting Your Garage Door Sensors
It's easy to forget how important garage doors are in our daily lives. When they stop working, we realize just how essential they are. Sometimes calling a service for help might take up valuable time — that's why troubleshooting on your own can be such an appealing option. There are many ways you can benefit from these simple troubleshooting steps:
Save money: Troubleshooting on your own will let you keep money in your pocket and save for more significant repairs in the future. It's an easy way to save on costs.
Find a quick fix: The process of calling a service professional may take longer than finding the issue yourself and solving it. Most of these troubleshooting steps revolve around relatively simple solutions, offering a quick and easy way to solve your issues.
Find an effective solution: From simply sticking a piece of cardboard in between your sensor and garage door to fixing your sensor's alignment, troubleshooting allows you to effectively fix issues with your garage door. You'll be able to quickly get your door to function properly and learn a little bit more about its inner workings along the way.
While there are many benefits to troubleshooting on your own, some issues will go beyond your expertise. If you try those troubleshooting strategies and your sensors still aren't working, it may be time to contact a professional service. An experienced garage door technician will examine your sensors and help you determine whether you need a garage door sensor replacement.
If you ever encounter a situation where you feel you'd be safer or better suited with a professional service, don't hesitate to call.
Keep Your Garage Door Running Smoothly With A-All StyleGarage Door's Troubleshooting Guides.
Contact A-All Style Garage Door
When you need that extra help with garage door repairs and inspections, it's important you find a trusted, reliable company that can offer you quality customer service at a fair price.
A-All Style Garage Door is the company you need. As a family-owned and operated business since 1981, we can offer that personal service while also providing high-quality garage doors. We service all brands of garage doors and our experienced technicians can help get your garage back operating effectively. For those times when troubleshooting doesn't work, A-All Style Garage Door is here to help you find out what exactly is causing the issue. Contact us today!
How to Avoid Garage Door Repair Scams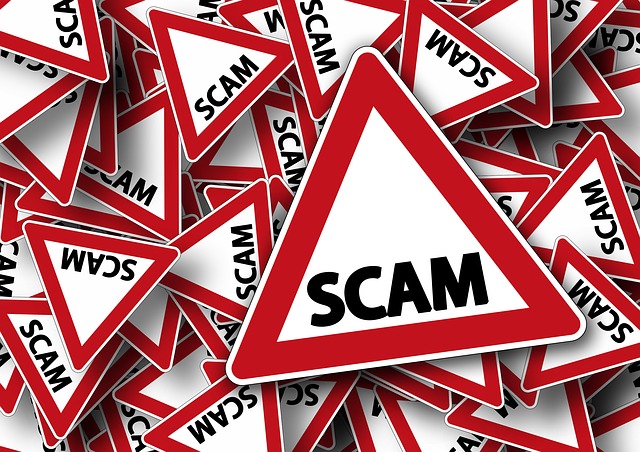 Having your garage door break is inconvenient, and it's essential to have the repairs completed quickly for the security of your home. As a homeowner, you expect to find a friendly and reputable garage door repair company that has your interests in mind and can complete your job fast and at an affordable rate, but unfortunately, more garage door company scammers are popping up across cities in the United States. What are common garage door repair scams and how can you learn to avoid them?
Common Garage Door Repair Scams
Many scammers are looking to prey on homeowners needing emergency or standard maintenance services. Three common ploys scammers use on homeowners include:
Rebuild package: This trick preys on a homeowner's lack of knowledge regarding garage doors and their mechanics. A technician will visit your home then claim that you need an all-new garage door, including torsion springs, cables, rollers and brackets. Even if you wanted to install a new garage door anyway, these swindlers would include inflated charges in their installation bill that would total hundreds or thousands more than you would typically pay with a reputable company.
Lifetime guarantee: The term "lifetime" is confusing, and scammers use this vague word to take advantage of homeowners. A spring, for example, has 15,000 to 50,000 lifecycle ratings, but the cycle and its depletion vary on how often you use your garage door. If a company only offers a lifetime on parts —but not labor — then they're likely making replacements with inexpensive hardware that will quickly break. You'll call them for a fix, and while the part will be free, they'll mark up their labor and replace the cheap part with another one that will break again in no time.
Unidentified technicians: Disreputable companies will advertise that they'll use an in-house worker to make repairs to your garage door, but will actually hire subcontractors or independent workers with no history or contact information. Investigate if someone shows up at your home in an unmarked vehicle with no company identification, logo or name. Ask that the worker introduce themselves and don't assume that they work for the company you've hired.
How to Avoid Garage Door Repair Scams
You can easily avoid garage door repair scams by asking the following questions:
Does the company have an established location with a verifiable address in your community?
Can this company provide references from satisfied customers?
How long has the company been in business?
Can they provide a detailed estimate before beginning work?
Do they have a favorable rating with the Better Business Bureau (BBB)?
How to Choose a Garage Door Dealer
When choosing a company to perform garage door repairs, maintenance or installation, look for a business that offers warranties on their parts and labor and proudly displays their completed work and customer reviews.
Also keep in mind the following characteristics:
Experience and training: Look at how long the company has been in business in your area — do they understand the different environmental factors that can affect building materials? Do they have accreditation with the International Door Association?
Code and regulation compliance: Ask the garage door company how they comply with local regulations and verify that their technicians carry the necessary experience to repair and install garage doors.
Insurance: In cases of damage or injury, you'll want to ensure beforehand that your garage door company has proper insurance — before hiring anyone, have them show you their Certificate of Insurance.
Quality and reputation: Does the company have references from happy clients that they can provide to you, and do they offer fair pricing and exceptional service?
With these considerations, you and your family can spot and avoid garage door repair scams.
Check Out Our Other Buyer's Guides From A-All Style Garage Door
Call A-All Style Garage Door Today for Superior Service
For your garage door repair and maintenance, trust the professionals at A-All Style Garage Door. We've provided quality garage door services to the southwest suburbs of Chicago since 1981.
We are A+ Accredited by the Better Business Bureau and take pride in the quality of our work, as well as the many repeat customers that trust us to provide the best service at a fair price.
In addition, we're an authorized Clopay® dealer and an Advanced Verified Garage Door Dealer by Google. We're locally owned and operated in the Bolingbrook, IL area and offer a three-year warranty on parts and labor on new doors and openers and a one year warranty on all repairs.
To learn more about our services, call us today at 630-739-7170 or contact us online.
Garage Door Repair vs. Replacement – How to Decide
It's the ultimate garage door question: Repair or replace? Obviously, in most cases, it will be cheaper and less time consuming to repair your garage door rather than replace it. But there are some situations when replacing the garage door is just the best option. How do you know which way to go? Here are a few guidelines to consider.
When to Repair Your Garage Door
The following circumstances will likely be remedied with a garage door repair:
Cosmetic Damage Is Minimal: If the problem is minor damage to the door that could be fixed by simply replacing a panel or painting over the damage, repair is probably the better option. Note that in some cases, what may appear to be cosmetic only can sometimes also involve hidden structural damage to the tracks. If you are unsure, contact a professional.
The Door Is Not Working Well: If your door is going up or down slower than normal, if it shudders or hesitates when opening or closing, or if it's making a lot of noise but is still opening and closing fully in a reasonable amount of time, a minor repair will often do the trick.
The Door Is New: If you've purchased your garage door in the last five years, you should still be able to get more use out of it. This is especially true if you've purchased a high-quality door like a Clopay® door. In addition, most high-quality door companies offer a warranty that will cover you in some circumstances.
When to Replace Your Garage Door
There are situations that will require more than just a repair. Here are a few of them:
Cosmetic Damage Is Massive: If your door has major rot or rusting due to age and the elements or if the damage is across the entire door and not just a panel or two, it's probably time to go for a replacement.
The Door Is Not Working at All: If your door will not open or close at all or is stuck halfway, it's possible that a repair will be the answer. It may, however, be symptomatic of a bigger problem that could necessitate a repair almost as expensive as getting a new door — in which case it's probably a better value to buy a the new one.
The Door Is Older: If your garage door is 10 years old or older, things are going to start to wear out on a regular basis. If the door is damaged or not working properly, this could be a good opportunity to start fresh.
Check Out Our Other Buyer's Guides From A-All Style Garage Door
A-All Style Garage Door in the Southwest Suburbs of Chicago
If you have a home in Naperville, Plainview or another spot in the southwest suburban Chicago area and are not sure whether it's time to replace or repair your door, contact us at A-All Style Garage Door Company. We'll help you figure out what to do based on your budget and the condition of your door.
Whatever you decide, we can give you a free and fair estimate on either repair or replacement to help you make your decision.
Does My Garage Door Need a Tune-Up? Plus, Free Annual Maintenance Checklist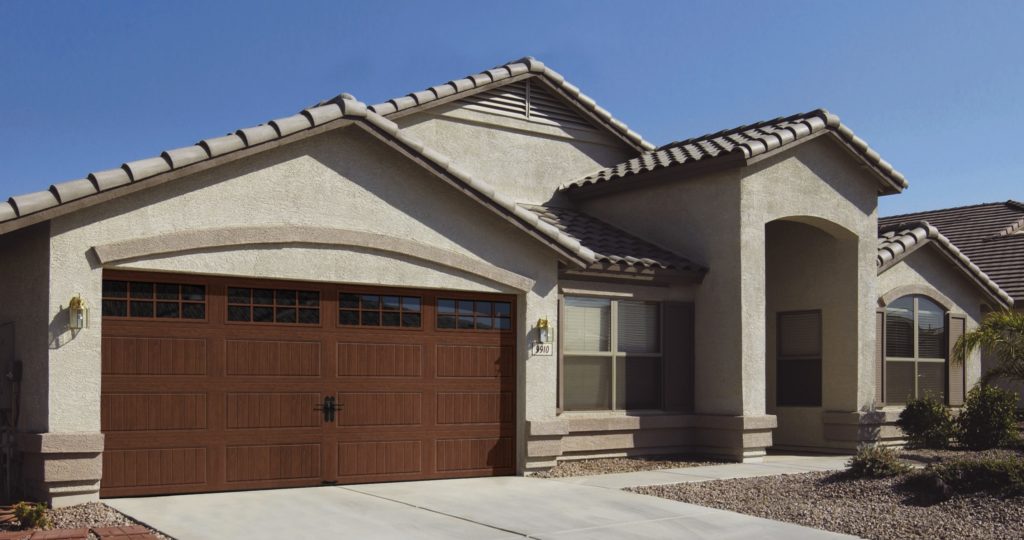 A good garage door is like a good umpire. If they're doing their job well, you don't even notice them. Still, a garage door system is a piece of mechanical equipment. It has moving parts that can fail or wear out, so it is important to ask yourself, "does my garage need a tune-up?" from time to time.
There are two situations specifically where a tune-up is likely necessary:
Something is wrong with the door.
Things can go wrong with your garage door before it stops working entirely. If your door is excessively noisy, opens and closes much more slowly than it should or shudders when going up or down, for example, a tune-up is probably called for. Here are some common problems that you may be having with your garage door.
A year has gone by.
Garage door systems get old just like the rest of us, and just as we should go in for a yearly physical, garage door yearly maintenance is ideal if you want your garage door to have a long life.
While you should have a professional perform your annual overhead garage door maintenance, there are some DIY garage door maintenance steps you can take to get a jump on things. Here is a free annual maintenance checklist for how to maintain a garage door.
Garage Door Maintenance Checklist
Check for Gaps
If you are inside the garage door and it's closed, you should not see any light coming in through the door. If you do, it could be a problem with the door's balance or the weather-stripping.
Check Cables and Hinges
See if any springs, cables or hinges are loose or rusty. Tighten anything that appears too loose, but only if you can do so easily with simple household tools. If you are struggling or if a part obviously needs replacing, call a professional. If you don't, you risk hurting yourself or voiding the warranty, or both.
Listen to the Door
If your door is creaking, scraping, shuddering or excessively loud, you have a problem that you will want to have a professional address before it becomes a big repair.
Check the Balance
Turn off your garage door opener and lift your garage door manually. It should come to rest a few feet above the ground. If the door flies all the way up into the overhead track or if it goes up and then slams back down, you have a balance issue that you need a professional to fix.
Clean the Sensors
This problem usually won't need a professional. Your photoelectric eyes, or safety sensors, alert the garage door not to come down if there is something underneath it. Clean them with a cloth and a mild cleanser regularly to make sure they work properly.
Check the Track
Make sure there is no debris blocking the track the garage door needs to ride along to retract overhead.
These garage door maintenance tips can help extend the life of your garage door, especially if you do them once a season or once a month, rather than just once a year. However, at least once a year, you should have a professional do a full maintenance check and tune-up.
Be prepared for Any Situation With These Guides From A-All Style Garage Door
If you are located in Naperville, Bolingbrook, Plainfield and throughout the southwest suburbs of Chicago, you can count on A-All Style Garage Door. We'll replace any worn out springs or cables, check your door's balance and identify any potential repairs.
If we see a serious problem, we'll give you a free and fair estimate of what it would cost to fix to help you decide what to do. As a family-owned business operating in Illinois for over 35 years, we're a name you can trust. To learn more contact us.
Solutions for Common Garage Door Problems