Garage Door Styles
Your home's curb appeal, or how attractive it looks, can be a major selling point when you list a property for sale. Even if you aren't planning on selling anytime soon, having a home that looks beautiful and attractive still matters and can provide a great return on investment in the long run.
One thing that affects your home's curb appeal is the garage door. Different styles of garage doors complement different styles of houses. If you've never given much thought to the doors on your garage, or if they need an update or refresh, this guide will help you understand the different styles available. It'll also play matchmaker, helping you pick the kind of garage door that works best with your particular home style.
Types of Garage Doors


You can divide overhead garage door styles into three major categories. Within each category, you're likely to find an assortment of different kinds of garage doors, made from a variety of materials and featuring multiple design features, such as windows or raised panels. The three major garage door options are:
1. Carriage House Style
Carriage house-style garage doors look like the swing-out doors you are likely to see on classic carriage houses, but with a few key differences. Today's carriage-style doors open overhead, rather than swinging out, combining Old World charm with modern convenience. You can often customize carriage house-style garage doors with features such as windows and exterior hardware.
2. Traditional Style
Traditional-style garage door materials are either wood or steel. Raised panels are a standard feature on traditional garage doors. The panels are usually rectangular and evenly positioned across the width and height of the door.
As with carriage house-style doors, you can customize traditional doors by choosing the materials, color and panel designs.
3. Modern or Contemporary Style
Modern or contemporary-style garage doors complement the look of modern homes. They emphasize clean lines and few visual distractions. You can find modern or contemporary style garage doors made of steel, aluminum, glass or wood. A range of colors is available, as is the option to install windows on the door.
Types of Garage Door by Category


Your options are pretty much endless when it comes to the styles of garage door available in each category. Clopay designs a variety of different doors, all of which fall into one of the three categories. Once you know the general style you are interested in, you can narrow down your options by type and category.
Carriage House Garage Door Options
Some of the Clopay doors available in a carriage house style include:
Traditional-Style Garage Door Options
If you're looking for a traditional-style garage door, you might consider the following options from Clopay:
Modern or Contemporary Garage Door Options
If you're in a contemporary or modern-style home, the following garage door options might be just right for you:
Types of Homes and Garage Door Styles to Match
When choosing a garage door, it helps to pick a style that will complement the style of home you have. Across the U.S. and throughout the southwest suburbs of Chicago, you're bound to see a variety of different styles of home. Home styles vary based on the age of the building and the tastes of the owner.
Although you could take an eclectic approach to your home design, if your goal is to make your property attractive and to boost your curb appeal, you'll want to pick a garage door that coordinates nicely with the overall architectural style of your home.
Scroll through the list below to find your house's architectural style and some garage door ideas that will work with it.
Colonial Style

The colonial-style house is as American as Mom and apple pie. As you might guess from its name, this style of home dates back to the colonial era. Like many people who traveled to what's now the U.S. from Europe, the colonial-style home first laid down roots in New England and on the East Coast and worked its way west. You'll find colonials all across Chicago's southwestern suburbs, for example.
How do you know if you have a colonial house? They all have a few features in common. First, colonials are symmetrical. They are rectangular and have a front door in the center. There are the same number of windows on the left side of the door as on the right.
Other identifying characteristics of colonial-style homes include a steep roof with no overhang and chimneys. Because the homes are even and symmetrical, the chimney will either be in the center of the roof, or there will be one chimney on each end.
Best Types of Garage Door for a Colonial-Style Home
Colonial-style homes usually aren't flashy and typically have a minimalist design. For that reason, you'll want to pick a garage door that pairs well with a simple, restrained design. Some of your best bets include:
Country Style


Country-style houses owe a debt to colonial homes, but are usually somewhat newer and often feature more details, such as big porches and wider windows. You're likely to see wood accents on a country-style house as well as shutters. If you're having difficulty picturing a country home, close your eyes and think of a Norman Rockwell painting.
Best Types of Garage Door for a Country-Style Home
Since country-style homes have a lot in common with colonial houses, many of the garage door styles that work with colonial homes will also match a country-style home nicely. Here are a few options:
Ranch or Rambler Style


The ranch-style home, sometimes called the rambler or California ranch, dates back to the 1930s, making it a modern style, especially when compared to the colonial home. In the middle of the 20th century, the ranch topped the list of most popular home styles in the U.S. Into the 21st century, the style was among the most popular in 34 states, including Illinois.
The feature that sets the rambler or ranch-style home apart from the rest is the fact that it's a single story. The inside of a ranch home usually has an open-concept floor plan, meaning you can see the living, dining and kitchen areas no matter where you're standing in the central area of the home.
On the outside of a ranch home, you're likely to find a mix of building materials, such as stone, brick, wood or stucco. Another defining characteristic of a rambler/ranch home is its shape. Although some ranch homes are a straight line, an L- or U-shaped design is more common.
Best Types of Garage Door for a Ranch/Rambler-Style Home
Although ranch homes are more modern than other styles of home, they still have a vintage feel to them. For that reason, they work best with garage doors that have an old-fashioned design.
Cottage Style


A cottage is usually a small house that often has a large front porch and a second story that's right under the roof of the house. Cottages tend to be more popular in the South than in the Northeast or Midwest, but you can find this style of home all over the country.
Best Types of Garage Door for a Cottage-Style Home
The feature that makes a cottage style house appealing to many owners is its charm. Often, cottage homes evoke a fairy or folk tale. If there is a garage attached to a cottage or next to one, it needs to have a charming, understated door to best complement that quaint vibe of the home style.
Craftsman Style


Like the ranch home, the craftsman-style house became very popular in the 20th century and remains an in-demand house style today. The craftsman style came out of the Arts & Crafts movement, a design and art movement that aimed to reject mass production in favor of a slower pace of life and a return to human-made craftsmanship. Credit for the specific style of a craftsman house goes to Gustav Stickley, who published plans for the style of house in his magazine, "The Craftsman."
Some of the defining characteristics of a craftsman house are a pitched roof with overhanging eaves and a wide front porch fully covered by the roof. There's often a dormer window as well as two columns on either side of the entryway of the home.
Best Types of Garage Door for a Craftsman-Style Home
The materials on the exterior of a craftsman home tend to evoke nature. Unfinished stone and rough-hewn wood are common. When looking at residential garage door styles that coordinate with a craftsman-style home, you'll want to keep an eye out for natural materials and a vintage look. Here are some ideas:
Farmhouse Style
You don't have to live on a real farm to live in a farmhouse-style home. Although traditionally, a "farmhouse" was a structure for farmers and homesteaders to live in, the style evolved as needs changed. Original farmhouses tended to be made from whatever materials were close at hand. At infrastructure across the U.S. improved and it became easier to ship materials, the houses began to be made from things like lumber or brick.
Farmhouses tend to have big windows and large front porches. Like the classic colonial, they also often have simple lines, although it is possible to find styles with more intricate details, such as eaves that cover the entire porch.
Best Types of Garage Door for a Farmhouse-Style Home
When choosing a garage door for a farmhouse-style home, it helps to remember garages connected to farmhouses might have once been carriage houses. For that reason, you might want to find a carriage house-style garage door, such as:
French Provincial
The French provincial house style dates back to the 17th century, but first made its way to the U.S. in the 20th century. An elegant and refined style of home, French provincial is easy to spot by looking for details such as copper or slate roofs, brick facades and intricate porch balustrades. The windows on the front of the home usually have shutters, while an arch often tops the second-floor windows.
Best Types of Garage Door for a French Provincial-Style Home
The style of garage door that works best with a French provincial home features natural materials and elegant details. Some options include:
Modern or Prefab Style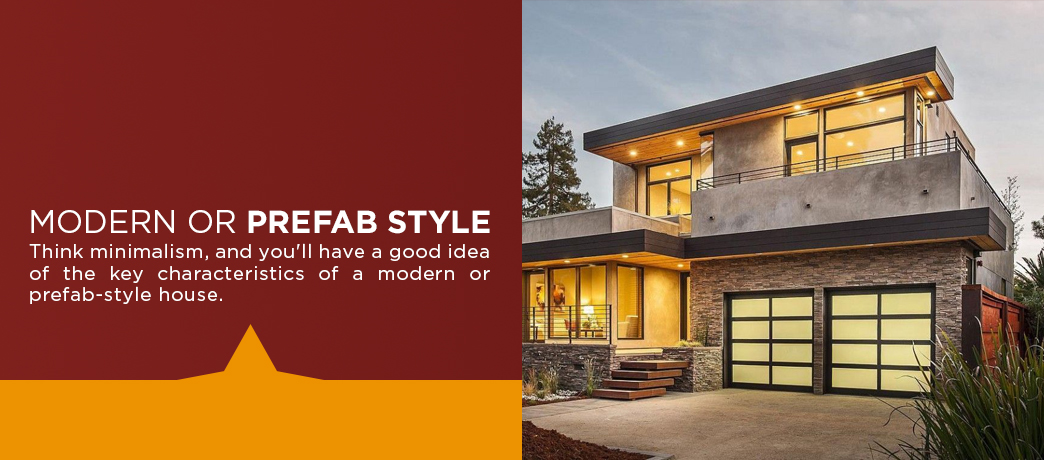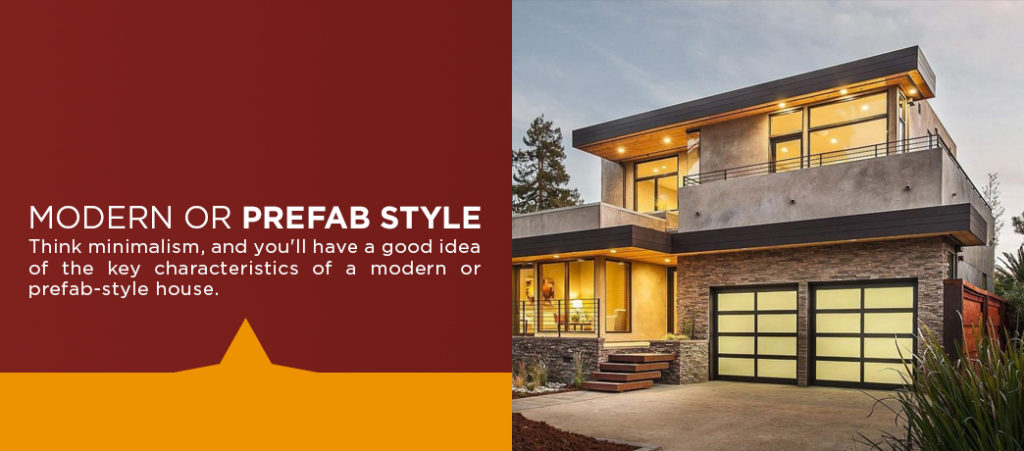 Think minimalism, and you'll have a good idea of the key characteristics of a modern or prefab-style house. The modern style dates back to the early-mid 20th century. The exterior of the modern/prefab style typically features straight lines and flat roofs, as well as wide, horizontally positioned windows. Inside, the lines are clean, and there is minimal decor.
In many cases, the critical components of a modern/prefab style house were constructed off-site, then shipped to the property and put together.
Best Types of Garage Door for a Modern or Prefab-Style Home
The ideal garage door for a modern or prefab-style home will feature modern materials and echo the clean lines and minimal appearance of the home.
Southern Style
Think of the house in "Gone With the Wind," and you have a pretty good idea of what a classic Southern-style home looks like. Often, Southern-style homes began as one thing, but after a series of additions and renovations, ended up something else entirely. A Southern-style house might share features in common with a Greek or colonial revival home, such as a wide porch that stretches across the entire front of the house or tall columns on either side of the front door.
Best Types of Garage Door for a Southern-Style Home
The garage door options that pair best with a Southern-style home depend on the most prominent features of the house. A few options include:
Spanish Eclectic
While you aren't likely to find many Spanish eclectic-style homes in Illinois, if you are lucky enough to live in one, you know the style has its charms. The style is most common on the West Coast and in Florida, and draws heavy influence from the design of Spanish mission houses. A key design feature of the architecture is a low-pitched tile roof. Other features include rounded doors and windows and a stucco exterior. Some Spanish eclectic-style homes have balconies as well as decorative tiling by the doors and windows.
Best Types of Garage Door for a Spanish Eclectic-Style Home
If you have a Spanish eclectic home, you want a garage door that matches its unique style. Here are some choices:
European Style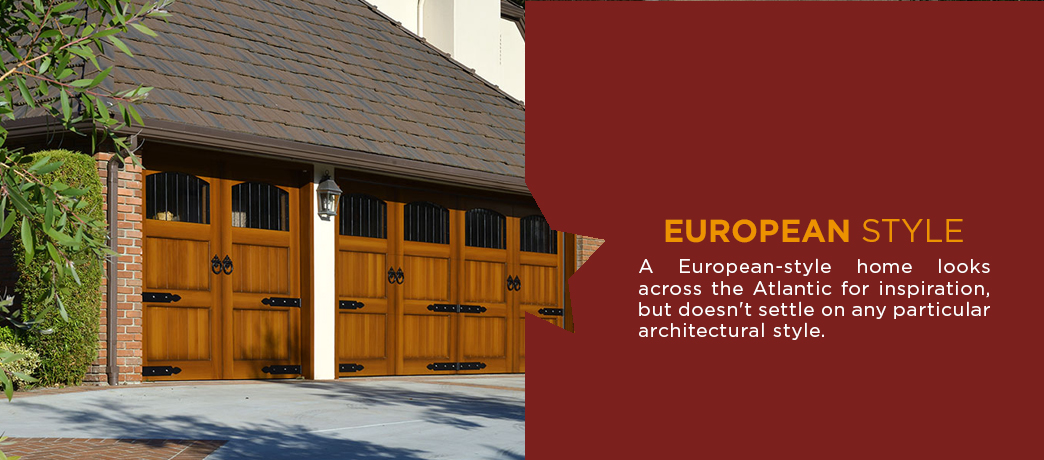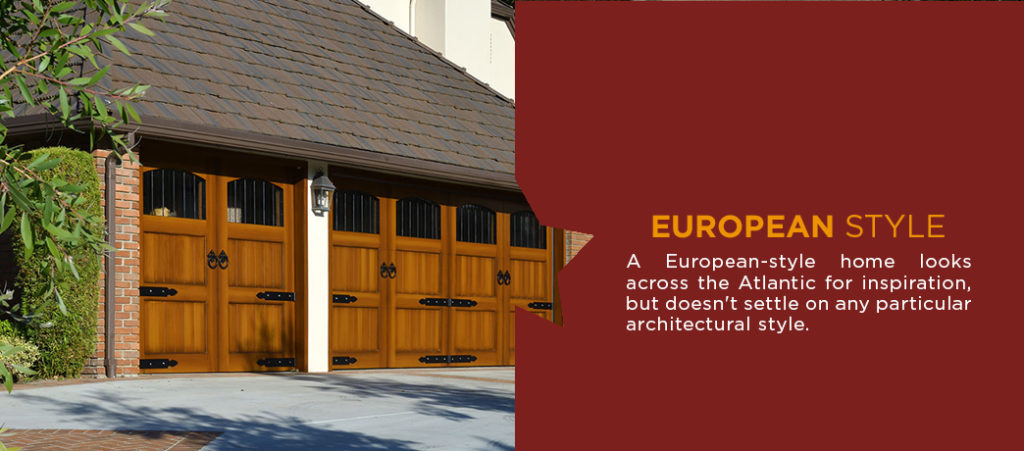 A European-style home looks across the Atlantic for inspiration, but doesn't settle on any particular architectural style. Instead, you're likely to see design elements from old-style French palaces, details from English country homes and designs from Italian villas. Materials used might include marble, plaster, stone and wood.
Best Types of Garage Door for a European-Style Home
The best garage door for a European-style home will be elegant in appearance and practical in function. Here are a couple of ideas:
Mediterranean Style
Sometimes known as Mediterranean revival, a Mediterranean-style home looks to the shores of Italy, France and Spain and the sprawling villas you're likely to find there for inspiration. In many ways, no design choice is too decadent for a Mediterranean-style home. Do you want a large fountain in front of the house? Do it. Are you looking for a luxurious courtyard and garden? It'll be right at home.
Some of the critical features of the Mediterranean style include tile roofs, stucco walls and arched doors and windows. There's likely to be at least one balcony, which often will have an intricately designed wrought-iron grille. Given that the style originates from a part of the world where the weather is beautiful year-round, there is a lot of focus on outdoor space in the Mediterranean style. Along with fountains and gardens, don't be surprised to find swimming pools on the grounds of most Mediterranean-style properties.
Best Types of Garage Door for a Mediterranean-Style Home
The best garage door for a Mediterranean-style home will place a lot of emphasis on style and function. Door styles that allow for customization often work perfectly. Here are two picks:
Traditional Style
If you've spent any time in the suburbs of southwest Chicago, you've most likely seen a traditional-style house or two. The traditional style takes elements of the colonial style, including the Dutch colonial, federalist and Georgian branches, as well as styles such as ranch, craftsman and Victorian, and merges them. As a result, you might find elements such as a covered front porch, symmetry and dormer windows.
Best Types of Garage Door for a Traditional-Style Home
When looking for a garage door to complement a traditional-style home, consider the most prominent design elements of the house. Often, your best bet is to pick a door that allows for plenty of customization.
Tudor Style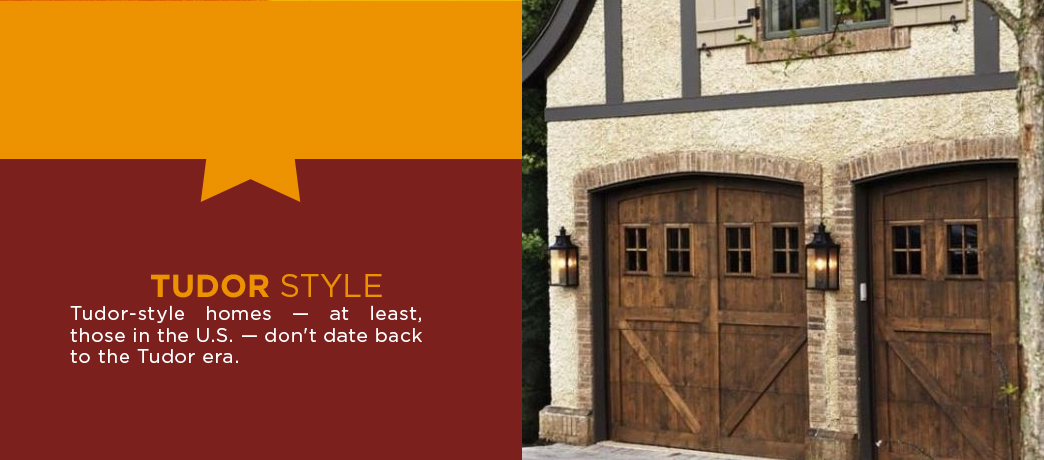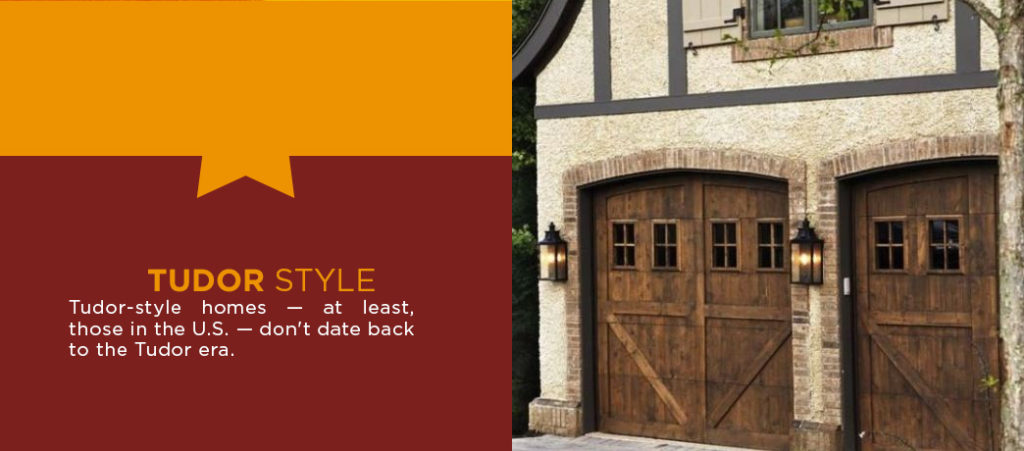 Tudor-style homes — at least, those in the U.S. — don't date back to the Tudor era. Instead, the style of architecture became popular in the 1920s in the U.S. It's a particularly popular style in the suburbs.
The major design feature of a Tudor-style home is the presence of timber on the front of the house, usually on the upper story and by the windows. Some Tudor homes have large stone chimneys and stone walls, as well as rounded doorways. Although many Tudor homes were built in the 20th century, their looks and charm transport you to a completely different era.
Best Types of Garage Door for a Tudor-Style Home
Since the look and feel of a Tudor home is a throwback, the style of garage door that will work best with this type of door should have some vintage elements to it, too. Carriage house-style doors work well.
Victorian Style
The Victorian era, starting in the latter part of the 19th century, was a wild time when it came to advances in technology and design. You can see that interest in technological and design advances when you look at Victorian homes across the U.S.
Thanks to newly available mass-production techniques, many Victorian homes have intricately designed shingles, brackets and spindles. You'll also see those same details in homes built in the Victorian style after the Victorian era ended.
Best Types of Garage Door for a Victorian-Style Home
If you're looking to add or replace a garage door on a Victorian-style home, look for a style that allows you to customize the design and to add intricate details. Here are two top picks:
Gothic Victorian Style
Also called Gothic revival, the Gothic Victorian style predates the Victorian style by a few decades. Like the Victorian style, the Gothic revival style draws partial inspiration from the Industrial Revolution and technological advances. Another influence is the Romantic era and its embrace of nature and individualism.
Some of the key characteristics of the Gothic revival/Victorian style include pointed arches, steep roofs and the occasional tower. The doors of Gothic Victorian homes often feature a trim with intricately detailed and designed wood.
Best Types of Garage Door for a Gothic Victorian-Style Home
There are two directions you can go when choosing a garage door for a Gothic Victorian home: You can embrace the classic design of the house and pick a door with custom-designed details, or you can mix and match and choose a modern-style door that will let the intricate design of the house speak for itself.
Log Cabin Style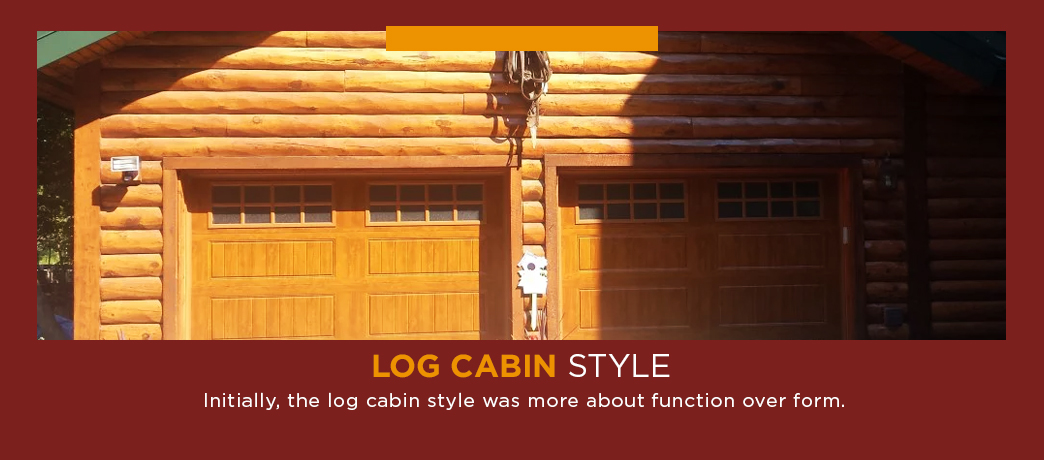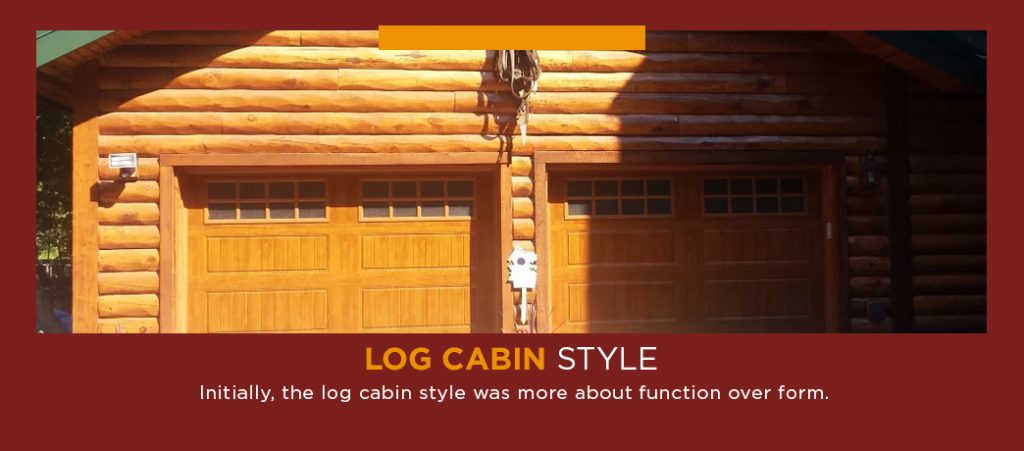 Initially, the log cabin style was more about function over form. Early European settlers needed to build sturdy homes quickly, so they used logs and other readily available materials. Today, log cabin-style homes are more about form than function. If you live in a log cabin, it's likely you chose to do so because the rustic look appealed to you.
Best Types of Garage Door for a Log Cabin-Style Home
While the original log cabins didn't have a garage, most modern versions do. You want your cabin's garage to echo the rustic look and feel of the cabin itself. Choosing a wood garage door with minimal design or with a carriage house style will help you do that.
Prairie Style
The prairie style comes from suburban Chicago and the mind of Frank Lloyd Wright, one of the best-known American architects. Wright designed the first prairie house in 1893, taking the flatness of the Midwestern plains as his inspiration.
Usually, the prairie style is either symmetrical and box-shaped or low-lying and asymmetrical. The roofs tend to be flat and also often extend over the sides of the building. Porches, often held up with large, square supports, usually surround prairie-style homes.
Best Types of Garage Door for a Prairie-Style Home
The horizontal lines and modern aesthetic of a prairie-style home call for a sleek, stylish garage door.
Cape Cod Style
The Cape Cod style has a lot in common with the colonial style, but on a smaller scale. Some Cape Cod homes on the East Coast date to the 1600s. Many of the Cape Cod homes available today date to the time after the Second World War.
Like colonial houses, Cape Cod houses are rectangular in shape and symmetrical. Unlike colonials, they are usually single-story homes, although some have a "half story." The roof of a Cape Cod home is usually steep and gabled.
Best Types of Garage Door for a Cape Cod-Style Home
The best garage door style for a Cape Cod-style home is one that nods to the style's heritage as one of the first home styles in the U.S. A door with a simple design also pairs well with this style of home.
Art Deco Style
The art deco style was popular from the 1920s until about 1940. When you think of vintage Hollywood and classic old movies, art deco is probably what comes to mind, even if you haven't heard the phrase before.
Although art deco was more common in commercial buildings, you can find some homes that use it. These homes often feature stucco exteriors, flat roofs and bold decorative touches on the exterior.
Best Types of Garage Door for an Art Deco-Style Home
A truly modern style, art deco calls for a truly modern garage door. Here are two top picks:
Bungalow Style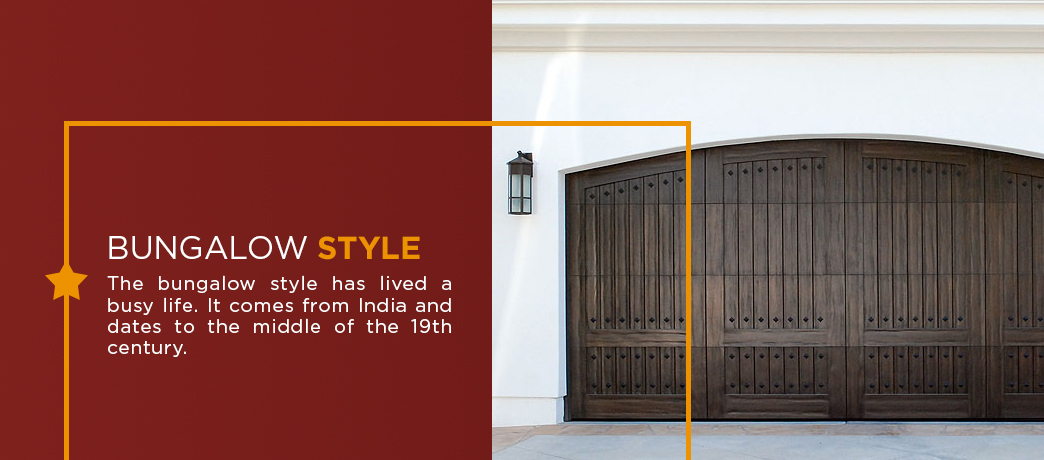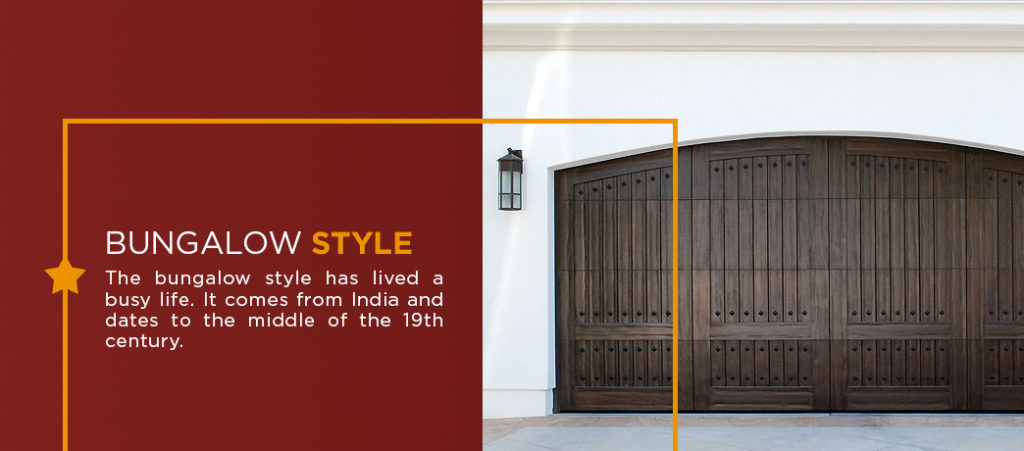 The bungalow style has lived a busy life. It comes from India and dates to the middle of the 19th century. From there, it traveled to the UK before making its way across the ocean to the U.S. Although the style is big in California and on the West Coast, you'll find some bungalows in the Midwest and on the East Coast.
There are specific types of bungalow home, such as the prairie and craftsman styles mentioned above. There are also bungalows that don't fit neatly into a particular category but are still technically bungalows because they are a single story, have two columns in the front and a porch that stretches across the front of the home.
Best Types of Garage Door for a Bungalow-Style Home
Although a bungalow is a relatively modern style of home, its quaint design often makes it better-suited to a more traditional style of garage door.
Other Things to Consider When Choosing Garage Door Styles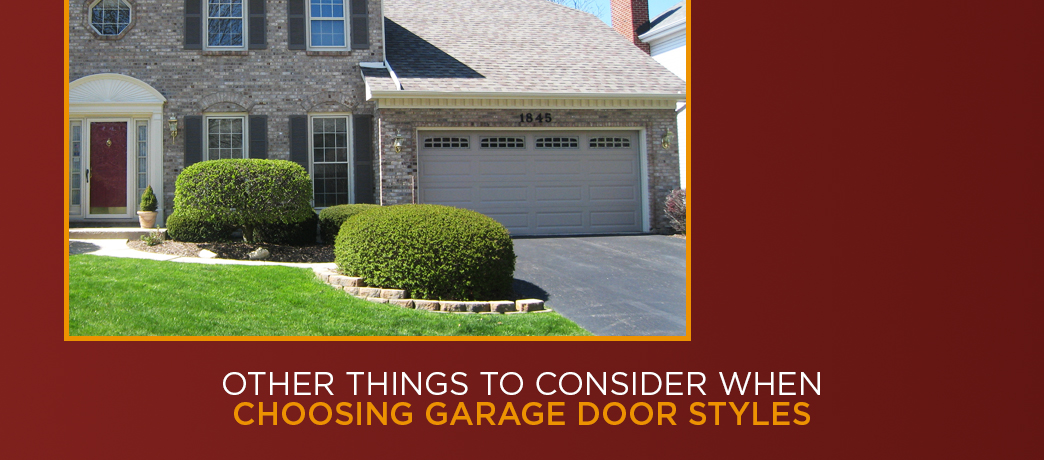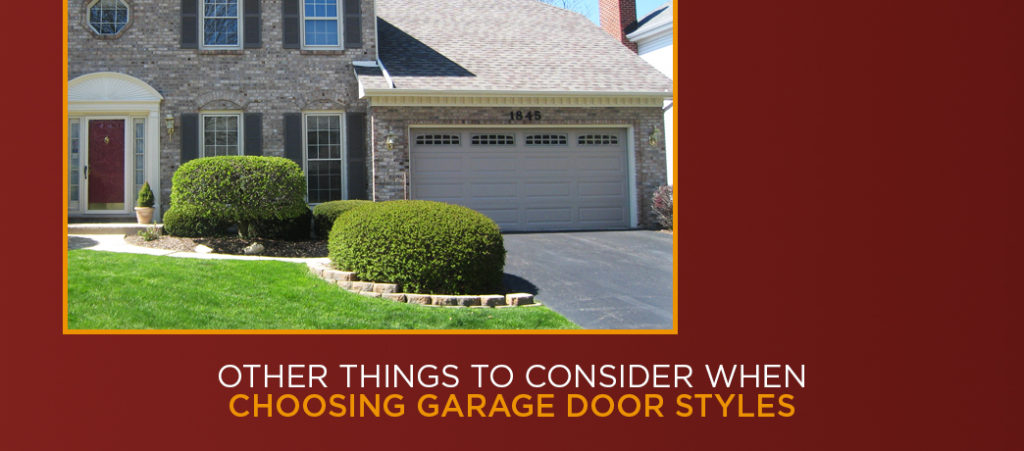 When it comes to choosing the right residential garage door, there's more to consider beyond its appearance. You also want to think about how you use the garage and whether you'll need certain features such as windows or insulation. Before you choose your next garage door, spend a few minutes standing in front of your home, visualizing what you want the next door to look like.
Here are a few things worth contemplating.
The Shape of Your House
Many types of garage door feature panels across the width. Should you choose long panels or short ones? The answer depends in part on the shape of your house. If your house has an elongated, rectangular shape, such as a prairie or ranch-style home, long, rectangular panels will work best. But if you have a box-shaped, square home, such as a Cape Cod or colonial, square panels on the garage door will be a better match.
Some houses, such as Tudor-style homes, seem to draw the eye up and down. If your house has a vertical style, it can be a good idea to choose a garage door that has vertical paneling rather than horizontal panels.
Your Home's Windows
To see inside the garage or not see inside the garage: that is the question. Like the panels on the door, windows can complement the overall style of your home.
Take a close look at the windows on your house and make a list of the different styles. Do you have arched windows above the doors, double-hung windows or a big picture window? Choose the garage door style windows you want to match when picking out your door. You can match the most dominant window style or call attention to a single, eye-catching window by having your garage door echo it.
Garage Door Materials
Whether your garage door is made of steel or wood or aluminum and glass not only affects the look and style of the door. Some materials might be better suited to certain areas than others.
Another thing worth considering when you're choosing the material of the door is your tolerance for maintenance and repairs. Wooden garage doors might look beautiful and offer a lot of options for custom design. But they tend also tend to need more care and maintenance than steel doors. One way to compromise is to choose a door with an Ultra-Grain finish. Ultra-Grain provides the look of wood, minus the upkeep.
The color of the door you want can also influence the type of material you end up choosing. You can paint steel doors pretty much any color under the sun, while wood and Ultra-Grain doors often come in a range of finishes. Aluminum and glass doors typically offer some color choices as well, but not as many as steel or wood.
When you're choosing the color of your door, look at the details on your home. If you have brick, stone or another natural material on the facade, it can be helpful to pick one color out of the material and choose a garage door that matches it. Staining or painting your door to match one detail on your home can create a cohesive design and boost the curb appeal of your property.
Should You Insulate or Not?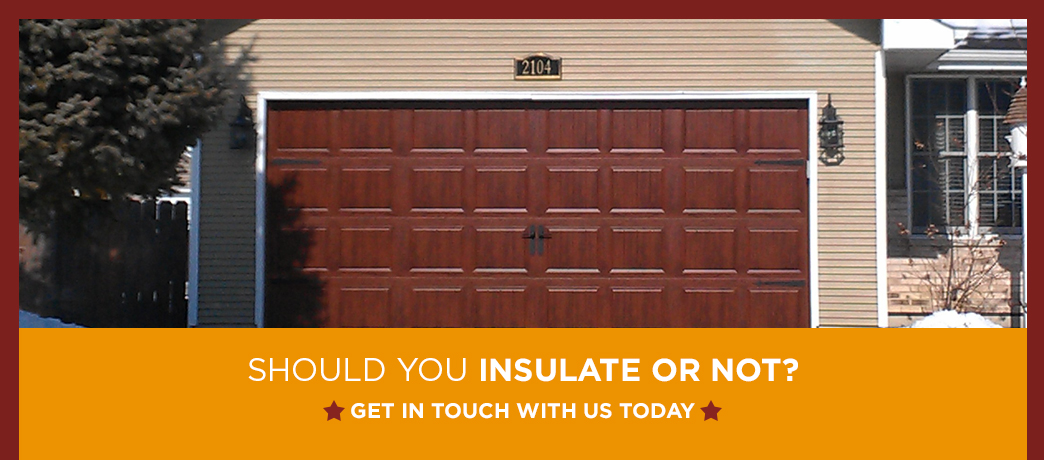 One last factor to consider when picking out a garage door is whether you need a door with a high R-value. The R-value refers to how much insulation the door provides. The higher the value, the better the door will be at keeping your garage nice and toasty. Of course, if you're only using your garage for storage, and not for your kid's band practice or as a secondary rec room, you might not need a door with a higher R-value.
Check Out Our Other Style Guides From A-All Style Garage Door
If you live in Bolingbrook, Plainfield, Lockport, Naperville or another southwestern Chicago suburb and are hoping to replace your existing garage door with one that better suits the overall style of your home and the needs of your family, A-All Style Garage Door is here to help. We specialize in installing and repairing overhead garage door styles and are an authorized Clopay dealer. If you're ready to give your home's exterior a refresh, get in touch with us today to schedule a free garage door inspection.
Updated on: 03/22/2019