Garage Door Materials – Wood vs Steel vs Aluminum
Picking the right garage door takes a bit of research and thought to get all the facts about garage door features and to know what you really want in design and construction. You may be replacing due to a broken garage door, or perhaps you are looking for an update in your exterior décor to improve the curb appeal of your home.
Whatever the reason, we've outlined what you need to know to make the best selection for your climate, budget and lifestyle. Plus, once you've chosen your garage door style and color from our extensive line of Clopay® Doors, you can use the Clopay Door Imagination System to upload a picture of the outside of your house to "try on" the different garage doors and make the most informed buying decision.
Factors to Consider When Choosing a New Garage Door
After you have the basic information regarding the construction options and design choices of a new garage door, you can really start to have fun looking through all the models and piecing together all the design elements to create a door that fits your home functionally and visually. These five factors will get you thinking about the things that aren't always so obvious to first-time garage door buyers.
It's tempting to just go with what looks good to your eye and budget, but you may not have all the information you need to equip your home with a garage door that's most appropriate for your climate, house style and personal preference.
1. Material Pros and Cons
Deciding on the best material for your new garage door will depend on the climate as well as your lifestyle and visual interests. With so many types of garage doors to choose from, you'll be able to narrow down the selection by determining what the ideal material is for all your needs and wants.
Steel Garage Doors
Offer the widest range of options in insulation, design and price.
Can be easily painted to coordinate with the rest of your home.
Offer various R-values for specific models.
Are often the best choice for high wind load locations.
Are the most popular material used for garage doors.
Thicker doors constructed with a layered coating system offering higher durability.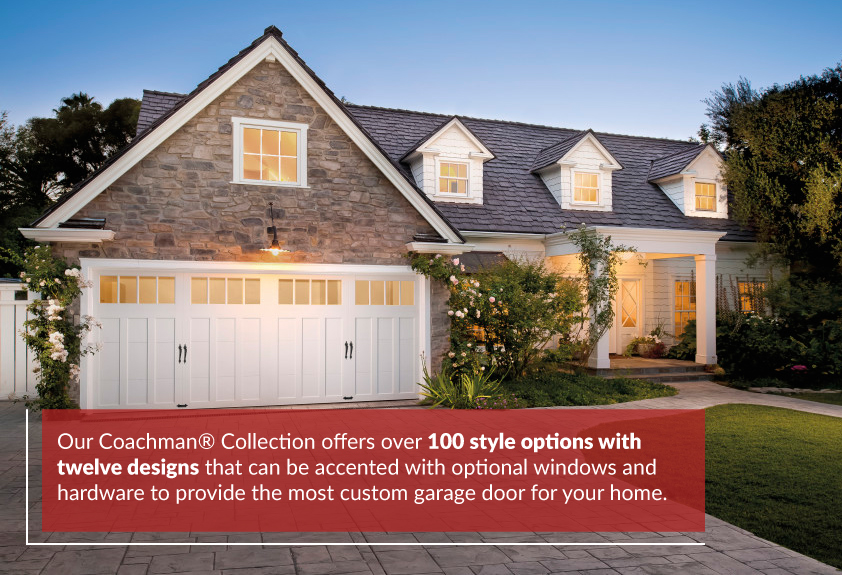 Our Coachman® Collection offers over 100 style options with twelve designs that can be accented with optional windows and hardware to provide the most custom garage door for your home. These doors look like the old-fashioned swing-out doors, but are actually modern overhead doors. With the composite overlay, you get the attractive design options, and the four-layer steel construction provides the strength and durability. This makes them an ideal choice for high wind load areas.
Wood Garage Doors
Are handcrafted from a variety of wood species that are harvested from naturally fallen and sustainable forestry.
Are designed in several unique, eye-catching models, from traditional panel style to carriage house style, and can also be built from completely custom designs.
Can be designed with a high wind load rating by using a layered hard wood construction.
Require a bit more maintenance than steel doors to preserve and protect the natural wood look by repainting or restaining every few years.
Our Custom Reserve Wood Collection is where you dream it and we build it. The possibilities are unlimited with the energy efficiency you want and an expansive selection of specialty glass options. Let your creativity flow with your own custom garage door in any design you can think up.
Aluminum and Glass Garage Doors
Are ideal for coastal areas that have high concentrations of salt in the air as they are rust-proof and corrosion resistant.
Have the most contemporary designs that complement every modern décor.
Are designed with a fully paneled door that can include varying types of glass, acrylic, polygal, wood or aluminum panels.
Offer various window options to provide different levels of natural light and privacy requirements.
Are a long-lasting option and require little in the way of maintenance.
Can be less durable than steel and wood garage doors.
Our Avante Collection of garage doors features all aluminum framing with panels. Optional glazing on the panels determines the level of light and privacy for your garage, making this option an ideal choice for functional and alternative living spaces. The architectural brilliance of this model creates a changing appearance throughout the day and emits a warm glow during the night from the outside. This collection can be the ultimate choice for adding visual interest for your home. If you live in colder climates, Avante may not be the best choice since it offers lower insulation compared to other materials.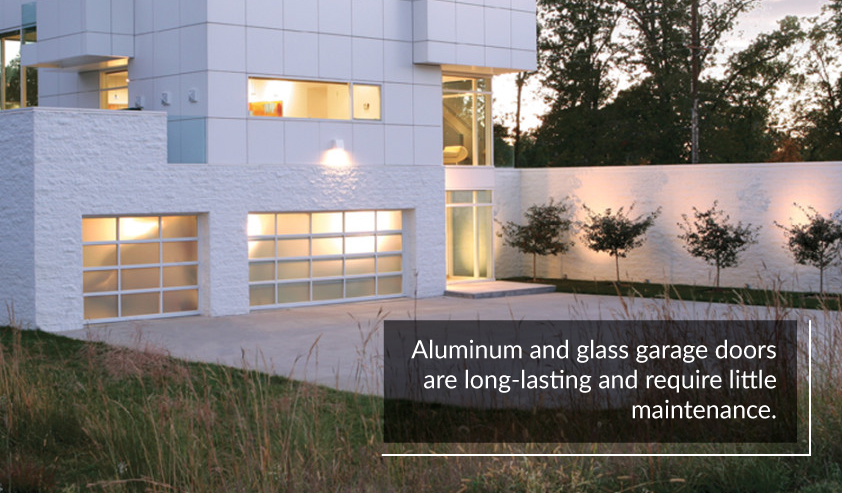 2. To Insulate or Not: What is R-Value
Every material can offer some degree of insulation for a garage door. You need to decide how much insulating power you want for your door. Insulation is effective at keeping the heat in and the cold out, as well as keeping the heat out and the air conditioning in.
If you have a detached garage that won't be used for storing anything that will be affected by extreme temperatures, then you can choose a new garage door with minimal insulation.
On the other hand, if your garage is connected to your home or serves as a living or working space, then you'll want to look at a garage door with an R-value. This rating indicates the material's ability to reduce the transmission of heat or cold. The higher the R-value, the better the insulating material will be.
If you are concerned about the noise of the garage door opening and closing, a more durable insulated door can also contribute to a quieter operation. This is a definite plus if you have a bedroom adjacent to your garage.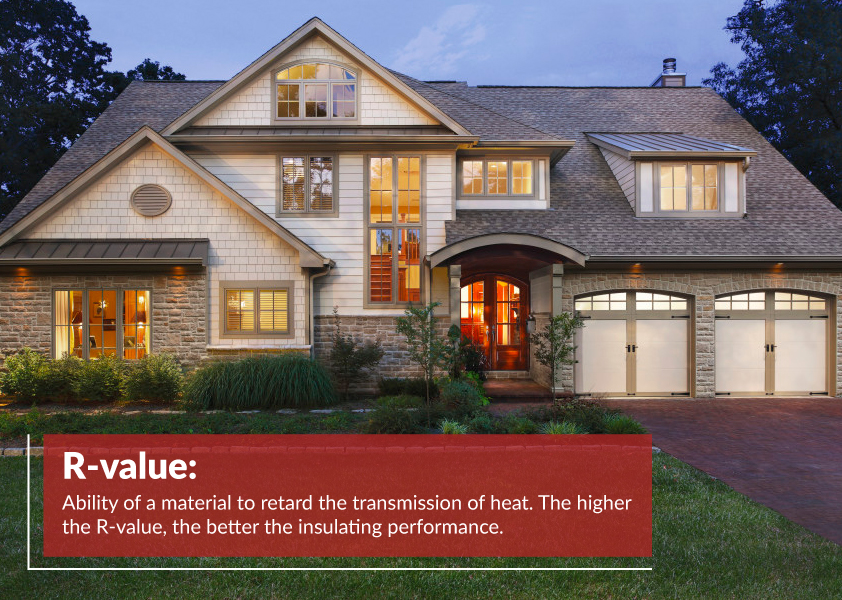 3. The Practical and Aesthetic Matters of Style and Color
Picking the right garage door isn't just about practical matters of construction and efficiency. You can help boost your home resale value as well by understanding what colors and designs are the best visual complements to your house.
Since your house is an investment as well as your living space, it's in your best interest to consider how the garage door styles and colors affect the value of your home. For instance, if your home is designed with modern architectural elements, choosing a garage door with single-layer steel construction and a full-panel design would take away from the overall contemporary look and possibly de-value your home.
Take a good look at your house from the street to get a full picture of the exterior of your house. Notice the colors of brick, siding, window frames, front door and any other color gracing the outside of your home. Assess the exterior that includes the full-on view of your garage and think about what may be lacking, how your garage door design will fit into the overall architecture of your house and how you could use the design of the garage door to enhance the visual appeal of your entire property.
The Canyon Ridge Series offers a number of design choices that offer a specific style and improved overall curb appeal. Primarily constructed with steel for energy efficiency, this collection is overlaid with a faux wood composite that can be primed and ready for any color that coordinates with your house as well as white wash, medium finish, dark finish or walnut finish options.
For a more economic alternative to the Limited Edition Series, we have the Canyon Ridge Ultra-Grain Series that has similar design options in a less expensive construction.
How to Match a Garage Door to Your Home's Style
Garage doors are part of the overall look of your house and should blend in with the style and color of the whole exterior. Here are a few tips to help you choose the best garage door for your house style:
A Victorian, Country or Colonial style home would pair well with:

Paneled wood — real or faux.
A carriage house design.
Top windows that coordinate with the style of windows on the house.
Decorative hardware like Fleur de Lis or colonial handles and hinges.
See how our Semi Custom Reserve Collection works with this style.
Craftsman or Minimalist style homes would pair well with:

Raised panels and block-style windows.
Natural wood or painted woodgrain finish.
See how our Premium Series fits as a complementary style.
A Ranch or French Country style home would pair well with:

Simple, clean lines from wood slats or banding.
Basic hardware that balances with the home's exterior.
Arched windows or wrought iron designing for top panel.
The many window options in our Grand Harbor Collection would be a great fit with this style.
While selecting the design and color for your garage door, remember that making the best choice is also about fitting the design of your garage door with the rest of your house. Not only will this improve the overall value of your home, it is also an easy way to upgrade the whole look of your current home.
4. The Pros and Cons of Windows on Your Garage Door
Windows will greatly enhance the curb appeal of your home. If you don't have windows on your current garage door, you can see the impact windows can make on the look of your home by using the Door Imagination System.
You can match the design of the garage door windows to your house windows, and some models offer various types of glass and transparency options for full light or privacy.
5. Using Hardware for Greater Visual Impact
The best thing about garage door hardware is how easily it can be customized to fit or accent the rest of your house.
Give your garage door the fully accessorized look with decorative handles, hinges or plates. All hardware is optional, although a plate handle at the bottom of the door improves manual operation when needed.
Most people find that less is more when choosing hardware for their new garage doors, so be careful not to overdo it either!
Check Out Our Other Style Guides From A-All Style Garage Door
So Many Types of Garage Doors, so Little Time!
A garage door is a big investment that warrants the time and effort to come to a decision you'll be happy with years down the road. Here are a few other considerations to take into account:
Think about the activity that will happen around your garage door. Do you have children that will be playing in the driveway or pets that may jump on the door? Is your garage door fully exposed to harsh weather? Even if you love some of the fully paneled glass designs, your lifestyle and weather occurrences may have you thinking about the more durable choices.
Every garage door will have some type of maintenance requirements, just like every other part of your home. Consider the maintenance needed for the construction, color and mechanical features. Some models require significantly less maintenance and are more durable for standing up to harsher weather conditions.
Garage door shopping should be a rewarding experience especially with assistance and guidance from a professional installation company like A-All Style Garage Door. If you're in the southwest Chicago suburbs, our skilled technicians can help you choose the right model and design for your home.
Contact us today for a free estimate and consultation.
Updated on 4/10/19.