Garage Door or Opener Installation: DIY vs. Professional
Are you considering taking on a DIY garage door installation or a garage door opener project? Many homeowners tackle do-it-yourself home improvement projects for a variety of reasons, primarily to save on costs.
Garage door and garage door opener installations can seem like straightforward tasks, but they require expert knowledge and professional tools to ensure the job is done right the first time. If not, you risk installing an unsafe and unreliable garage door system that could malfunction, causing inconvenience or serious injury.
Can a DIY garage door installation kit offer you the same quality as a trained professional? Here's what you need to know.
The Drawbacks of DIY Garage Door Installation
Installing a new garage door or garage door opener with a DIY kit can be a risky project. Each participant must follow proper safety precautions to prevent injury, and you may not have the appropriate tools or skill set to assemble and install a new garage door correctly. The result is a low-quality garage door system that may not be reliable and safe for your family.
In general, the drawbacks of installing your garage door yourself include the following:
Safety risk: Did you know DIY garage door installations result in about 1600 injuries each year? When installing a garage door on your own, your safety is not guaranteed. Garage doors weigh around 400 pounds with a 1000-pound pressure spring so the door can be raised and lowered. Only a professional can ensure your new garage door system is safely installed.
Lack of tools and knowledge: A typical DIY installation kit recommends many different tools, including a cordless drill, level, socket/ratchet set and adjustable wrench. Unless you're an experienced handyman, you may find yourself at a local hardware store purchasing or renting these tools to complete the job. You'll also need to learn how to use the tools correctly. Calling a professional garage door installer eliminates some of the hassle and saves you time.
Same price as a professional: Homeowners may choose a DIY garage door installation to save money. However, most of the time, DIY projects cost the same as hiring a professional installer. When you consider the price of materials, tools and training — and perhaps even the monetary value of your time — the project may even exceed what a professional would charge. Then, your home is left with a sub-standard garage door system that could malfunction at any time, costing you even more money and time in the long run.
What Are the Benefits of Professional Garage Door Installation?
Investing in a professional garage door installation has many long-term benefits, the most important of which is safety. Only a professional can install all components according to manufacturer and industry safety guidelines. A professional garage door installer provides high-quality service, quick and easy installation and the peace of mind that your investment will last.
The main reasons to invest in a professional garage door installation are:
Quality: Most professional installers offer high-quality door sales, installation and repair. They ensure your new garage door system has a long life, backed by a warranty and future service should something go wrong. You won't have these assurances by installing a garage door on your own.
Timely and prompt service: Since professional garage door technicians are industry experts, they can provide smooth and seamless installations. Consider the time you could save by hiring a professional to assemble and install your garage door with ease.
Highly trained experts: Professional installers work with garage doors every day, so they can offer expert-level knowledge and advice. It can be easy to underestimate the knowledge needed to safely and properly install a garage door and counterbalance system. Professionals help you check your installation or repair project off your to-do list without risk of injury.
Garage Door Openers: Why You Should Go With a Pro
Just like with garage doors, it's risky to attempt a DIY garage door opener installation as well. Though it may seem cheaper to go buy an opener from a hardware or home improvement store and install it yourself — or even hire someone to come install the product you purchased — you will almost always end up spending more in the long run.
Professional garage door installation companies will have the best openers for you to choose from, and their staff will be so familiar with them that they can complete the installation quickly and correctly the first time around. This will save you in additional costs down the road to fix any mistakes or upgrade low-quality equipment. Plus, you won't have to invest in any of the tools or knowledge you'll need to complete the installation.
In addition, a cheap or incorrectly installed opener can damage your garage door resulting in a very costly repair down the road, or you may even need a full replacement.
Many of our customers are surprised to find that we offer higher quality garage door openers at very competitive prices compared to those offered by big box stores, and that it's the same price or sometimes cheaper in the long run to buy from us and have us install.
Receive Top Notch Service From A-All Style Garage Door
At A-All Style Garage Door, more than a quarter century of experience shines through in our work. Since 1981, our family owned and operated business has been exceeding client expectations by offering high-quality Clopay® garage doors, LiftMaster® openers and installation and repair services.
Our team of trained professionals has been installing and repairing garage doors for more than 30 years. We're dedicated to giving our customers personal attention to detail, as well as fast and knowledgeable service. You can trust our local experts to complete your next garage door project with the highest standards of quality and service.
Do you live in the Naperville or Bolingbrook area? We offer a free design review and estimate on new garage doors. Contact us online or call 630-739-7170 to learn more and ask us about our favorite garage door openers.
Troubleshoot Programming a Garage Door Opener to Your Car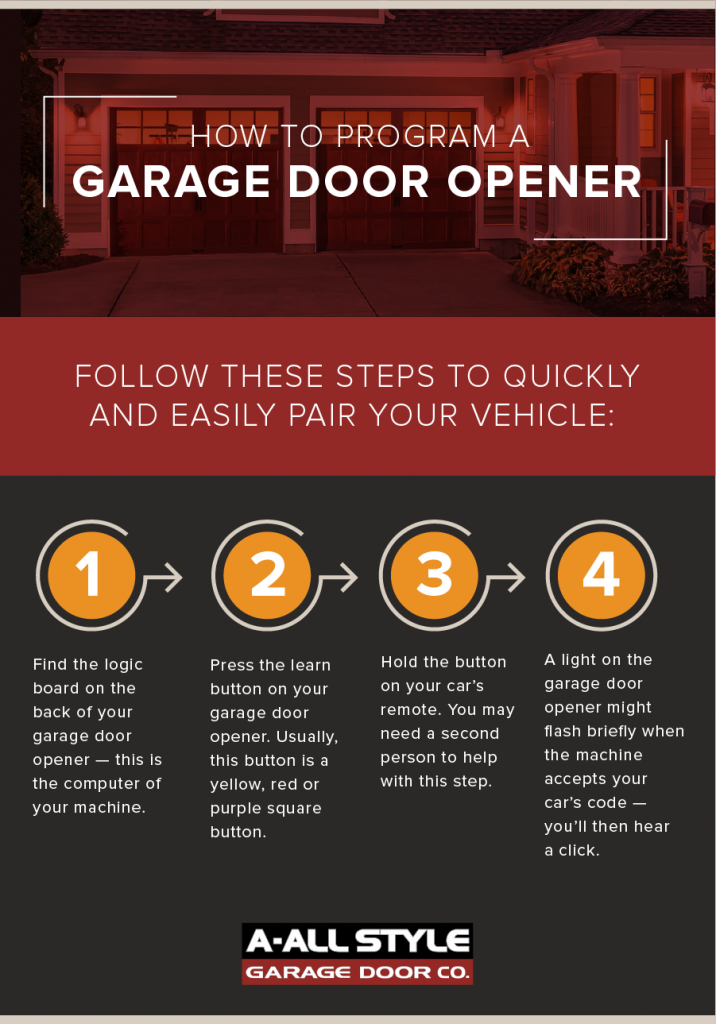 You've got a new car and want to have the convenience of opening your garage by programming it directly from your vehicle instead of carrying around a clunky remote. Typically, following the instructions provided in your owner's manual will work to pair your car to the garage door opener — most problems syncing the two systems arise from owners not following the manual's instructions.
Sometimes you find that you've followed the instructions, and you're still having no luck programming your car to open the garage door. There are several possible causes for this issue. If you're still having problems programming your garage door opener to your vehicle, try using these solutions.
5 COMMON PROBLEMS CONNECTING GARAGE DOOR OPENERS
You may find it challenging to pair your garage door opener to your car or remote. Check out five reasons your garage door opener may not connect:
You have a newer, more complicated vehicle: Most cars are easy to program, but some newer luxury cars, like Audis, have complicated navigational screen menus, requiring extra steps that ask you to get in and out of the vehicle. You may need a second person to assist you or hire a professional garage door expert to help you set up the opener.
You have an older car: Older cars may be a bit more challenging to pair with a newer garage door opener and may need a repeater — a device allowing compatibility between a garage door opener and a car. Newer garage door opener models have newer and safer protocols for transmitter signals, and you'll need the repeater to relay the outdated car signal.
Your remote needs new batteries: As you program your garage door opener's control, you'll notice lights flashing and beeps alerting you of activity. Before connecting your opener to the remote, make sure the batteries work and replace them as needed.
Your remote is out of range: The garage door opener, remote and in-vehicle control panel all transmit frequencies that must be in proximity to connect. When connecting your garage door opener to your vehicle or remote, they both need to be in range so that the garage door opener can pick up their frequencies.
Your opener is not compatible with the remote: Confirm that your new remote is the same brand as your garage door opener. Remotes from other manufacturers operate on specific frequencies with different information.
HOW TO PROGRAM A GARAGE DOOR OPENER IN YOUR CAR
So you've followed your owners manual, and you're still not able to pair your car to the garage door opener. You keep re-reading the instructions thinking that you missed a step, but many manuals sometimes don't include a process for programming your car to the garage door.
Follow these steps to quickly and easily pair your vehicle, whether you're using a remote or not.
HOW TO PROGRAM GARAGE DOOR OPENER REMOTES
Once you have all the parts, follow these steps to program your garage door opener remote:
Examine your garage door opener to find the "learn" button, which is typically near the antenna radio receiver. You may need to use a ladder to access the opener. If you can't find the button, you may need to take off the light cover.
Press the "learn" button until it starts to blink. This signal means that the garage door opener is programmable and receptive to new frequencies.
As the opener light is flashing, press the open button on the remote. You'll typically have a 30-second time limit to press the "learn" button and the button on the remote. Hold the button down for a few seconds to make sure it connects correctly.
After about a minute, the LED light to the "learn" button should turn off. Tap the button on the remote again to make sure it works.
HOW TO PAIR YOUR CAR TO YOUR GARAGE DOOR
The steps for LiftMaster garage door opener pairing involve almost the same process as programming the remote. Consult your manual for specific instructions for your car's make and model. Most booklets should instruct you to follow this process for programming your garage door opener to your vehicle:
Locate the control panel for your garage door opener in your car. This panel is usually above the driver's seat or close to the vehicle's other control buttons.
The control panel probably has a few buttons. Look for the "program" button or something like it. Hold the button down for a few seconds until a light starts to flash.
After you've programmed it, the control panel should be able to connect with a new keycode command or link to the nearest garage door opener automatically. You'll need to have your car parked in your garage to ensure your vehicle connects to your garage door opener.
Besides setting up your in-vehicle garage door control panel, you might also need to use the "learn" button on your garage door opener. Consult the manuals for your car and opener, and ask someone for help if you need to press both buttons simultaneously.
Once you've linked the control panel to the opener or programmed a new keycode, wait a few seconds before testing the controls.
SPECIFIC GARAGE DOOR PROGRAMMING USING YOUR CAR'S HOMELINK OR CAR2U FOR LIFT MASTER OR GENIE
Below are steps for programming a car remote to different LiftMaster or Genie rolling code garage door openers. This process is a security measure that changes the garage door opener's coded signal each time you use the remote to prevent others from stealing entry. You'll begin by following these steps:
Hold down the two outside buttons on your car's remote to clear any previous programming.
Press the button in your car that you want to use for controlling the garage door, plus the button on the garage door remote simultaneously until the car's LED lights flash.
For setting a HomeLink garage door opener, the final step will depend on the manufacturer of your machine:
Genie: Locate and press the learn button located behind the light lens. An indicator light will flash when pressed. After pushing the "learn" button, return to your car's remote control and press three or four times until the garage door moves.
LiftMaster: With a LiftMaster, you'll find the learn button on the back of the terminal screw board. Press it, and then, within 30 seconds, hold the button on the car's remote until the garage door opener's light flashes or until you hear the receiver click.
For a Car2U system, press your machine's learn button, then return to your car within 10 to 30 seconds. Press and hold the Car2U system button that you want to use for controlling the garage door. Immediately release the button once the garage door moves. Once the button is released, the indicator light will blink rapidly until the program is complete. Press and re-release the button to confirm you paired the two with success.
CALL THE GARAGE DOOR EXPERTS AT A-ALL STYLE GARAGE DOOR
If you're located in the southwest suburbs of Chicago and need help setting up your car's garage door remote, then trust the experts at A-All Style Garage Door.
We're a local and family-operated company and pride ourselves on attention to detail and dedication to offering the highest quality customer service and garage door repair, maintenance and installation.
We offer a three-year parts and labor warranty on our services and specialize in the best quality garage door openers and doors, including LiftMaster and Clopay® — and are proud to be an authorized Clopay® garage door dealer.
If you need help setting up your car's garage door opener or require garage door maintenance, contact us online or call us today at 630-739-7170.
Garage Door Repair vs. Replacement – How to Decide
It's the ultimate garage door question: Repair or replace? Obviously, in most cases, it will be cheaper and less time consuming to repair your garage door rather than replace it. But there are some situations when replacing the garage door is just the best option. How do you know which way to go? Here are a few guidelines to consider.
When to Repair Your Garage Door
The following circumstances will likely be remedied with a garage door repair:
Cosmetic Damage Is Minimal: If the problem is minor damage to the door that could be fixed by simply replacing a panel or painting over the damage, repair is probably the better option. Note that in some cases, what may appear to be cosmetic only can sometimes also involve hidden structural damage to the tracks. If you are unsure, contact a professional.
The Door Is Not Working Well: If your door is going up or down slower than normal, if it shudders or hesitates when opening or closing, or if it's making a lot of noise but is still opening and closing fully in a reasonable amount of time, a minor repair will often do the trick.
The Door Is New: If you've purchased your garage door in the last five years, you should still be able to get more use out of it. This is especially true if you've purchased a high-quality door like a Clopay® door. In addition, most high-quality door companies offer a warranty that will cover you in some circumstances.
When to Replace Your Garage Door
There are situations that will require more than just a repair. Here are a few of them:
Cosmetic Damage Is Massive: If your door has major rot or rusting due to age and the elements or if the damage is across the entire door and not just a panel or two, it's probably time to go for a replacement.
The Door Is Not Working at All: If your door will not open or close at all or is stuck halfway, it's possible that a repair will be the answer. It may, however, be symptomatic of a bigger problem that could necessitate a repair almost as expensive as getting a new door — in which case it's probably a better value to buy a the new one.
The Door Is Older: If your garage door is 10 years old or older, things are going to start to wear out on a regular basis. If the door is damaged or not working properly, this could be a good opportunity to start fresh.
A-All Style Garage Door in the Southwest Suburbs of Chicago
If you have a home in Naperville, Plainview or another spot in the southwest suburban Chicago area and are not sure whether it's time to replace or repair your door, contact us at A-All Style Garage Door Company. We'll help you figure out what to do based on your budget and the condition of your door.
Whatever you decide, we can give you a free and fair estimate on either repair or replacement to help you make your decision.
Does My Garage Door Need a Tune-Up? Plus, Free Annual Maintenance Checklist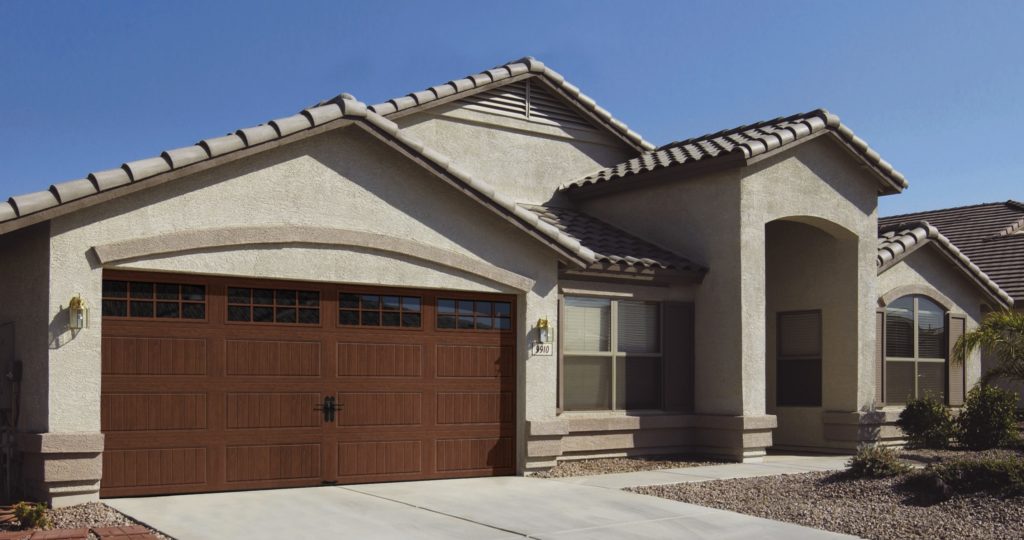 A good garage door is like a good umpire. If they're doing their job well, you don't even notice them. Still, a garage door system is a piece of mechanical equipment. It has moving parts that can fail or wear out, so it is important to ask yourself, "does my garage need a tune-up?" from time to time.
There are two situations specifically where a tune-up is likely necessary:
Something is wrong with the door.
Things can go wrong with your garage door before it stops working entirely. If your door is excessively noisy, opens and closes much more slowly than it should or shudders when going up or down, for example, a tune-up is probably called for. Here are some common problems that you may be having with your garage door.
A year has gone by.
Garage door systems get old just like the rest of us, and just as we should go in for a yearly physical, garage door yearly maintenance is ideal if you want your garage door to have a long life.
While you should have a professional perform your annual overhead garage door maintenance, there are some DIY garage door maintenance steps you can take to get a jump on things. Here is a free annual maintenance checklist for how to maintain a garage door.
Garage Door Maintenance Checklist
Check for Gaps
If you are inside the garage door and it's closed, you should not see any light coming in through the door. If you do, it could be a problem with the door's balance or the weather-stripping.
Check Cables and Hinges
See if any springs, cables or hinges are loose or rusty. Tighten anything that appears too loose, but only if you can do so easily with simple household tools. If you are struggling or if a part obviously needs replacing, call a professional. If you don't, you risk hurting yourself or voiding the warranty, or both.
Listen to the Door
If your door is creaking, scraping, shuddering or excessively loud, you have a problem that you will want to have a professional address before it becomes a big repair.
Check the Balance
Turn off your garage door opener and lift your garage door manually. It should come to rest a few feet above the ground. If the door flies all the way up into the overhead track or if it goes up and then slams back down, you have a balance issue that you need a professional to fix.
Clean the Sensors
This problem usually won't need a professional. Your photoelectric eyes, or safety sensors, alert the garage door not to come down if there is something underneath it. Clean them with a cloth and a mild cleanser regularly to make sure they work properly.
Check the Track
Make sure there is no debris blocking the track the garage door needs to ride along to retract overhead.
These garage door maintenance tips can help extend the life of your garage door, especially if you do them once a season or once a month, rather than just once a year. However, at least once a year, you should have a professional do a full maintenance check and tune-up.
If you are located in Naperville, Bolingbrook, Plainfield and throughout the southwest suburbs of Chicago, you can count on A-All Style Garage Door. We'll replace any worn out springs or cables, check your door's balance and identify any potential repairs.
If we see a serious problem, we'll give you a free and fair estimate of what it would cost to fix to help you decide what to do. As a family-owned business operating in Illinois for over 35 years, we're a name you can trust. To learn more contact us.
Adding Windows to Your Garage Door — What to Consider

Adding Windows to Your Garage Door — What to Consider
Adding windows to a garage door can be a great idea for a number of reasons. They allow more natural light into your garage, and they can beautify your garage door, increasing your home's curb appeal. So, what do you need to know before you consider adding windows to your garage door?
Can You Add Windows to a Garage Door Yourself?
Adding windows to an existing garage door yourself sounds simple — just replace a garage door panel with window glass, right?
In practice, it is not as simple as it looks. For one, your garage door has a delicate balance. The torsion springs are designed to lift just the weight of your current garage door. Adding windows will change that weight and could throw off the whole system.
Furthermore, since you are not a professional, it's easy to make a mistake and break the window or damage the door. If you do, you will probably void the door's warranty and be on the hook for fixing it yourself. You're much better off having a professional put in your windows. They understand how to balance your garage door, have experience with putting in windows and are much more likely to do it right. They take on all the risk for you, too.
Should I Install Windows in My Existing Garage Door Windows or Buy a New Garage Door With Windows?
It depends. If your existing garage door is relatively new, you may not be ready to invest in a new garage door. However, if your current garage door is five to 10 years old, wanting windows could present a great opportunity to purchase a new garage door.
Clopay® has some amazing garage doors that can breathe new life into your home's exterior. Your new door could be a much better match for your home — it will also come freshly painted and with all new parts. If your current garage door is ten years or older and you want windows, we normally recommend that you buy a new door.
Buy or Repair Your Garage Door With A-All Style Garage Door
If you are in the Naperville, Plainview, Bolingbrook, Lockport areas, contact A-All Style Garage Door for assistance in deciding if you should install windows in your existing door, or a free estimate on a new door with windows to replace your current door.
Getting Your Garage Ready for Summer and Keeping It Cool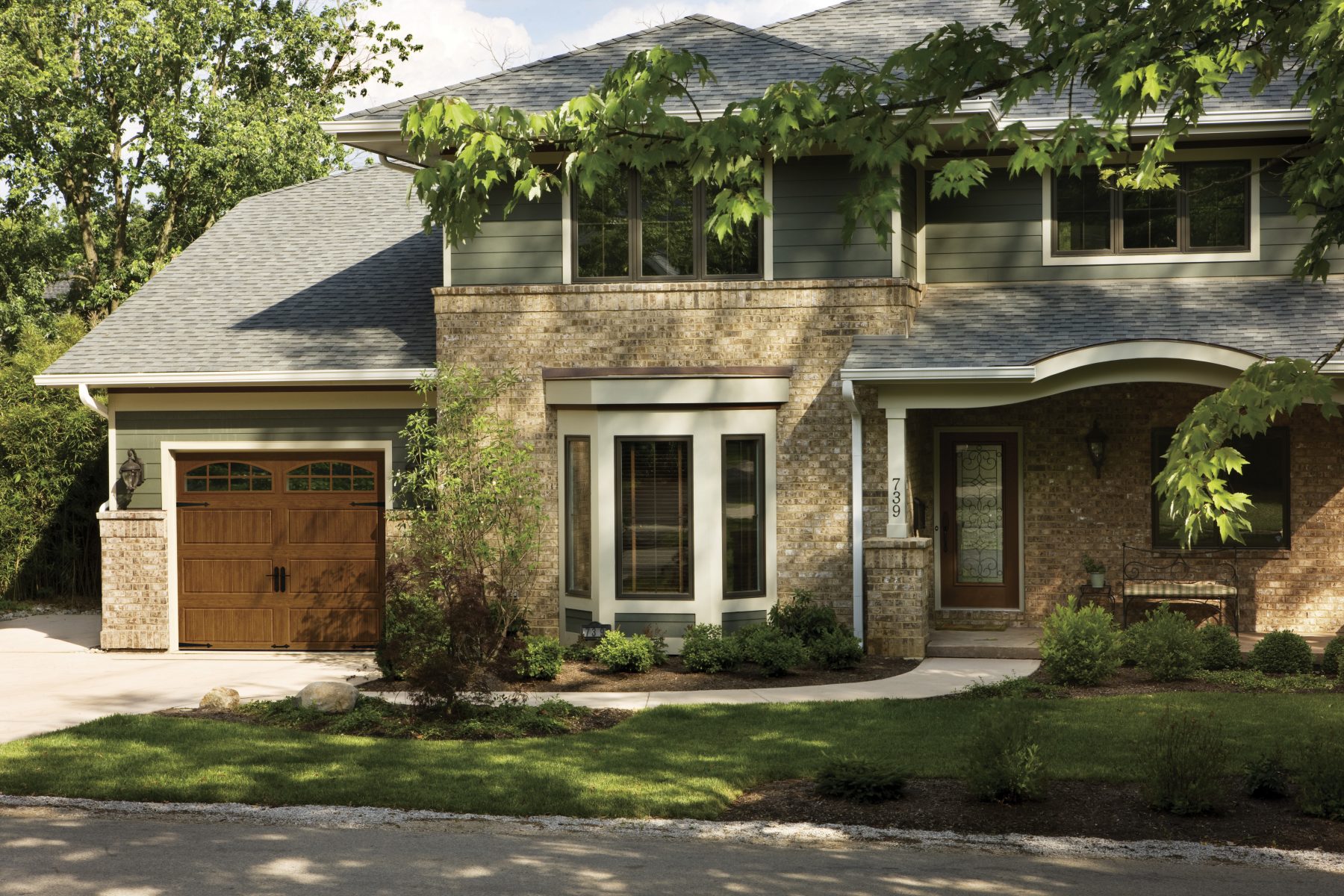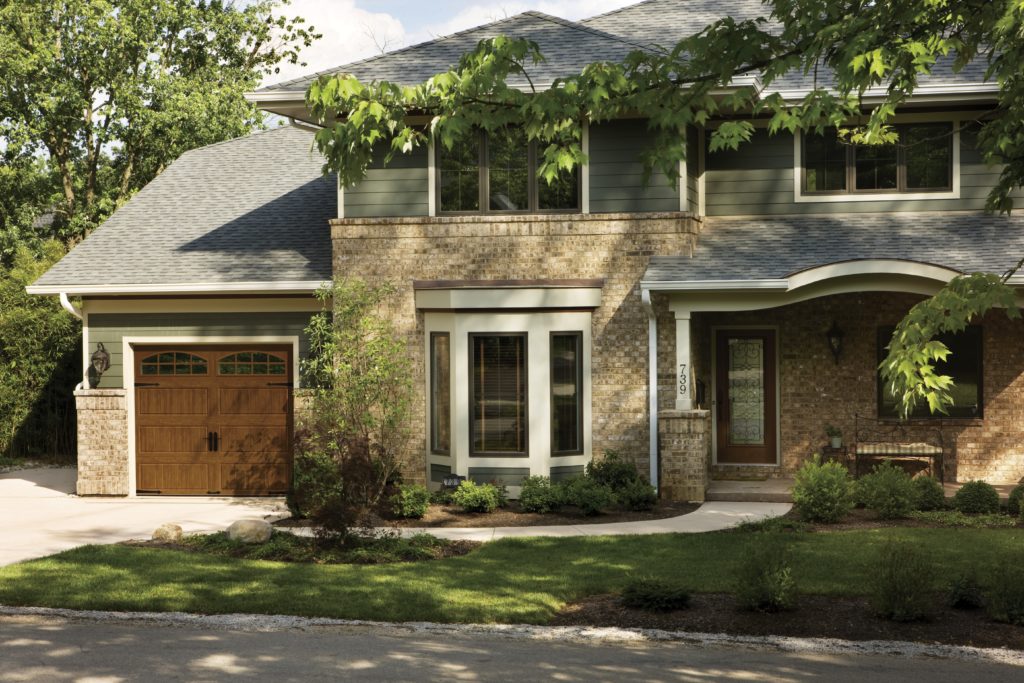 Do I need to check my garage door for summer? The answer is almost definitely yes. The Chicago area can get notoriously hot in the summer, usually hitting between 78 and 92 degrees on a typical summer day. This can cause your garage to get quite toasty if you don't know a few tricks to help make your garage cool in the summer. The garage is one of the most overlooked areas that can have a big impact on your home efficiency, and makes for a more enjoyable car temperature!
Getting a Garage Door Ready for Summer
Much of the secret to keeping a garage cool is in the garage door. What can you do to get a garage door ready for the heat? Here are a few garage prep ideas for summer:
Insulate
Make sure to properly line your garage with quality insulation that prevents heat transfer into the garage. Furthermore, if you're ready to purchase a new garage door, you can choose a Clopay® door with polystyrene or Intellicore® insulation with a high R-value to block heat from coming in and prevent cool air from escaping. Few people realize that this insulation helps protect from the heat just as much as it helps with colder winter weather.
Also, check and see, does the garage door's weather-stripping need to be replaced? Any cracks or tears in the weather stripping, or places where it is peeling off, is an opportunity for hot air to find its way into your garage.
Investigate
Make sure your garage door is working properly. If it doesn't close all the way or if there are defects in the door, it could hurt the door's ability to block heat transfer.
Check That the Garage Door Is Working Properly
To prep your garage door for the summer, you'll want to make sure it is working properly. Consider the following questions:
Does the door not move right away when you activate the garage door opener?
Does it fail to roll up and down smoothly?
Is it excessively loud?
Does it shudder or shake?
Does it get stuck?
When closed, is there any light coming through the bottom?
Any of these are signs you may want to have a professional look at the door – a properly maintained and well-working door helps not only make it more efficient, it also keeps your home more secure.
Contact A-All Style Garage Door to Ready Your Garage for the Chicago Suburbs Summer
In the southwest Chicago suburbs, the company to contact to make sure your garage is ready for the summer is A-All Style Garage Door. We can check your weather seals, adjust the balance and make sure your door is functioning as it's supposed to. We can also install new, higher R-value Clopay® garage doors in your home. For a free estimate, contact us today!
Choosing the Perfect Garage Door Color — Choosing the Right Color for Your Home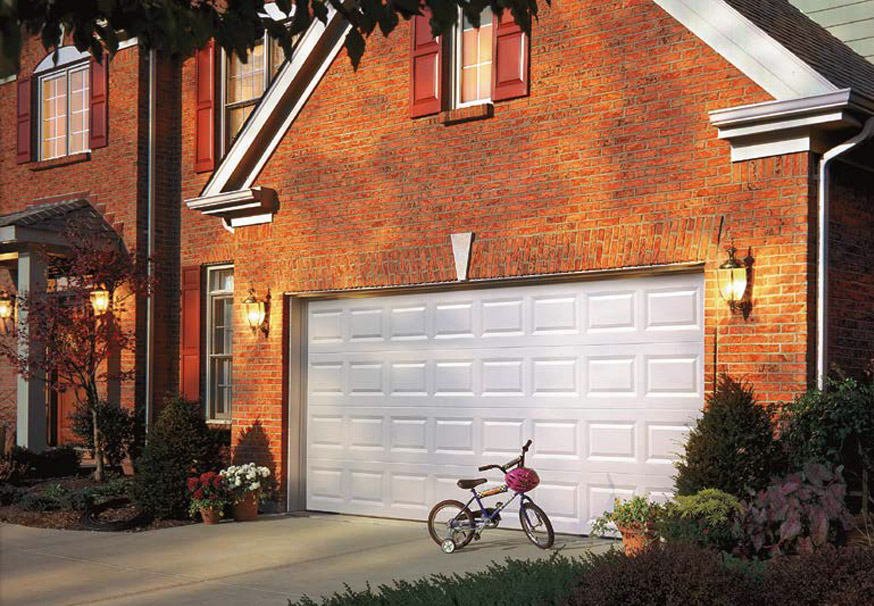 If you've never had a new garage door before, you probably haven't given much thought to what color to paint a garage door. But choosing a garage door color is an extremely important decision. A garage door represents a large portion of your home's exterior, and choosing garage door paint colors that don't match or complement the colors of your home can create an unbalanced, unattractive look. Following are the considerations you should take into account when looking for good garage paint colors:
Does the Color Complement Your Home?
Some popular garage paint colors may not be a good fit because of the color scheme of your home's exterior. This doesn't mean your garage door has to match your home exactly, but the color scheme should make sense. For example, you may want to add some color to a white-painted home by getting a garage door that is brown or gray.
If your home is an earth tone, consider using a white garage door to add a clean, bright aspect to your home's appearance. If you do decide to match directly, we recommend that your garage door matches the main color of the house and not the trim or accent colors. This will make your home appear larger and not draw extra attention to the garage door.
Do You Want a Stain Instead of a Paint Finish?
Wood garage doors have a classic look that is tough to duplicate. If you want to capture that wood look, you may opt for a wood-grain stain instead of a paint finish. This works especially well with traditional-style homes.
Where Is Your Home Located?
The position of your home relative to the street can make a big difference when it comes to choosing your garage door. A home in a shady area, set off from the street and surrounded by trees, demands a brightly colored or light-colored door to capture attention. A dark color can make the garage appear to be swallowed up by darkness.
If your home is closer to the street and gets more light, a darker garage door color may work better.
What Type of Home Do You Have?
The material of your home's exterior may dictate what color you choose. For example, do you know what color to paint a garage door on a brick house? Muted reds and browns that blend well with the brick coloring can work well, as can a neutral tone.
What Do You Want Your Paint to Do?
There are specialty paints that do a lot more than just give your garage door some color. For example, the Color Blast® system from Clopay® and Sherwin-Williams not only provides vibrant, quality color, but it can also protect your garage door against impacts and the effects of extreme heat.
Do You Want Your Garage Door to Reflect Your Personality?
You may be tempted to go big and let your personality shine through in a garage door color – maybe with a bright red or similarly bold color. There's nothing wrong with bright red – if it fits in with the rest of your home. Don't make a personal decision unless that garage door color works within the existing colors and appearance of your home.
What Will Your Door Look Like?
Don't just guess at what garage door color would look best at your home. Take advantage of online tools like Clopay's Door Imagination System, which lets you upload a photo of your home and test out different materials, designs and color options before you schedule a consultation. This tool, in addition to brochures and online pictures, can help you to give an initial idea and visualize color options.
Have You Seen Swatches or Samples?
A good garage door company will be able to offer swatches and samples of their products so you can finalize your design decisions at your home during a design consultation. This helps to avoid guessing on "will it match my home" or disappointment from discovering that a color looked lighter or darker in a brochure or on a monitor.
A-All Style Garage Door has been working with Naperville-area homeowners and in surrounding areas since 1981, helping them create the perfect look and style with a new garage door. When you have questions about garage door colors or how to make the most of your investment in a new garage, we're here to help.
We always carry samples and swatches in our trucks so that we can help you finalize your decision during our free design and color consultation at your home, along with practical advice on choosing the best product based on years of experience. Get in touch with us regarding new installation, replacement garage doors, repair, maintenance, service and more.
Contact us today for a free design consultation and estimate!
Power Outage? Here's How to Open Your Garage Door