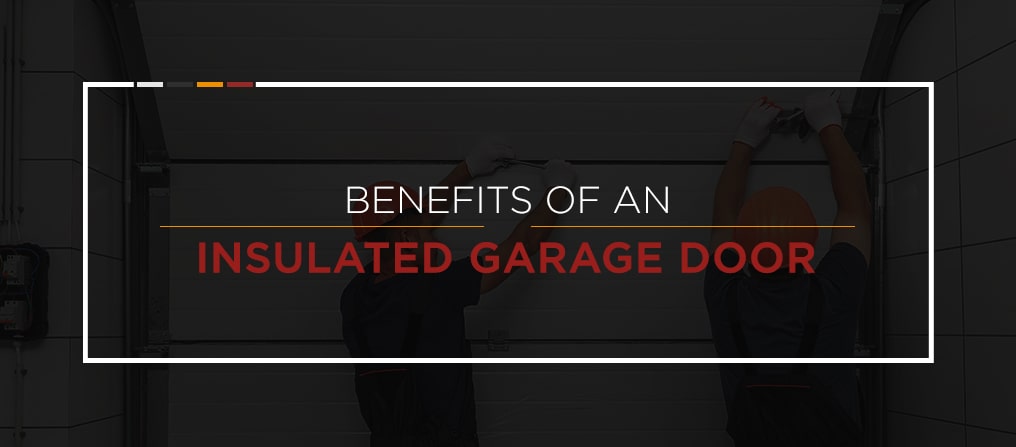 Winter can be brutal when you live in Plainfield, Naperville, Bolingbrook and other Southwest Chicago suburbs. Because of this, most homeowners focus on creating a safe, comfortable and warm living environment for the coldest months of the year. But what about your garage? Not only does your attached garage most likely hold your second-most valuable asset — your car — it also shares walls with your home. Regulating your garage's temperature can help control the temperature in your home, which means a more comfortable environment and lower heating costs.
Maybe you've been considering garage door insulation and wondering, "is insulating my garage door worth it?" Here are some key considerations as you examine your options.
What Is Garage Door Insulation?
Insulation is placed between or behind the layers of a garage door to improve the garage's durability and temperature retention. Generally, homeowners insulate attached garages to protect against heat loss and other weathering. Detached garages don't always need insulation, but you can insulate them if necessary. Additionally, you can insulate roll up garage doors.
Insulation can be installed on many types of door materials, including steel and wood garage doors, which offer extra layers of protection in addition to the insulation. The two most common types of garage door insulation are polystyrene and polyurethane. The insulation you choose for your garage will depend on your needs, budget, climate and door material.
Polystyrene: This is a rigid form of padding that sits flush against the outer door layer. It's not as insulative as polyurethane and is less expensive to install.
Polyurethane: Foam insulation is injected between garage door layers. The foam bonds to the door frame and fills the inside layers of the door, making the door less susceptible to dents and more energy-efficient than polystyrene.
Both types of insulation increase the durability and energy efficiency of your garage door and help with reducing outside noise levels. The better your insulation and the more layers on your door, the better protected the space is from outside elements and heat loss.
Garage doors like Gallery® steel doors can be customized with one to three construction layers and either polystyrene or polyurethane insulation to fit your budget. Choosing a door with three layers of steel and polyurethane insulation, like you'll find in a Bridgeport™ steel door, maximizes the strength and efficiency of your garage door.
What Is R-Value?
When learning about garage door insulation, you'll encounter the R-value measurement. In fancy terms, R-value is a unit of thermal resistance. To make it simpler, just think of R-value as how effective your insulation is. Most home walls will have an R-value of about 11. When choosing to insulate a garage door, you should find an R-value that matches or exceeds the R-value of your walls. This will help create an essential and effective buffer zone between the climate-controlled portions of your home and the harsh conditions outside.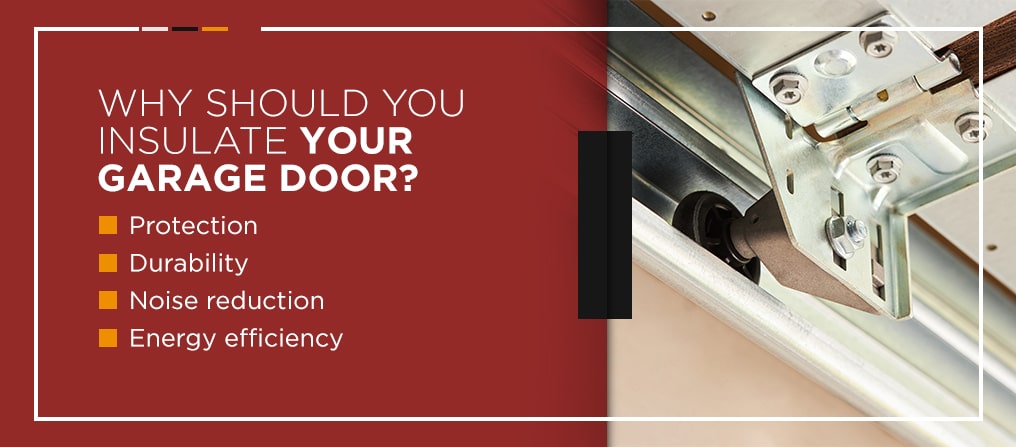 Why Should You Insulate Your Garage Door?
Insulating your garage door has many benefits. Though it can be more expensive upfront, garage doors save you money long-term — in 2021, garage door replacement offered a 93% return on investment (ROI). Here are some of the advantages of insulating your garage:
Protection: You most likely store other valuable assets in your garage. An insulated garage can help extend the life of these assets, keeping them in top condition longer and protecting them from damp, mold and cold damage. In cold weather areas like Naperville and other Southwest Chicago suburbs, insulation can mean the difference between starting your car in above- or below-freezing temperatures.
Durability: The most effective insulated garage doors use polyurethane injected into the space between two panels. This liquid polyurethane fills all the space and cavities when it dries and hardens, but it also creates a more durable product, preventing dents and regular wear and tear on your doors.
Noise reduction: Insulated doors are also known to run more quietly than creaky non-insulated doors. You can rest easy knowing you won't announce your comings and goings to the neighborhood by opening your garage door. They also help reduce outside noise from traffic, other people and pets, lowering the chance that you're disturbed by outdoor noise when you're at home.
Energy efficiency: Non-insulated garages allow heat to move between the inside and outside of the garage — in the summer, your garage might be excessively hot, and in the winter, your garage could be extremely cold. Good insulation helps prevent this, saving you money on your electricity and gas bills. With insulated layers, your garage and home remain the temperature you want them to be without extra effort.
Garage door insulation saves you money in the long run by increasing your garage's energy efficiency, protecting your doors from dents and damages and preventing weather and animals from ruining your belongings. Insulating your garage door and performing regular maintenance will maximize the efficiency and life of your garage doors, reducing long-term costs and increasing your home's comfortability.
Cost of Insulated Garage Doors
The good thing about insulating your garage door is that there are far more pros than cons. Still, replacing and renovating a garage door can be expensive, so selecting one that meets your needs within your budget is vital for any homeowner.
Many factors influence installing a garage door, and insulations are no different. Polystyrene is a less-expensive insulation option, but it's not as energy-efficient and soundproof as polyurethane. Though polyurethane is more expensive, it's generally recommended for homes in very hot and cold climates, as the severe temperatures will significantly affect energy costs and heat transfer.
Garage insulation can cost anywhere from $300-$2,000, depending on door and insulation material, so it's essential to request an estimate from an installer to determine the exact price you can expect to pay.
Check Out Our Other Buyer's Guides From A-All Style Garage Door
Are You Wondering Where to Begin?
At A-All Style Garage Door, we are an Authorized Dealer of Clopay® products, which means we can offer the best garage door products available. Clopay® offers a proprietary Intellicore® insulation that features advanced technology. Clopay's Intellicore® also features R-values of up to 20.4, depending on the model of garage door you choose. This R-value will far exceed those offered by most home walls. Protect your home from energy loss, weather damage and disruptive noise with our quality insulation and garage door options.
Local and family-owned, A-All Style Garage Door is your source for high-quality products, personalized customer service and attention to detail. You can enjoy a three-year warranty on parts and labor and enjoy the long-term value an insulated garage door can provide at your home.
Browse our selection of Clopay® insulated garage doors and contact us for a free inspection or with your questions today.