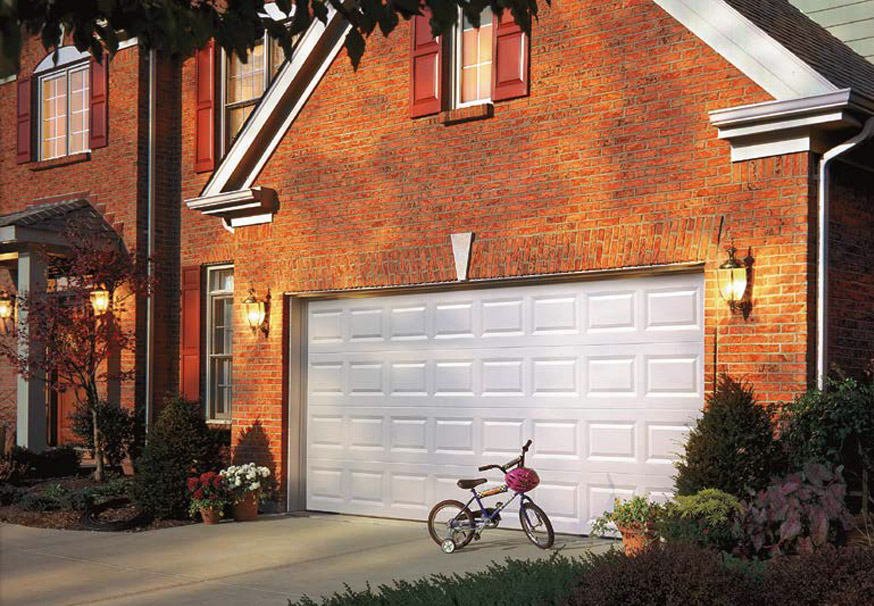 If you've never had a new garage door before, you probably haven't given much thought to what color to paint a garage door. But choosing a garage door color is an extremely important decision. A garage door represents a large portion of your home's exterior, and choosing garage door paint colors that don't match or complement the colors of your home can create an unbalanced, unattractive look. Following are the considerations you should take into account when looking for good garage paint colors:
Does the Color Complement Your Home?
Some popular garage paint colors may not be a good fit because of the color scheme of your home's exterior. This doesn't mean your garage door has to match your home exactly, but the color scheme should make sense. For example, you may want to add some color to a white-painted home by getting a garage door that is brown or gray.
If your home is an earth tone, consider using a white garage door to add a clean, bright aspect to your home's appearance. If you do decide to match directly, we recommend that your garage door matches the main color of the house and not the trim or accent colors. This will make your home appear larger and not draw extra attention to the garage door.
Do You Want a Stain Instead of a Paint Finish?
Wood garage doors have a classic look that is tough to duplicate. If you want to capture that wood look, you may opt for a wood-grain stain instead of a paint finish. This works especially well with traditional-style homes.
Where Is Your Home Located?
The position of your home relative to the street can make a big difference when it comes to choosing your garage door. A home in a shady area, set off from the street and surrounded by trees, demands a brightly colored or light-colored door to capture attention. A dark color can make the garage appear to be swallowed up by darkness.
If your home is closer to the street and gets more light, a darker garage door color may work better.
What Type of Home Do You Have?
The material of your home's exterior may dictate what color you choose. For example, do you know what color to paint a garage door on a brick house? Muted reds and browns that blend well with the brick coloring can work well, as can a neutral tone.
What Do You Want Your Paint to Do?
There are specialty paints that do a lot more than just give your garage door some color. For example, the Color Blast® system from Clopay® and Sherwin-Williams not only provides vibrant, quality color, but it can also protect your garage door against impacts and the effects of extreme heat.
Do You Want Your Garage Door to Reflect Your Personality?
You may be tempted to go big and let your personality shine through in a garage door color – maybe with a bright red or similarly bold color. There's nothing wrong with bright red – if it fits in with the rest of your home. Don't make a personal decision unless that garage door color works within the existing colors and appearance of your home.
What Will Your Door Look Like?
Don't just guess at what garage door color would look best at your home. Take advantage of online tools like Clopay's Door Imagination System, which lets you upload a photo of your home and test out different materials, designs and color options before you schedule a consultation. This tool, in addition to brochures and online pictures, can help you to give an initial idea and visualize color options.
Learn More About Stylizing Your Garage Door Colors
Clopay Garage Door Color Matching
Have You Seen Swatches or Samples?
A good garage door company will be able to offer swatches and samples of their products so you can finalize your design decisions at your home during a design consultation. This helps to avoid guessing on "will it match my home" or disappointment from discovering that a color looked lighter or darker in a brochure or on a monitor.
A-All Style Garage Door has been working with Naperville-area homeowners and in surrounding areas since 1981, helping them create the perfect look and style with a new garage door. When you have questions about garage door colors or how to make the most of your investment in a new garage, we're here to help.
We always carry samples and swatches in our trucks so that we can help you finalize your decision during our free design and color consultation at your home, along with practical advice on choosing the best product based on years of experience. Get in touch with us regarding new installation, replacement garage doors, repair, maintenance, service and more.
Contact us today for a free design consultation and estimate!