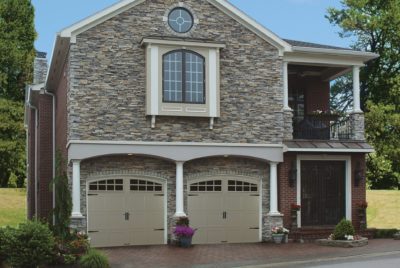 For as long as there have been cars, there have been garages. Not only did they have garages 100 years ago, but there have been some form of garages since the beginning of civilization!
When was the first garage built? Thousands of years ago! For as long as there have been wheels, people have been building places to put them. Here are some little-known facts about the history of garages and garage doors.
Early Days of the Garage
What did the first garage door look like? While garages have been around for thousands of years, the earliest known structure with a door that could be called the ancestor to today's garage was the gatehouse, which first appeared around 450 B.C.
Ancient people used gate houses for many things, but one of those things was to store Roman chariots — which means the steel gates that came down to protect those chariots from theft were the very first garage doors.
Pre-Depression Era Garage Door
The next evolution in garage doors came around the 18th century. These were carriage house doors. If anyone were to ask you what old-time garages were called, the answer they might be looking for is "carriage house."
Were carriage houses like garages? In many ways, yes. They were effectively small barns, since the primary mode of transportation at the time was a horse with carriage attached. Carriage house doors were wooden doors that swung outward. Today, the "carriage-house style" garage door is one that looks like those doors of old, but it opens upward like a modern overhead garage door.
Modern Garages
The first official private garage first appeared around 1902, but these were still swing out door structures similar to the carriage house door. This created a problem when it snowed since the snow would block in the doors and prevent them from swinging out.
The garage doors as we know them today arrived thanks to an inventor named C.G. Johnson, the father of the modern garage door. Not only did he invent the overhead operation garage door in 1921, but he invented the first electric garage door in 1926.
In the 1950s and 1960s, architects finally got the idea that it would be wise to build homes with garages attached, since after World War II nearly everyone owned at least one car, and many people owned two. Because cars were so big at the time, these garages represented a huge portion of the home's overall size.
Today, garage doors have seen massive improvements and advancements. They are safer — thanks to photoelectric eyes and other sensors that stop the door from coming down if there is something underneath it. They are tougher because of materials like steel, aluminum and composites. They offer more protection, thanks to insulation options, and they also look better. Companies like Clopay® offer a wide variety of colors and styles for garage doors, including the previously mentioned, and highly popular, carriage house style.
To request installation of a brand new Clopay® door or to schedule a repair of an existing door in the Chicago southwest suburbs area, contact A-All Style Garage Door today.