How Much Does It Cost to Install a Garage Door?



A garage door isn't something you buy every day. In fact, most homeowners will only buy one or two of them in their lifetime. That means, unlike the price of milk, eggs and gasoline, most homeowners aren't familiar with the price of garage doors. If you ask the average homeowner how much it costs to install a garage door, their estimate might be way off the mark.
This is due to the many factors that influence garage door prices. Depending on what style and quality a homeowner chooses, the garage door can be fairly inexpensive or a significant investment. Garage doors typically cost between $300 and $4,000 — and most homeowners spend around $1,000 for the door and installation. To get a better idea of the cost range, use the following averages, which are based on door model:
Single models: $400-$700
Single standard models: $800-$1,000
Custom models: $1,200-$8,000+
Solid wood custom models: $2,500-$6,000+
Additionally, most homeowners spend $150-$300 on an automatic garage door opener for their door, not including installation.
What Factors Influence Garage Door Costs?
The price range for each style of door is so broad due to the many options available. Homeowners can choose everything from a basic steel door to a custom-designed wooden door with windows. Each aspect of the door's design affects the price. Here are some of them:
Specialty Designs
Customized doors add to the curb appeal of a home. Designed to mesh with the rest of the property's style, a custom garage door can provide the perfect finishing touch to a home's exterior. Panel designs, custom paint colors and patterns are the most common customizations. These make the door distinct and allow for coordination of preexisting color and design schemes of the property.
Windows


Windows can add aesthetic appeal to a garage door. They can also offer functional advantages, including allowing additional light and ventilation for your garage. To maintain effective insulation for a garage door with windows, homeowners can choose insulated glass options.
Of course, adding windows to a basic door increases the overall costs, as does the selection of insulated glass.
Insulation
Garage door insulation can reduce utility bills and create a more comfortable space. Adding high-quality insulation to a garage door will increase the price of the door. However, homeowners can recoup this cost in energy savings. Homeowners can choose from a variety of insulation materials and R-values.
The R-value measures the thermal resistance of the insulation, or the material's ability to maintain a certain temperature. Higher R-values mean greater resistance to temperature change. They also typically mean a higher price point.
When selecting insulation, homeowners can choose from two main options:
Polystyrene: This material is the more affordable option. Lightweight and easy to install, it efficiently increases the R-value of the garage door. Polystyrene is available in sheets that installers cut to fit against individual garage door panels. The sheets are available in various thickness, with thicker sheets creating more insulation. Polystyrene R-values typically range from R-2 to R-9.
Polyurethane: This option is denser than polystyrene, making it a better insulator and also more expensive. R-values for polyurethane range from R-12.9 to R-18.4. Due to its density, polyurethane provides additional support to the door and offers a sound-dampening effect. These added benefits often make polyurethane worth the extra investment.
In addition to the main door insulation, garage doors typically feature weather-stripping at the bottom. This adds another layer of protection against temperature changes and it also helps keep out pests.
Hardware
Garage door hardware encompasses the mechanics of the door as well as decorative handles on the exterior. Like most products, hardware is available in a variety of styles, materials and qualities. Homeowners who want to extend the longevity of their garage door can spend a little extra in this category to invest in high-quality springs for their door. This could save money on repairs and replacements in the long run.
Door Materials
The primary material of the garage door is a major factor in determining the final cost of the door and how much it is to install a new garage door. It also greatly affects the durability and appearance of the door. Homeowners can choose from several options for their garage door material:
Steel: Steel garage doors are the most affordable option which makes steel the most commonly used material. Steel is very durable, rust-proof and resistant to dents and dings. Steel can also be designed to mimic the appearance of stained wood.
Vinyl: Although not commonly used, vinyl doors also resist dents and are rust-free.
Aluminum: This material is also dent-resistant and is more rust-proof than steel. Aluminum can be designed to mimic the appearance of wood as well as many metallic anodized finishes.
Synthetic or Faux Wood: Wood composite doors offer a realistic grain, feel and texture without the finishing and maintenance of real wood. While generally more expensive than vinyl, this can be a great option if you like the look of a wood garage door without the price tag and upkeep.
Custom wood: Wooden garage doors are the most expensive option. They are made of solid wood and are customizable in design. They offer durability and natural beauty.


Door Style
When homeowners picture a garage door, the most common image is a traditional roll-up door. It's important to note that other style's of garage doors are available:
Swing-out: With this style, two garage doors open out from the center of the garage. This keeps the ceiling clear for storage options.
Swing-up: This garage door is made of a single piece of material. It swings up from the floor and pulls into the ceiling. The style is also referred to as "tilt-up."
Sliding: Sliding doors feature two doors that slide along a track at the top of the opening.
Roll-up: This is the most popular option. Roll-up doors are made of sections that separate and bend as the door rolls up next to the ceiling. This style is also called a "sectional door." Best choice for use with a garage door opener.
Door Sizes
Garage doors are available in various widths to suit different home styles. A two-car garage may feature a single door that spans the entire opening or two single doors. The standard height for garage doors is 7 feet, but can typically range between 6'3" and 8'. The width varies from 8 feet to 18 feet. The width and height of the door greatly affects how much it costs to install a new garage door. Doors for single-car garages are typically cheaper to install than those for two-car garages.
Lighting


Exterior lighting is a popular option for garages. Illuminating the garage door can add security as well as aesthetic appeal. Of course, this additional feature also increases the overall cost of the garage door installation.
Location
Products and services have different costs based on where your home is located. Prices in the Chicago suburbs typically vary from those in southern Illinois or other parts of the country. Even within the same city, construction styles and values of homes vary. The type of door you need for your particular type of home affects the cost of garage door installation as well.
Workmanship
Many homeowners have found out the hard way that you get what you pay for. High-quality workmanship simply costs more. However, the savings it offers in reduced repairs and headaches is well worth the additional initial investment. For garage door replacement, use a company you trust to get the job done right the first time. It may cost a little more, but you'll be happier with the long-term results.
Choosing a Clopay® Garage Door
As you consider your options for garage doors, it's important to keep quality in mind. Whether you decide to customize your door, insulate it, add windows or go with a simple style, the quality of your door is ultimately determined by the manufacturer. That's why it is important to choose a garage door company that offers high-quality products.
Clopay is an industry-leading brand that offers a wide selection of doors to suit every taste and budget. The costs of Clopay garage doors vary depending on the features previously discussed. Homeowners can choose the features most important to them to create the ideal garage door for their property.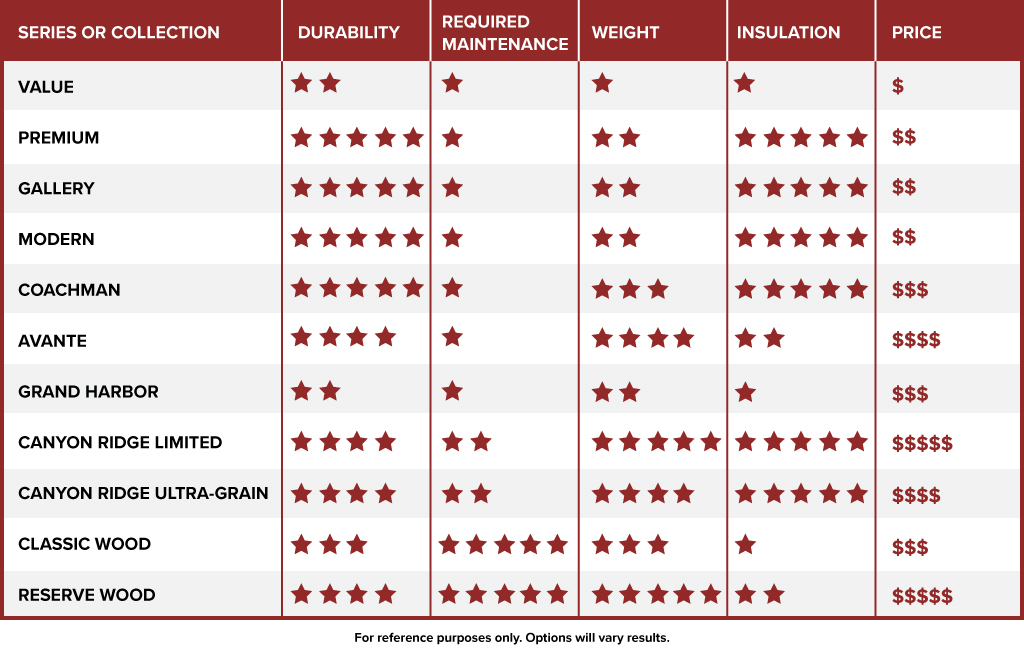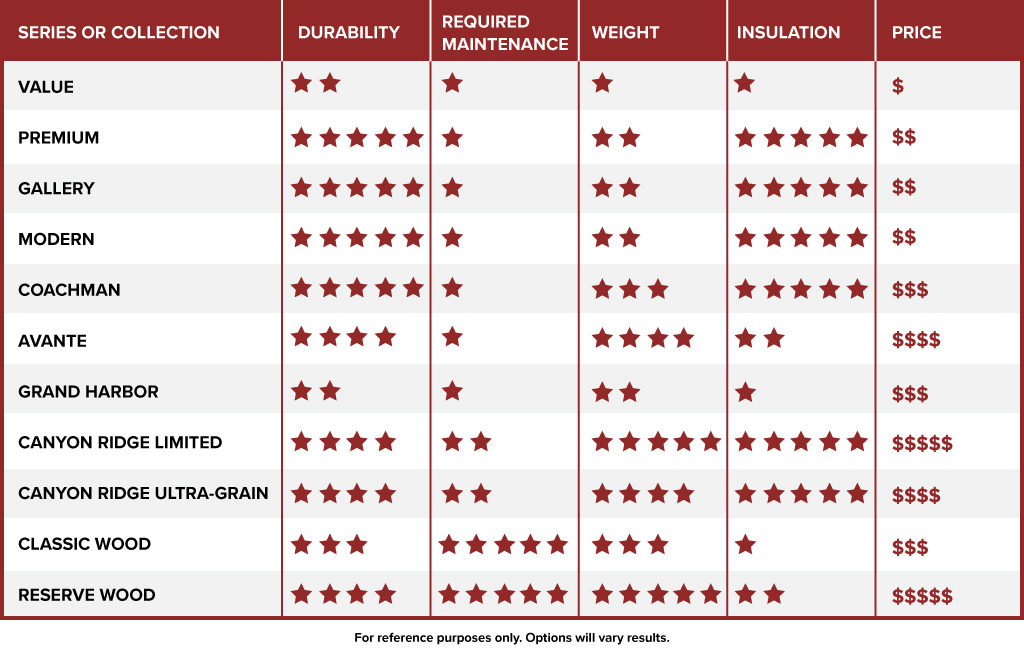 A-All Style Garage Door Co. offers a complete line of Clopay garage doors. This line includes a comprehensive selection to offer something for every taste and budget. Homeowners can choose from a number of different garage door styles such as:
You can even design your own customized door to create the perfect match for your home.
Should I Hire a Professional to Install a Garage Door?
Once you've decided which garage door will best suit your home and budget, the next question to consider is installation.
When considering how much it costs to install a garage door, many homeowners wonder if they should try to tackle this project themselves. Often, home projects are much cheaper if homeowners choose the DIY route. They contemplate how much they could save by installing their garage door on their own.

While there are many instances when DIY is a good option, this is not one of them. First of all, this is a two-person job. Absolutely no one should try to complete it on their own. Second, installing a garage door requires advanced carpentry skills. Third, the installation also requires knowledge of residential electrical systems. And most importantly, all spring systems are potentially dangerous to install if you haven't received the required training and certifications – always contact a garage door professional for help.
While some homeowners possess these skills, it is highly recommended that a professional complete the garage door installation. The homeowner is probably making a significant investment in their new garage door. This makes it essential to install it correctly. A professional will ensure the door is installed properly and functions optimally, to avoid future damage. Inexperienced homeowners may not realize a door is unbalanced or has other issues and will pay for this error in repair bills down the line.
Allowing a professional to install the garage door also saves time. While a homeowner typically needs nine hours or more to complete the installation, a professional can do it in about three hours. Why spend more than a day's work on a project that you may or may not get right?
For homeowners in the Chicago suburbs, the weather is also a factor. If you are purchasing a garage door in the winter, it is well worth the cost to avoid a day or more out in the elements.
While installing a garage door may seem like a home improvement project right up your alley, having a professional install your door is highly recommended. A professional install will not only save you time, but also save money by avoiding future repairs from an improper installation.
Is a New Garage Door Worth the Investment?
As you consider installation costs and various options that affect the price, you may wonder if a new garage door is worth the investment. Here are a few quick facts to help you decide:
A Garage door replacement offers an average of 91.5 percent return on investment.
Remodeling Magazine reports that a new garage door is among the most valuable home improvement projects you can complete.
A new garage door typically costs less than $2,000. This is an affordable option to improve your home when compared to other high-return projects such as kitchen and bathroom remodels.


This significant return on investment is created through increased home value and appeal. The new garage door:
Boosts curb appeal: Your garage door can either increase your home's curb appeal or detract from it. A tired door that is scratched, dented and worn adds nothing to the attractiveness of your home. A door that does not match the overall style of the property also diminishes its exterior appeal. A new door that is designed to match the rest of the home can send the property's curb appeal through the roof.
Offers resale value: A large portion of the home's exterior is made up by the garage door. It is often the first thing a potential buyer sees when they visit your home. A new garage door that is designed to accentuate your property's architecture and style makes a great first impression. Your home's sharp exterior makes it more attractive to buyers, makes a sale more likely and helps increase the price buyers are willing to pay.
Saves energy: An insulated garage door can greatly reduce utility bills. Investing in high-quality insulation can produce savings that more than pay for the garage door over time.
Reduces noise: Older garage doors are often quite noisy. As parts wear out, the racket increases. New garage doors run smoothly and quietly. You'll enjoy quieter surroundings and fewer interruptions. This is particularly helpful if the garage is under a bedroom or nursery.
Protects the home: Modern garage doors offer solid construction and new security features that help protect the garage and home from the elements and intruders.
Adds convenience and appeal: Some homeowners use their garage for purposes other than vehicle storage. If you plan to use this space for a workshop, garden shed, man-cave, sitting room or other unique idea, a new garage door can enhance this space. Enjoy extra sunlight through new garage door windows and a comfortable environment created by insulation.


How Much Does It Cost to Install a Garage Door in the Naperville, Bolingbrook Area?
Project costs vary in different parts of the country. That's why it's important to find a local garage door installer to help you determine the exact costs for your area. As mentioned, many homeowners spend around $1,000 on their garage door, but this price is affected by the myriad factors discussed previously.
In the Chicago suburbs, homeowners can expect to pay between $700 and $1,100 for standard single-door installations.
If you are considering garage door installation, request a free estimate from A-All Style Garage Door for a quote tailored specifically for your project.


Why A-All Style Garage Door
Established in 1981, A-All Style Garage Door Co. is dedicated to offering the highest-quality garage doors and garage door openers at affordable rates. We consider it a privilege to serve the residents of Naperville, Bolingbrook and the surrounding Chicago suburbs with customer-centric methods and unparalleled products. Our service advantages include:
Local business: We are locally owned and family-operated and take personal pride in every aspect of our business.
Quality products: A-All Style Garage Door carries all models of Clopay Doors as well as LiftMasterTM electric operators.
Warranty: We offer a three-year warranty on repairs and installations.
Professional service: Our team is insured and can service all garage door brands.
Promotions: We offer cost-saving promotions and senior discounts.
References: More than 90 percent of our current work comes directly from referrals and repeat business.
Industry leaders: We proudly hold an A+ rating with the Better Business Bureau.
Full-service expertise: As garage door experts, A-All Style Garage Door Co. offers garage door repair, spring repair and replacement, garage door opener repair, emergency garage door repair, panel replacement, garage door roller repair and replacement and garage door cable repair and replacement.
Free estimates: We provide free estimates based on your exact needs.
Check Out Our Other Buyer's Guides From A-All Style Garage Door
Taking the Next Step
When you need help with the next step and would like a quote on to find out how much to install a new garage door for your home, contact A-All Style Garage Door. We will listen to your needs and help you determine the best garage door solution for your setting. Contact our team to receive your free quote and get started on transforming the look and appeal of your home!