Add Wi-Fi to Garage Door Openers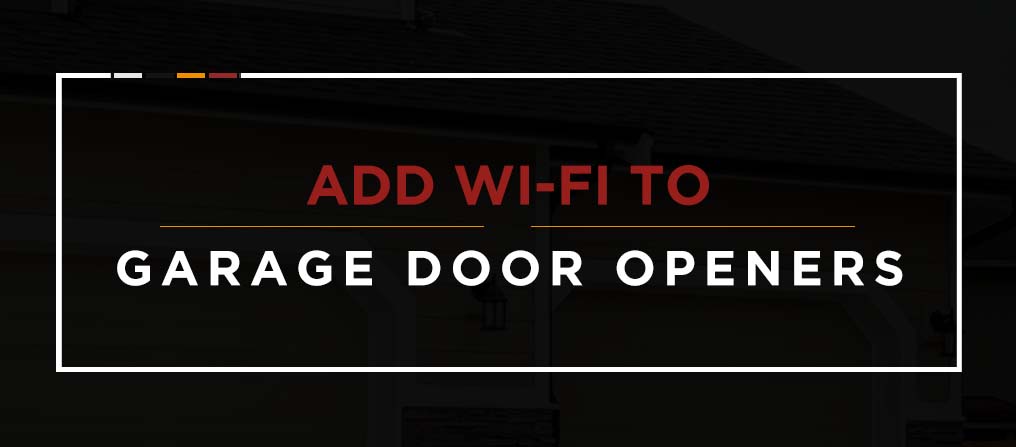 Adding Wi-Fi to garage door openers is easier than it may seem, and it can increase the convenience and safety of your home. The MyQ garage door opener app has many features that can make your days easier. It's fairly simple to learn how to connect Wi-Fi to garage door openers. Once you set it up, you can use the MyQ app to operate your garage door from almost anywhere.
Benefits of Adding Wi-Fi to Your Garage Door Opener
Connecting Wi-Fi to your garage door opener allows you to open, close and check the status of your garage door wherever you are. Do you often forget to close the garage door as you leave for work on a busy morning or when you go to bed at night? Connecting your opener to Wi-Fi will allow you to set specific times for your garage door to close so you'll never have to worry about leaving it open all day or overnight again.
When you add Wi-Fi to your garage door opener, you increase the safety of your home. You can rest assured that your garage door will close when you need it to even when you're busy or distracted. Your phone can even alert you if someone opens your garage door when you're away from home. Additionally, a garage door opener app can detect dangerous chemicals like carbon monoxide in your garage and notify you if fumes reach harmful levels.
How to Add Wi-Fi to Your Existing Garage Door Opener
To use MyQ from your phone to operate your garage door, your system will need internet access. You'll need to connect a Wi-Fi controller to your current garage door opener. Adding Wi-Fi to your existing garage door opener is easier than you may think. With just a few simple steps you can connect your garage door to your internet connection and operate your opener from your mobile device with ease.
It's important to make sure that you have a garage door opener that is compatible with Wi-Fi controllers. While some older models of openers cannot connect with Wi-Fi, most newer models are compatible with it.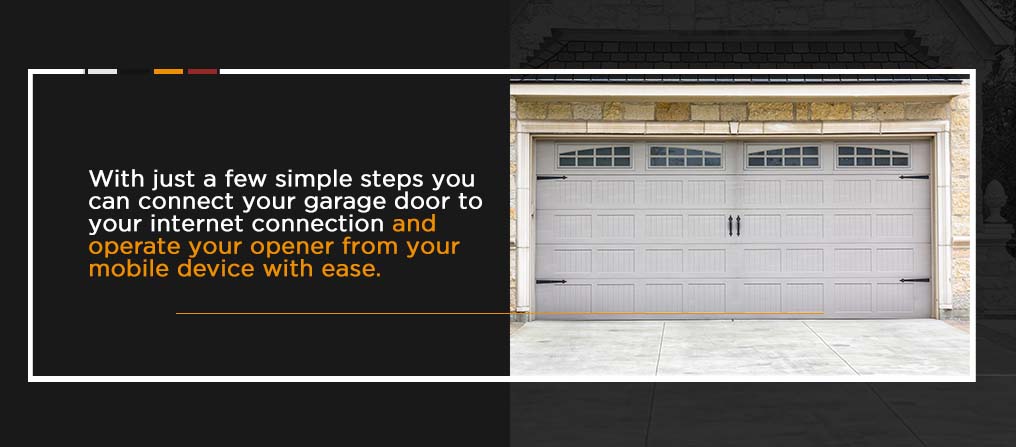 1. Check Wi-Fi in the Area
Your home's Wi-Fi must reach the area near your current garage door opener in order for it to connect to the Wi-Fi controller and work correctly. Before mounting the Wi-Fi controller to the ceiling next to your garage door opener, check that there's a strong enough Wi-Fi connection. To test the strength, climb a ladder and hold your phone near the opener to check the bars. The presence of at least two bars indicates a strong enough signal for the Wi-Fi controller to connect.
If the Wi-Fi connection in the area of the opener is not strong enough, you may need to add a new mesh router or a Wi-Fi Range Extender. A Wi-Fi extender device will receive the signal from your home's router and broadcast it further, providing additional internet coverage to the area where you need it.
2. Purchase a Wi-Fi Garage Door Controller
Once you have an adequate Wi-Fi connection for your garage door opener, you'll need to install a Wi-Fi garage door controller. The Wi-Fi controller will use your internet connection to operate the MyQ capabilities. Check the model of your garage door opener and the manufacturer's website to make sure it'll work with the Wi-Fi controller. Wi-Fi controllers can operate two to three openers and connect to other home automation systems such as Apple HomeKit, Nest, XFINITY Home and more.
3. Install Equipment
Mount your Wi-Fi controller to the ceiling near your garage door opener and then connect it to your home's Wi-Fi connection. Next, mount any door sensors, connect them to the door opener and pair them with the Wi-Fi controller.
4. Finalize Installation
Ensure that your new system is working correctly by downloading the MyQ app to your phone. If you're able to operate your garage door from your device, the installation was successful.
How to Connect a MyQ Wi-Fi Garage Door Opener
The MyQ garage door opener app allows you to control your garage door in various ways from almost anywhere. After you connect your garage door opener to Wi-Fi, you can connect it to the MyQ app and enjoy the capabilities it offers.
If you encounter any Wi-Fi garage door opener problems, it could be due to the power supply or an incorrect password. You must run your Wi-Fi garage door opener through a full cycle before activating the Wi-Fi, and it's important to enter all passwords correctly when you connect the opener to your home network. If you enter a password incorrectly, simply exit and restart the program.
The MyQ app can only control the opener when it's operating under electrical power. A solid orange LED light will indicate that the operator is working under battery power. If you restore power throughout your house and the light is still orange, plug another device into the electrical outlet to test it.
Connect With an Apple iOS Device
Log in to the MyQ app or create an account if you need one.
Click the plus sign in the top right corner of the device screen.
When you see the Device Setup screen, click on the text that reads, "Garage Door Opener With Wi-Fi Ceiling Installed."
When you see the What You Need screen, review the information and then click "Next."
Click on the Wall Control image that resembles your product.
Follow the instructions to start the Wi-Fi learn mode.
Click "Next" and then click "Yes" when you hear a beep.
Leave the MyQ app to open your phone's Wi-Fi settings.
Click on the network that starts with "MyQ-XXX."
Go back to the MyQ app and click "Next."
Find your home Wi-Fi network on the list and select it.
Enter your network password, click "Next," and your garage door opener should start to connect.
Enter a name for your garage door opener and click "Next."
Click "Finish," and the app will list your new device.
Click on the garage door on the screen to activate your garage door opener.
Connect With an Android Device
Log in to the MyQ app or create an account if you need one.
Make sure to enable Location settings when the app prompts you to do so.
On the Device Setup screen, click "Garage Door Opener With Wi-Fi Ceiling Installed."
When you see the "What You Need" screen, click each checkbox as you review the information and click "I'm Ready" after each one to continue. Click "Next" when you've reviewed all the information.
Click on the Wall Control image that resembles your product.
Follow the instructions to start the Wi-Fi learn mode.
On the Discovered screen, click on the network that starts with "MyQ-XXX."
Find your home Wi-Fi network and select it.
Enter your network password, click "Next," and your garage door opener should start to connect.
Enter a name for your garage door opener and click "Next."
Click "Finish," and the app will list your new device.
Click on the garage door on the screen to activate your garage door opener.
Contact A-All Style Garage Door Today for Professional Garage Door Services
Adding Wi-Fi to your garage door opener is an easy way to make your garage safer and more convenient. The MyQ app offers various capabilities to make your life easier. If you need help installing a garage door opener or connecting it to Wi-Fi, A-All Style Garage Door can help.
A-All Style Garage Door is dedicated to providing high-quality garage doors at affordable prices. We offer free estimates on garage doors whether you need a replacement or a new installation. We also provide quick and friendly garage door repair services in the southwest suburbs of Chicago. Contact A-All Style Garage Door today to learn more about how we can help you optimize your garage door and its operations.
How LED Lights Cause Interference With Your Garage Door Opener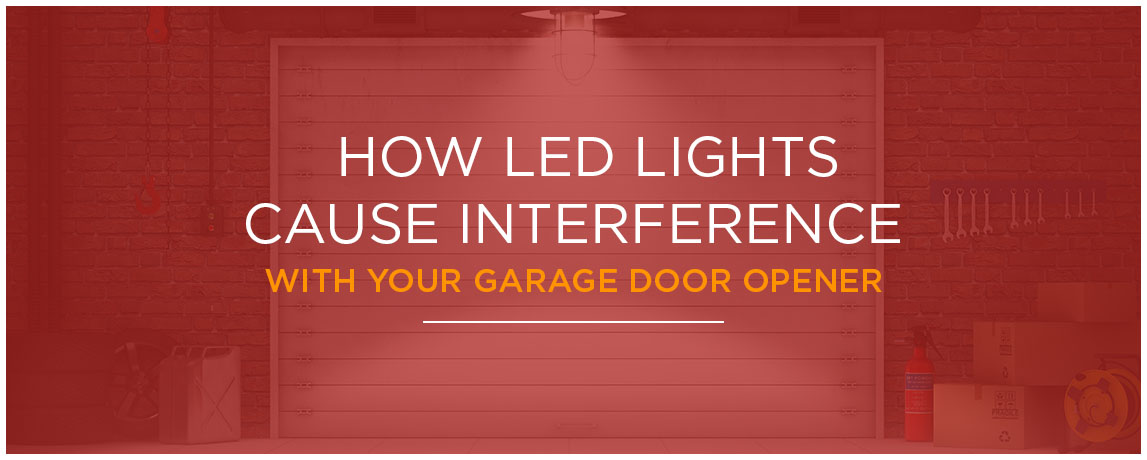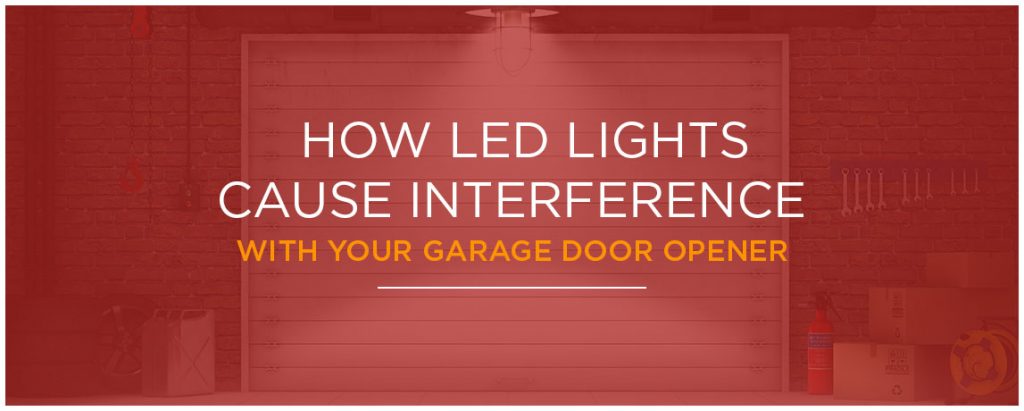 Have you noticed lately that your garage door opener has stopped working? You've changed the batteries in the remote and held the garage door opener at different distances and angles, with no luck improving the odds that the garage door will open.
If you still can't get the door to lift as usual, consider the presence of LED lights in your garage. While these bulbs are energy-efficient and can save you money on your utility bills, they may be interfering with the signals in your garage door remote.
HOW LED BULBS WORK
LED lightbulbs have increased in popularity among homeowners because of their energy efficiency, which results from pulse-width modulation. LED bulbs appear as a continuous stream of light, but with pulse-width modulation technology, the light flashes at a rate of 15 times per second. Control circuits inside the bulb operate this scheduled flash and rely on a frequency between 30 and 300 megahertz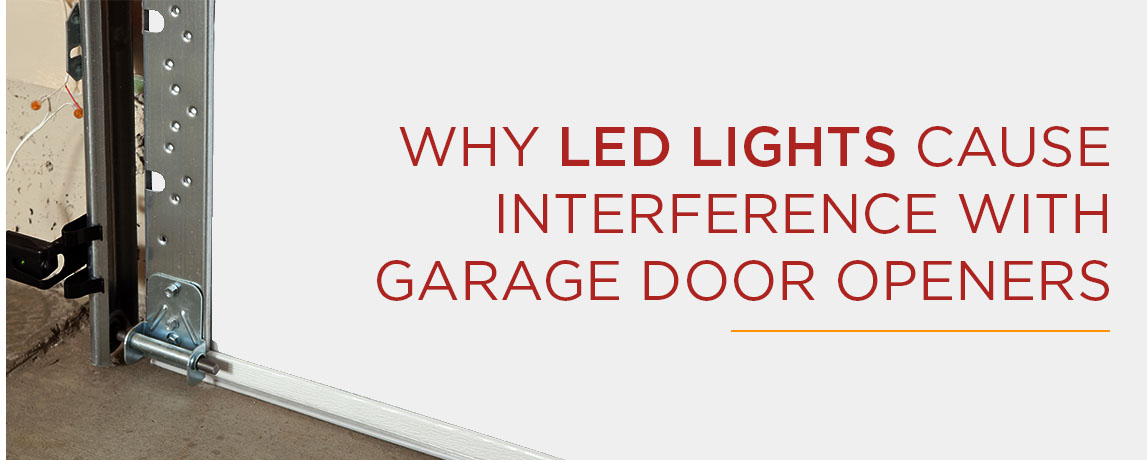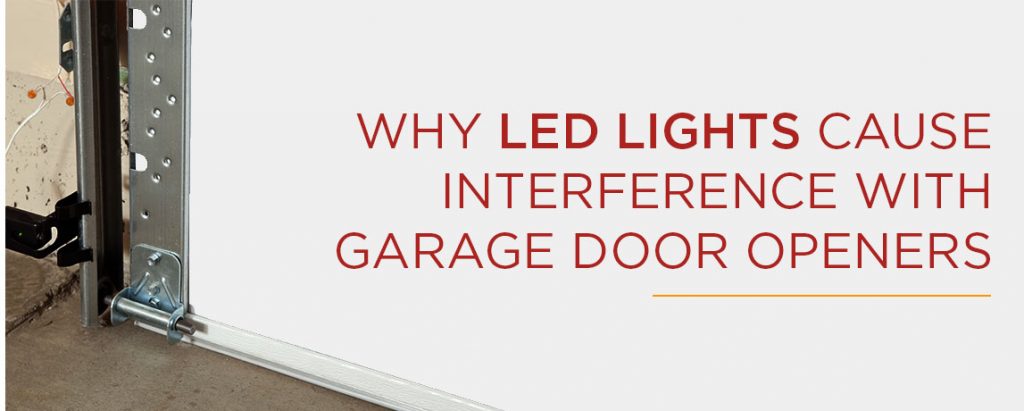 WHY LED LIGHTS CAUSE INTERFERENCE WITH GARAGE DOOR OPENERS
Garage door openers operate by using radio waves, similar to how a remote-controlled car works. LED lights have drivers inside the bulbs, which produce a field that interferes with the garage door — preventing the door from opening.
Garage doors operate using frequencies between 28 and 360 MHz. Because these two devices use intersecting frequencies, they can interfere with each other.
SO DOES THIS MEAN YOU CAN'T USE LED LIGHTS IN YOUR GARAGE?
Luckily, you can still have the energy efficiency of LED lights, but you'll have to pay a bit more for quality, name-brand bulbs. Because of the demand for lower prices for LED lightbulbs, companies have produced lower-quality bulbs.
Companies manufacturing products that rely on radio signals — like LED bulbs and garage door openers — have few industry regulations governing frequency emissions so that signals can interfere with other products.
As a result, and due to an increased demand for cheaper products, these lower-quality bulbs don't have the shielding that blocks the radiofrequency interference affecting your garage door, unlike most name-brand lights. You can also look for LED bulbs that specifically note their design blocks radio wave interference.
CAN LANDSCAPE LED LIGHTS INTERFERE WITH MY GARAGE DOOR OPENER?
LED lights inside and outside your garage door may interfere with your garage door opener. If you have one LED light outside your garage, it's unlikely it will impact the garage door opener. Multiple LED landscape lights are a different story. Having many LED lights outside your garage door can block the garage door opener signal. A solution to preventing a signal block is purchasing high-quality LED bulbs or adding ferrite beads to the wiring on each fitting.
FIXING LED LIGHTS IN YOUR GARAGE
If LED lightbulbs are the reason your garage door fails to open correctly, how can you fix this problem? Possible solutions for LED lights interfering with a garage door opener include the following.
Switching to a name-brand LED light: Look for a Federal Communications Commissionlogo showing FCC compliance, including for minimum radio frequency interference.
Changing the garage light fixture to a less energy-efficient option: Upgrading your garage door LED light fixtures can help LED lights work efficiently and lessen the interference to your garage door opener.
Contacting a garage door professional to help diagnose the issue: A professional technician has the knowledge and experience to point out an LED light issue and provide helpful solutions to keep your garage door opener operating efficiently.
Adding ferrite beads to the wiring: Securing ferrite beads to your LED light wiring can help block the LED light frequency that interferes with the garage door opener.
CONTACT A-ALL STYLE GARAGE DOOR TODAY
At A-All Style Garage Door, we can help solve your LED lights' interference with your garage door opener, so you never need to worry about an improperly functioning garage door opener.
We're a locally owned, family-owned company helping the residents of Plainfield, Bolingbrook, Naperville and throughout Chicago's southwest suburbs with their garage door installations, maintenance or repair needs.
We service LiftMaster openers and Clopay® garage doors, plus we are an authorized Clopay® dealer. We also offer a full one year warranty on both parts and labor on all new garage doors, openers, and installations.
To learn more about LED light interference or schedule garage door maintenance, call us at 630-739-7170 or contact us online.
Garage Door Services for Realtors


As a real estate agent, you know one of the best things a seller can do for their home is to boost its curb appeal. The first thing people see when they walk up to a home is the exterior, and the first impression a buyer gets can make or break a sale. While many people assume improving curb appeal means giving the home exterior a new coat of paint or sprucing up the landscaping, it can also include a garage door repair or replacement.
Depending on the size of a garage, the door can take up a considerable amount of the visible space on a home's exterior. If the door has clearly seen better days, it can detract from what is otherwise a great house. Convincing a seller to upgrade or replace a garage door can make their home more attractive, lead to a quicker sale and possibly have a positive effect on the home's sale price.
What You Need to Know About Garage Doors
When a seller is ready to put their home on the market, they may not consider how their garage door will affect the sale. This may be especially true if:
The seller has already moved out of the home.
The seller is now living in another city or state.
The seller used the property as a rental.
The seller never lived in the home.
A home inspector may uncover an issue with the garage door when completing an inspection for a potential buyer or the seller. If the seller knows about a problem with the garage door before they list the house, they need to state the issue as part of the seller's disclosure.
As the real estate agent, you may want to encourage your client to inspect the garage door before listing the home and to fix or replace the door as needed. Knowing the types of problems garage doors commonly face and the basics of garage door materials and styles can help you make the most appropriate recommendations for your clients.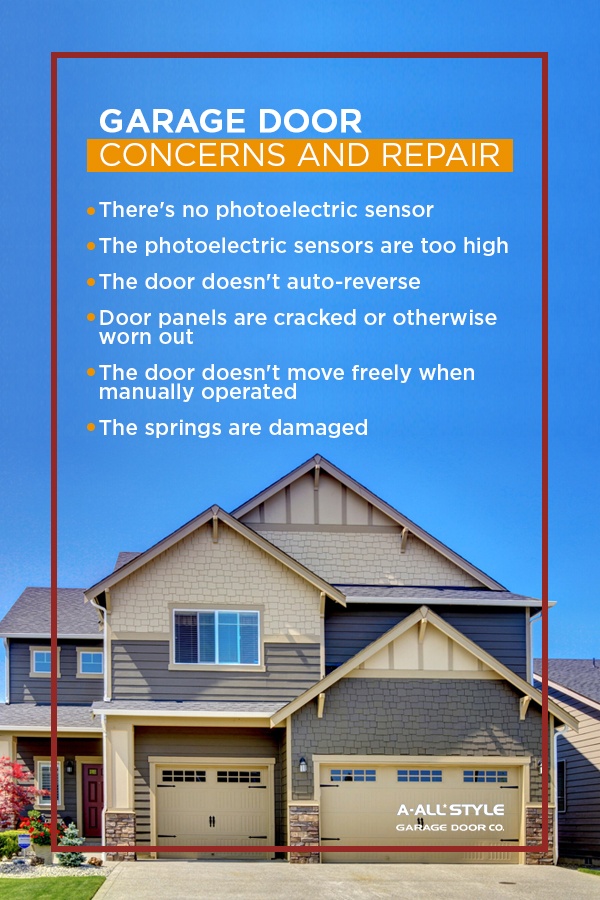 Garage Door Concerns and Repair
A garage door may fail an inspection for several reasons. You can recommend either repairing or replacing a garage door or opener, if you identify one of the following causes for concern:
There's no photoelectric sensor: If the garage door opener is over 25 years old, it might not have photoelectric safety sensors installed. Photoelectric sensors stop the door from closing when an object blocks them. The sensors have been a standard since 1992, but it's possible an older garage door may not have been updated.
The photoelectric sensors are too high: Photoelectric sensors need to be no more than 6 inches off the ground to work effectively. If they are higher than that, they may not be able to detect small objects or animals that roll or run under a garage door as it closes.
The door doesn't auto-reverse: Even older garage doors without sensors should have an auto-reverse feature to pull the door back up if it comes into contact with something. A door that doesn't auto-reverse and completely return to the open position can be a serious safety hazard.
Door panels are cracked or otherwise worn out: Along with checking for safety features, a home inspector will also examine the condition of the garage door. A garage door that has cracked, separating, worn or fatigued panels may not pass the inspection.
The door doesn't move freely when manually operated: A garage door should have handles that are easy to grip. It should also be easy to open the door manually once it's disconnected from the operator.
The springs are damaged: The springs on a garage door need to be intact and in good working order for it to pass inspection. A door with damaged springs is a safety hazard.
Depending on what the inspector finds, you may recommend that your client completely replaces the garage door or opener, or that they repair it. For example, if the photoelectric sensors aren't in the right position, it is often simple to lower them. In the case of a very old door or a door that has significant signs of wear, replacement is often the best choice.
If your client is hesitant to make any improvements to the door, it can be a good idea to point out that not fixing the issues can delay the sale. If a buyer is interested in the home but the inspector finds problems with the door, the buyer can walk away if the seller doesn't negotiate or refuses to fix the problems. Being proactive about the garage door can help you and the seller streamline the sale process.


Garage Door Materials, Styles and Sizes
Along with knowing the potential issues a garage door can have, it helps to know what sorts of materials, styles and sizes are available for garage doors. The materials commonly used for garage doors include:
Aluminum and glass:Aluminum and glass garage doors let light shine into the garage. They still provide some privacy as the homeowner can choose a desired transparency level for the glass.
Steel: Steel is one of the most popular materials for garage doors — for a good reason. It's sturdy, available in a wide range of colors and easy to maintain. If a seller wants to replace an existing garage door with a steel door, they will have many options.
Wood:Wood doors have a warmth and beauty that appeals to many homeowners and buyers. Although wood typically requires more effort to maintain, it can be the right choice for certain types of homes.
The style of a garage door should complement the style of the seller's home. For example, a modern or contemporary home will most likely work well with a trendy glass and aluminum garage door. A Victorian home will usually pair well with a carriage house style door. Windows can be a good feature to have on a variety of door styles, as they add light to the garage. If the windows are high enough on the door, they can still allow for privacy.
Another conversation you may want to have with a home seller concerns the size of the garage door. Standard door sizes usually range from 8 or 9 feet wide by 7 feet high for one-car garages to 16 feet wide by 7 feet high for two-car garages. Custom door sizes are available, as well. If your clients aren't living nearby, you may need to go to the house and measure the garage door yourself to confirm its size. When measuring the width and height of a door, measure within the frame.


Garage Doors Can Improve Resale Value
There are several reasons you may recommend new garage doors for home sales. One of the biggest reasons for an upgrade is that replacing an older, worn-out or damaged garage door can have a significant effect on the resale value of a home.
Often, home renovations or upgrades don't pay off when it's time for a homeowner to sell. A seller isn't likely to recoup all the funding they've put into a kitchen remodel or bathroom renovation, for example. Some remodeling projects have a bigger pay off than others — including replacing a garage door.
According to the 2020 Cost vs. Value report, it cost $3,695 to:
Remove and dispose of an old 16-by-7-foot garage door and its tracks.
Install a heavy-duty, 16-by-7-foot steel garage door with windows and new tracks.
The value of the replacement door when the home sells is estimated to be $3,491, allowing the seller to recoup 94.5% of the cost. Keep in mind that the price for each garage door replacement may vary based on the size of the door, the chosen material and more.
Installing a new garage door isn't just a sound investment for a homeowner who's eventually hoping to sell. It can also help the home sell more quickly once it's on the market and might lead to a higher sale price. Around 70% of real estate agents believe a new garage door helps speed up the sale of a home, while more than 80% believe a garage door can affect the sale price of a home.
Garage Doors Can Improve Curb Appeal
One of the first things potential buyers see when they come to view a home is the garage door. Whether the garage holds one car, two cars or has custom dimensions, it takes up a considerable amount of space on the front of a home. Some garage styles, like those on a snout house, are more prominent and extend across the facade of the house. When you're trying to make a sale, the last thing you want is for a buyer to turn around and leave without looking at the inside of a home because they aren't impressed with what they see outside.
Convincing the seller to update their garage door can do wonders for the curb appeal of the home. Some things to consider when upgrading the garage door include:
Switching to a lower-maintenance material: Some garage door materials are easier to care for and lower maintenance than others. For example, though wood can be aesthetically pleasing, it's less durable than steel or aluminum and glass. Wood garage doors also need regular upkeep if a homeowner wants them to remain in optimal condition. If a wood door is past its prime, upgrading to a steel door with a wood-like finish can improve the look of the home while alleviating the maintenance responsibilities for the potential new owner.
Updating the style of the door: Over the years, a home might have seen numerous updates or renovations. One of these renovations may have included replacing the original garage door with a style that doesn't work with the rest of the home exterior. Replacing out-of-place doors with a style that matches or coordinates with the home can do wonders for the overall aesthetic of the property. For example, you might decide to replace a traditional paneled garage door with a carriage house style door to complement a Victorian home.
Adding windows to the door: A few windows near the top of a garage door can elevate its overall appearance. The windows create visual interest on the exterior of the home and give people something to look at. Plus, they help to brighten up the interior of the garage and make it a little less gloomy.
Improving the color of the door: Some exterior paint colors recall trends that have long passed. Even if a seller isn't fully on board with replacing their garage door, you may be able to convince them to repaint the door. If you get permission to change the color of the garage door, pick a shade that coordinates with the rest of the home and won't go out of style any time soon. Neutrals such as white, ivory or gray can all be good choices.
Adding insulation: Although potential buyers won't be able to see that a door is insulated from the curb, there are benefits to choosing an insulated garage door as a replacement. An insulated door helps the garage stay warmer in the winter and cooler in the summer. It can also help protect items stored in the garage from extreme temperature fluctuations. An insulated garage door is often more durable than a door that isn't insulated, which can be appealing to potential buyers.
Find Garage Doors for Realtors at A-All Style Garage Door
You have a lot on your plate — especially if you're working with a seller who lives in another state or who can't be on-site to take care of home improvements. If you and the seller agree that repairing or replacing a garage door is a good option, A-All Style Garage Door is here to help. We provide fast and affordable garage door services to the southwest suburbs of Chicago, including garage door replacements and repairs. We have an extensive inventory of garage door parts and supplies available, allowing us to fix an issue promptly and minimize any delay or disruption.
If your client wants the house sold quickly, you have a potential offer and the garage door hasn't passed inspection, call us at 630-739-7170. We'll get the door repaired or replaced so that you, the seller and the buyer can proceed with the sale of the home. Contact us today to request an estimate or to schedule a repair.
Garage Door or Opener Installation: DIY vs. Professional
Are you considering taking on a DIY garage door installation or a garage door opener project? Many homeowners tackle do-it-yourself home improvement projects for a variety of reasons, primarily to save on costs.
Garage door and garage door opener installations can seem like straightforward tasks, but they require expert knowledge and professional tools to ensure the job is done right the first time. If not, you risk installing an unsafe and unreliable garage door system that could malfunction, causing inconvenience or serious injury.
Can a DIY garage door installation kit offer you the same quality as a trained professional? Here's what you need to know.
The Drawbacks of DIY Garage Door Installation
Installing a new garage door or garage door opener with a DIY kit can be a risky project. Each participant must follow proper safety precautions to prevent injury, and you may not have the appropriate tools or skill set to assemble and install a new garage door correctly. The result is a low-quality garage door system that may not be reliable and safe for your family.
In general, the drawbacks of installing your garage door yourself include the following:
Safety risk: Did you know DIY garage door installations result in about 1600 injuries each year? When installing a garage door on your own, your safety is not guaranteed. Garage doors weigh around 400 pounds with a 1000-pound pressure spring so the door can be raised and lowered. Only a professional can ensure your new garage door system is safely installed.
Lack of tools and knowledge: A typical DIY installation kit recommends many different tools, including a cordless drill, level, socket/ratchet set and adjustable wrench. Unless you're an experienced handyman, you may find yourself at a local hardware store purchasing or renting these tools to complete the job. You'll also need to learn how to use the tools correctly. Calling a professional garage door installer eliminates some of the hassle and saves you time.
Same price as a professional: Homeowners may choose a DIY garage door installation to save money. However, most of the time, DIY projects cost the same as hiring a professional installer. When you consider the price of materials, tools and training — and perhaps even the monetary value of your time — the project may even exceed what a professional would charge. Then, your home is left with a sub-standard garage door system that could malfunction at any time, costing you even more money and time in the long run.
What Are the Benefits of Professional Garage Door Installation?
Investing in a professional garage door installation has many long-term benefits, the most important of which is safety. Only a professional can install all components according to manufacturer and industry safety guidelines. A professional garage door installer provides high-quality service, quick and easy installation and the peace of mind that your investment will last.
The main reasons to invest in a professional garage door installation are:
Quality: Most professional installers offer high-quality door sales, installation and repair. They ensure your new garage door system has a long life, backed by a warranty and future service should something go wrong. You won't have these assurances by installing a garage door on your own.
Timely and prompt service: Since professional garage door technicians are industry experts, they can provide smooth and seamless installations. Consider the time you could save by hiring a professional to assemble and install your garage door with ease.
Highly trained experts: Professional installers work with garage doors every day, so they can offer expert-level knowledge and advice. It can be easy to underestimate the knowledge needed to safely and properly install a garage door and counterbalance system. Professionals help you check your installation or repair project off your to-do list without risk of injury.
Garage Door Openers: Why You Should Go With a Pro
Just like with garage doors, it's risky to attempt a DIY garage door opener installation as well. Though it may seem cheaper to go buy an opener from a hardware or home improvement store and install it yourself — or even hire someone to come install the product you purchased — you will almost always end up spending more in the long run.
Professional garage door installation companies will have the best openers for you to choose from, and their staff will be so familiar with them that they can complete the installation quickly and correctly the first time around. This will save you in additional costs down the road to fix any mistakes or upgrade low-quality equipment. Plus, you won't have to invest in any of the tools or knowledge you'll need to complete the installation.
In addition, a cheap or incorrectly installed opener can damage your garage door resulting in a very costly repair down the road, or you may even need a full replacement.
Many of our customers are surprised to find that we offer higher quality garage door openers at very competitive prices compared to those offered by big box stores, and that it's the same price or sometimes cheaper in the long run to buy from us and have us install.
Receive Top Notch Service From A-All Style Garage Door
At A-All Style Garage Door, more than a quarter century of experience shines through in our work. Since 1981, our family owned and operated business has been exceeding client expectations by offering high-quality Clopay® garage doors, LiftMaster® openers and installation and repair services.
Our team of trained professionals has been installing and repairing garage doors for more than 30 years. We're dedicated to giving our customers personal attention to detail, as well as fast and knowledgeable service. You can trust our local experts to complete your next garage door project with the highest standards of quality and service.
Do you live in the Naperville or Bolingbrook area? We offer a free design review and estimate on new garage doors. Contact us online or call 630-739-7170 to learn more and ask us about our favorite garage door openers.
What's the Difference Between MyQ, Wi-Fi and Bluetooth Garage Door Openers?
Not too long ago, garage door openers were simple and their only responsibility was reliably raising and lowering your garage door with the click of a remote. But with today's technology, your garage door opener is capable of controlling so much more. Many LiftMaster garage door openers, among others, are equipped with MyQ technology and Wi-Fi or Bluetooth capabilities that allow you improved safety and security at your home. But what exactly is included with all of these advanced capabilities, and is a new garage door opener equipped with this technology right for your home?
What Is a MyQ Garage Door Opener?
With MyQ technology, you have ultimate control over your home's garage door system from anywhere. Utilizing advanced two-way communication technology, you can monitor and control your garage door opener or lights using any internet-enabled smartphone, tablet or computer. By simply downloading a free app to your iOS or Android device, you can check if you accidentally left the garage door open when you left for work, open or close the door remotely if you want someone to check on your home while you're away or even program the lights to come on when you arrive home.
For user convenience, MyQ technology is compatible with many garage door openers manufactured after 1993, and many newer models are built with MyQ technology already enabled in the machine.
Not only can MyQ technology help you better monitor garage door activity and allow you to control the door and lights remotely, but it can also be connected to several home security systems, including Wink, Nest, SmartThings, XFINITY Home and also Apple HomeKit with an additional adaptor purchase so Siri can assist you.
Bluetooth vs. Wi-Fi Garage Door Openers
To use the latest MyQ technology, the system must have internet connectivity. While searching for your new smart garage door opener, you may see many machines featuring Wi-Fi or Bluetooth accessibility. But is there a difference? And which is the superior preference?
Both of these forms of technology will allow your garage door opener to connect to your phone. However, Wi-Fi is the better option. With Wi-Fi connectivity, your garage door will be connected to your home's internet and you can remotely monitor your garage door from anywhere, while with Bluetooth you must be within a 20-foot range of the garage door opener.
How Does MyQ Work?
So once you've got internet connectivity and MyQ set up, how does the system actually work? While the technology seems complicated, the process of remotely controlling your garage door is actually simple:
Your garage door opener with MyQ technology is connected to your home's Wi-Fi.
When you send a command from your smartphone, that signal is relayed to a hub.
This signal then triggers a sensor in the opener that activates the garage door to open or close or control the lights.
Experience the Future With a New Garage Door Opener Available at A-All Style Garage Door
When you're ready to experience the simple and secure convenience of a new smart garage door opener, call the experts at A-All Style Garage Door. We provide a wide variety of chain- and belt-operated LiftMaster garage door openers available in the Elite and Premium Series. All of these models feature MyQ technology and Wi-Fi connectivity so you can easily access and monitor your garage door activity from anywhere.
Since 1981, A-All Style Garage Door has been the most trusted and knowledgeable garage door company serving the southwestern Chicago suburban area, including Bolingbrook, Plainfield and Lockport. For all of our new garage door opener installations, we even offer a one-year parts and labor warranty. To learn more about our selection of the latest Wi-Fi and MyQ garage door openers, call us today at 630-739-7170 or complete our online form to schedule services.
Clopay® Slate Finish Garage Doors
At A-All Style Garage Door, we're thrilled to not only provide the best-quality Clopay garage doors in the Chicago southwestern suburban area, but we also now offer Clopay's slate grey finish color option. Grey is one of the trendiest garage door color options today and can perfectly complement and modernize your home's exterior — whether your architecture is considered more classic or contemporary.
This new color offering combines khaki, charcoal and black shades to create a stunning, distinct and transitional pigment option that can highlight or accentuate your home's current coloring and trim. To complement your home's style, we're offering our new slate grey color on several of our Clopay garage door designs.
Is a Grey Color Garage Door Right for You?
Do you enjoy keeping up with the latest home design trends? Currently, using dark colors on the exteriors of homes is a popular way to add drama and visual appeal without having to use those brighter, bolder hues. Garage doors occupy a large percentage of your home's exterior and finding the ideal balance between blending in and standing out can be tricky for homeowners. With a new slate grey garage door, you can achieve the perfect symmetry of enhancing your home without going overboard.
A new slate grey garage door from Clopay will elevate your exteriors and are ideal for:
Any Home Architecture or Material: Grey is a classic color and can complement most home exteriors, including stone, wood, stucco or even vinyl siding. Because of grey's neutrality, this color can be transformed to work with rustic designs, naturally dark Victorian or gothic architecture or juxtapose the clean appearance of modern homes.
Complements Other Coloring: Because grey is considered a neutral color, this shade can easily enhance other coloring options on your home, from bold to understated trim, shutter or front door colors.
Adds Depth: For homes with intricate and dramatic elements, grey can add depth and subtle contrast, so the garage doesn't just blend into the background, but can positively stand out on your home.
Design Your New Slate Grey Garage Door With A-All Style Garage Door
At A-All Style Garage Door, we offer a wide selection of Clopay residential garage doors in a variety of styles that can all be incorporated into your home's architecture and are available in the newest and trendiest color today — slate grey. We're an Authorized Clopay Dealer, meaning our team is consistently dedicated to providing the best-quality and most attractive garage doors for your home, utilizing the most skilled, friendly and knowledgeable professionals in the area, so you're guaranteed superior services. For all of our local customers, we provide a three-year parts and labor warranty on all new garage door installations and free estimates on your new grey garage door.
Since 1981, A-All Style Garage Door has been committed to providing the highest-quality, most dependable garage door solutions to residents throughout the Bolingbrook and Naperville, IL, areas. We're excited to begin working with you to design a stunning slate grey garage door for your home that will enhance the overall home design and appeal. Schedule a free design consultation and quote by filling out our online form.
MyQ and Wi-Fi Garage Door Benefits
You've had your garage door opener for many years and you've been hearing about the latest opener technologies, including Wi-Fi access and MyQ. But are these features really necessary and convenient when your machine has been operating reliably all this time without advanced tools? With Wi-Fi accessibility and MyQ technology, your garage door opener will not only open and close as needed, but you can also improve security measures at your home and remotely control your door from anywhere with just your smartphone.
Benefits of MyQ and Wi-Fi Garage Door Openers
Smart garage door openers are the most advanced and simple-to-use operating systems that allow you off-site monitoring and control by using only your smartphone, tablet or computer. All you have to do is download the free MyQ app. In addition to its easy-to-use interface, installing a new MyQ-enabled garage door opener allows you:
Monitoring Anywhere: With your smartphone, you can easily control your garage door from anywhere. You can check to see if it was accidentally left open when you left for work, open the door for the dog walker and get real-time alerts when loved ones come and go.
Added Security: By using the MyQ app, you can safely monitor up to two garage doors and 16 MyQ-enabled accessories. These smart MyQ garage door openers can also be integrated with your home's security system, including Nest, Wink, SmartThings, XFINITY Home and Apple HomeKit. With MyQ openers, you can even customize and schedule times you want your garage door to open and close or turn the lights in your home on or off.
Safety Features: Garage doors can never be too safe, and these smart garage door openers will flash the lights and have a beep alert throughout its cycle when operated using MyQ technology, in addition to the door's standard safety features.
Operational Flexibility: When you go out of town on vacation, would you like a more secure way to let the house sitter or other visitors inside? With MyQ, you can operate the door from anywhere to allow guests or schedule times you'd like the door to operate. By using your MyQ app, you can also control your home's lights remotely, access your home's security cameras and adjust the temperature.
Simple Setup: To set up, your garage door opener is installed wirelessly and you download the free Android or iOS app to begin monitoring from anywhere. After the initial installation, there's no service fee or subscription charges.
Can I Use My iPhone as a Garage Door Opener?
While this latest technology is designed to help monitor and even open your garage door from anywhere, using your iPhone or other smartphone device is not an ideal method for opening and closing your garage door on a daily basis as a remote replacement. It's much better to use your garage door opener that comes with your garage doors or vehicle – the process is faster and the beep alert that is added for safety can get pretty annoying if you are using it while at home when you can see that the garage door is already cleared.
Understand MyQ Garage Door Benefits Today With A-All Style Garage Door
Why are you still using your old garage door opener when such easy monitoring, security upgrades and peace of mind are readily available? With A-All Style Garage Door, our team can help you select and install a new MyQ and Wi-Fi enabled garage door courtesy of LiftMaster, designed to make your daily life more secure and convenient.
At A-All Style Garage Door, we have over 35 years of garage door experience throughout Bolingbrook, Naperville, Lockport, IL, and the surrounding southwestern Chicago suburbs. We pride ourselves on superior workmanship, friendly and local expertise and top-quality products and services. We even offer a one-year parts and labor warranty for all new garage door opener installations. Schedule services today by completing our contact form or calling 630-739-7170.
How to Avoid Garage Door Repair Scams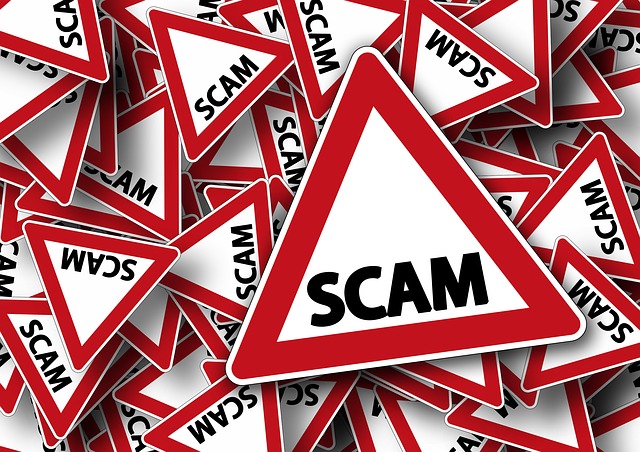 Having your garage door break is inconvenient, and it's essential to have the repairs completed quickly for the security of your home. As a homeowner, you expect to find a friendly and reputable garage door repair company that has your interests in mind and can complete your job fast and at an affordable rate, but unfortunately, more garage door company scammers are popping up across cities in the United States. What are common garage door repair scams and how can you learn to avoid them?
Common Garage Door Repair Scams
Many scammers are looking to prey on homeowners needing emergency or standard maintenance services. Three common ploys scammers use on homeowners include:
Rebuild package: This trick preys on a homeowner's lack of knowledge regarding garage doors and their mechanics. A technician will visit your home then claim that you need an all-new garage door, including torsion springs, cables, rollers and brackets. Even if you wanted to install a new garage door anyway, these swindlers would include inflated charges in their installation bill that would total hundreds or thousands more than you would typically pay with a reputable company.
Lifetime guarantee: The term "lifetime" is confusing, and scammers use this vague word to take advantage of homeowners. A spring, for example, has 15,000 to 50,000 lifecycle ratings, but the cycle and its depletion vary on how often you use your garage door. If a company only offers a lifetime on parts —but not labor — then they're likely making replacements with inexpensive hardware that will quickly break. You'll call them for a fix, and while the part will be free, they'll mark up their labor and replace the cheap part with another one that will break again in no time.
Unidentified technicians: Disreputable companies will advertise that they'll use an in-house worker to make repairs to your garage door, but will actually hire subcontractors or independent workers with no history or contact information. Investigate if someone shows up at your home in an unmarked vehicle with no company identification, logo or name. Ask that the worker introduce themselves and don't assume that they work for the company you've hired.
How to Avoid Garage Door Repair Scams
You can easily avoid garage door repair scams by asking the following questions:
Does the company have an established location with a verifiable address in your community?
Can this company provide references from satisfied customers?
How long has the company been in business?
Can they provide a detailed estimate before beginning work?
Do they have a favorable rating with the Better Business Bureau (BBB)?
How to Choose a Garage Door Dealer
When choosing a company to perform garage door repairs, maintenance or installation, look for a business that offers warranties on their parts and labor and proudly displays their completed work and customer reviews.
Also keep in mind the following characteristics:
Experience and training: Look at how long the company has been in business in your area — do they understand the different environmental factors that can affect building materials? Do they have accreditation with the International Door Association?
Code and regulation compliance: Ask the garage door company how they comply with local regulations and verify that their technicians carry the necessary experience to repair and install garage doors.
Insurance: In cases of damage or injury, you'll want to ensure beforehand that your garage door company has proper insurance — before hiring anyone, have them show you their Certificate of Insurance.
Quality and reputation: Does the company have references from happy clients that they can provide to you, and do they offer fair pricing and exceptional service?
With these considerations, you and your family can spot and avoid garage door repair scams.
Call A-All Style Garage Door Today for Superior Service
For your garage door repair and maintenance, trust the professionals at A-All Style Garage Door. We've provided quality garage door services to the southwest suburbs of Chicago since 1981.
We are A+ Accredited by the Better Business Bureau and take pride in the quality of our work, as well as the many repeat customers that trust us to provide the best service at a fair price.
In addition, we're an authorized Clopay® dealer and an Advanced Verified Garage Door Dealer by Google. We're locally owned and operated in the Bolingbrook, IL area and offer a three-year warranty on parts and labor on new doors and openers and a one year warranty on all repairs.
To learn more about our services, call us today at 630-739-7170 or contact us online.
Troubleshoot Programming a Garage Door Opener to Your Car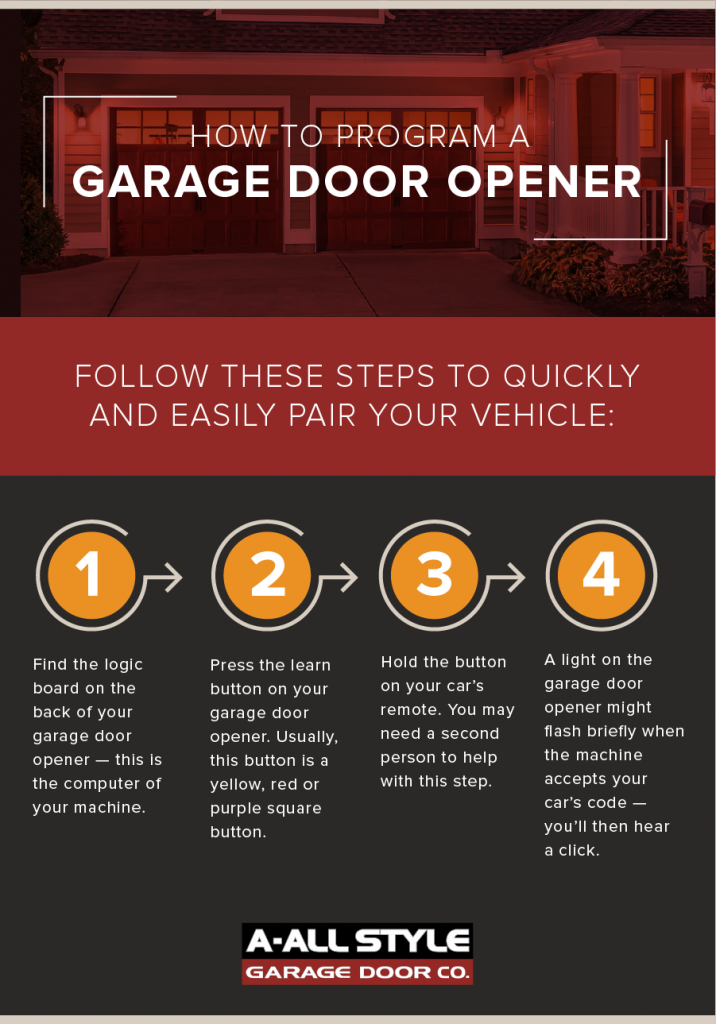 You've got a new car and want to have the convenience of opening your garage by programming it directly from your vehicle instead of carrying around a clunky remote. Typically, following the instructions provided in your owner's manual will work to pair your car to the garage door opener — most problems syncing the two systems arise from owners not following the manual's instructions.
Sometimes you find that you've followed the instructions, and you're still having no luck programming your car to open the garage door. There are several possible causes for this issue. If you're still having problems programming your garage door opener to your vehicle, try using these solutions.
5 COMMON PROBLEMS CONNECTING GARAGE DOOR OPENERS
You may find it challenging to pair your garage door opener to your car or remote. Check out five reasons your garage door opener may not connect:
You have a newer, more complicated vehicle: Most cars are easy to program, but some newer luxury cars, like Audis, have complicated navigational screen menus, requiring extra steps that ask you to get in and out of the vehicle. You may need a second person to assist you or hire a professional garage door expert to help you set up the opener.
You have an older car: Older cars may be a bit more challenging to pair with a newer garage door opener and may need a repeater — a device allowing compatibility between a garage door opener and a car. Newer garage door opener models have newer and safer protocols for transmitter signals, and you'll need the repeater to relay the outdated car signal.
Your remote needs new batteries: As you program your garage door opener's control, you'll notice lights flashing and beeps alerting you of activity. Before connecting your opener to the remote, make sure the batteries work and replace them as needed.
Your remote is out of range: The garage door opener, remote and in-vehicle control panel all transmit frequencies that must be in proximity to connect. When connecting your garage door opener to your vehicle or remote, they both need to be in range so that the garage door opener can pick up their frequencies.
Your opener is not compatible with the remote: Confirm that your new remote is the same brand as your garage door opener. Remotes from other manufacturers operate on specific frequencies with different information.
HOW TO PROGRAM A GARAGE DOOR OPENER IN YOUR CAR
So you've followed your owners manual, and you're still not able to pair your car to the garage door opener. You keep re-reading the instructions thinking that you missed a step, but many manuals sometimes don't include a process for programming your car to the garage door.
Follow these steps to quickly and easily pair your vehicle, whether you're using a remote or not.
HOW TO PROGRAM GARAGE DOOR OPENER REMOTES
Once you have all the parts, follow these steps to program your garage door opener remote:
Examine your garage door opener to find the "learn" button, which is typically near the antenna radio receiver. You may need to use a ladder to access the opener. If you can't find the button, you may need to take off the light cover.
Press the "learn" button until it starts to blink. This signal means that the garage door opener is programmable and receptive to new frequencies.
As the opener light is flashing, press the open button on the remote. You'll typically have a 30-second time limit to press the "learn" button and the button on the remote. Hold the button down for a few seconds to make sure it connects correctly.
After about a minute, the LED light to the "learn" button should turn off. Tap the button on the remote again to make sure it works.
HOW TO PAIR YOUR CAR TO YOUR GARAGE DOOR
The steps for LiftMaster garage door opener pairing involve almost the same process as programming the remote. Consult your manual for specific instructions for your car's make and model. Most booklets should instruct you to follow this process for programming your garage door opener to your vehicle:
Locate the control panel for your garage door opener in your car. This panel is usually above the driver's seat or close to the vehicle's other control buttons.
The control panel probably has a few buttons. Look for the "program" button or something like it. Hold the button down for a few seconds until a light starts to flash.
After you've programmed it, the control panel should be able to connect with a new keycode command or link to the nearest garage door opener automatically. You'll need to have your car parked in your garage to ensure your vehicle connects to your garage door opener.
Besides setting up your in-vehicle garage door control panel, you might also need to use the "learn" button on your garage door opener. Consult the manuals for your car and opener, and ask someone for help if you need to press both buttons simultaneously.
Once you've linked the control panel to the opener or programmed a new keycode, wait a few seconds before testing the controls.
SPECIFIC GARAGE DOOR PROGRAMMING USING YOUR CAR'S HOMELINK OR CAR2U FOR LIFT MASTER OR GENIE
Below are steps for programming a car remote to different LiftMaster or Genie rolling code garage door openers. This process is a security measure that changes the garage door opener's coded signal each time you use the remote to prevent others from stealing entry. You'll begin by following these steps:
Hold down the two outside buttons on your car's remote to clear any previous programming.
Press the button in your car that you want to use for controlling the garage door, plus the button on the garage door remote simultaneously until the car's LED lights flash.
For setting a HomeLink garage door opener, the final step will depend on the manufacturer of your machine:
Genie: Locate and press the learn button located behind the light lens. An indicator light will flash when pressed. After pushing the "learn" button, return to your car's remote control and press three or four times until the garage door moves.
LiftMaster: With a LiftMaster, you'll find the learn button on the back of the terminal screw board. Press it, and then, within 30 seconds, hold the button on the car's remote until the garage door opener's light flashes or until you hear the receiver click.
For a Car2U system, press your machine's learn button, then return to your car within 10 to 30 seconds. Press and hold the Car2U system button that you want to use for controlling the garage door. Immediately release the button once the garage door moves. Once the button is released, the indicator light will blink rapidly until the program is complete. Press and re-release the button to confirm you paired the two with success.
CALL THE GARAGE DOOR EXPERTS AT A-ALL STYLE GARAGE DOOR
If you're located in the southwest suburbs of Chicago and need help setting up your car's garage door remote, then trust the experts at A-All Style Garage Door.
We're a local and family-operated company and pride ourselves on attention to detail and dedication to offering the highest quality customer service and garage door repair, maintenance and installation.
We offer a three-year parts and labor warranty on our services and specialize in the best quality garage door openers and doors, including LiftMaster and Clopay® — and are proud to be an authorized Clopay® garage door dealer.
If you need help setting up your car's garage door opener or require garage door maintenance, contact us online or call us today at 630-739-7170.
How Much Does It Cost to Install a Garage Door?



A garage door isn't something you buy every day. In fact, most homeowners will only buy one or two of them in their lifetime. That means, unlike the price of milk, eggs and gasoline, most homeowners aren't familiar with the price of garage doors. If you ask the average homeowner how much it costs to install a garage door, their estimate might be way off the mark.
This is due to the many factors that influence garage door prices. Depending on what style and quality a homeowner chooses, the garage door can be fairly inexpensive or a significant investment. Garage doors typically cost between $300 and $4,000 — and most homeowners spend around $1,000 for the door and installation. To get a better idea of the cost range, use the following averages, which are based on door model:
Single models: $400-$700
Single standard models: $800-$1,000
Custom models: $1,200-$8,000+
Solid wood custom models: $2,500-$6,000+
Additionally, most homeowners spend $150-$300 on an automatic garage door opener for their door, not including installation.
What Factors Influence Garage Door Costs?
The price range for each style of door is so broad due to the many options available. Homeowners can choose everything from a basic steel door to a custom-designed wooden door with windows. Each aspect of the door's design affects the price. Here are some of them:
Specialty Designs
Customized doors add to the curb appeal of a home. Designed to mesh with the rest of the property's style, a custom garage door can provide the perfect finishing touch to a home's exterior. Panel designs, custom paint colors and patterns are the most common customizations. These make the door distinct and allow for coordination of preexisting color and design schemes of the property.
Windows


Windows can add aesthetic appeal to a garage door. They can also offer functional advantages, including allowing additional light and ventilation for your garage. To maintain effective insulation for a garage door with windows, homeowners can choose insulated glass options.
Of course, adding windows to a basic door increases the overall costs, as does the selection of insulated glass.
Insulation
Garage door insulation can reduce utility bills and create a more comfortable space. Adding high-quality insulation to a garage door will increase the price of the door. However, homeowners can recoup this cost in energy savings. Homeowners can choose from a variety of insulation materials and R-values.
The R-value measures the thermal resistance of the insulation, or the material's ability to maintain a certain temperature. Higher R-values mean greater resistance to temperature change. They also typically mean a higher price point.
When selecting insulation, homeowners can choose from two main options:
Polystyrene: This material is the more affordable option. Lightweight and easy to install, it efficiently increases the R-value of the garage door. Polystyrene is available in sheets that installers cut to fit against individual garage door panels. The sheets are available in various thickness, with thicker sheets creating more insulation. Polystyrene R-values typically range from R-2 to R-9.
Polyurethane: This option is denser than polystyrene, making it a better insulator and also more expensive. R-values for polyurethane range from R-12.9 to R-18.4. Due to its density, polyurethane provides additional support to the door and offers a sound-dampening effect. These added benefits often make polyurethane worth the extra investment.
In addition to the main door insulation, garage doors typically feature weather-stripping at the bottom. This adds another layer of protection against temperature changes and it also helps keep out pests.
Hardware
Garage door hardware encompasses the mechanics of the door as well as decorative handles on the exterior. Like most products, hardware is available in a variety of styles, materials and qualities. Homeowners who want to extend the longevity of their garage door can spend a little extra in this category to invest in high-quality springs for their door. This could save money on repairs and replacements in the long run.
Door Materials
The primary material of the garage door is a major factor in determining the final cost of the door and how much it is to install a new garage door. It also greatly affects the durability and appearance of the door. Homeowners can choose from several options for their garage door material:
Steel: Steel garage doors are the most affordable option which makes steel the most commonly used material. Steel is very durable, rust-proof and resistant to dents and dings. Steel can also be designed to mimic the appearance of stained wood.
Vinyl: Although not commonly used, vinyl doors also resist dents and are rust-free.
Aluminum: This material is also dent-resistant and is more rust-proof than steel. Aluminum can be designed to mimic the appearance of wood as well as many metallic anodized finishes.
Synthetic or Faux Wood: Wood composite doors offer a realistic grain, feel and texture without the finishing and maintenance of real wood. While generally more expensive than vinyl, this can be a great option if you like the look of a wood garage door without the price tag and upkeep.
Custom wood: Wooden garage doors are the most expensive option. They are made of solid wood and are customizable in design. They offer durability and natural beauty.


Door Style
When homeowners picture a garage door, the most common image is a traditional roll-up door. It's important to note that other style's of garage doors are available:
Swing-out: With this style, two garage doors open out from the center of the garage. This keeps the ceiling clear for storage options.
Swing-up: This garage door is made of a single piece of material. It swings up from the floor and pulls into the ceiling. The style is also referred to as "tilt-up."
Sliding: Sliding doors feature two doors that slide along a track at the top of the opening.
Roll-up: This is the most popular option. Roll-up doors are made of sections that separate and bend as the door rolls up next to the ceiling. This style is also called a "sectional door." Best choice for use with a garage door opener.
Door Sizes
Garage doors are available in various widths to suit different home styles. A two-car garage may feature a single door that spans the entire opening or two single doors. The standard height for garage doors is 7 feet, but can typically range between 6'3" and 8'. The width varies from 8 feet to 18 feet. The width and height of the door greatly affects how much it costs to install a new garage door. Doors for single-car garages are typically cheaper to install than those for two-car garages.
Lighting


Exterior lighting is a popular option for garages. Illuminating the garage door can add security as well as aesthetic appeal. Of course, this additional feature also increases the overall cost of the garage door installation.
Location
Products and services have different costs based on where your home is located. Prices in the Chicago suburbs typically vary from those in southern Illinois or other parts of the country. Even within the same city, construction styles and values of homes vary. The type of door you need for your particular type of home affects the cost of garage door installation as well.
Workmanship
Many homeowners have found out the hard way that you get what you pay for. High-quality workmanship simply costs more. However, the savings it offers in reduced repairs and headaches is well worth the additional initial investment. For garage door replacement, use a company you trust to get the job done right the first time. It may cost a little more, but you'll be happier with the long-term results.
Choosing a Clopay® Garage Door
As you consider your options for garage doors, it's important to keep quality in mind. Whether you decide to customize your door, insulate it, add windows or go with a simple style, the quality of your door is ultimately determined by the manufacturer. That's why it is important to choose a garage door company that offers high-quality products.
Clopay is an industry-leading brand that offers a wide selection of doors to suit every taste and budget. The costs of Clopay garage doors vary depending on the features previously discussed. Homeowners can choose the features most important to them to create the ideal garage door for their property.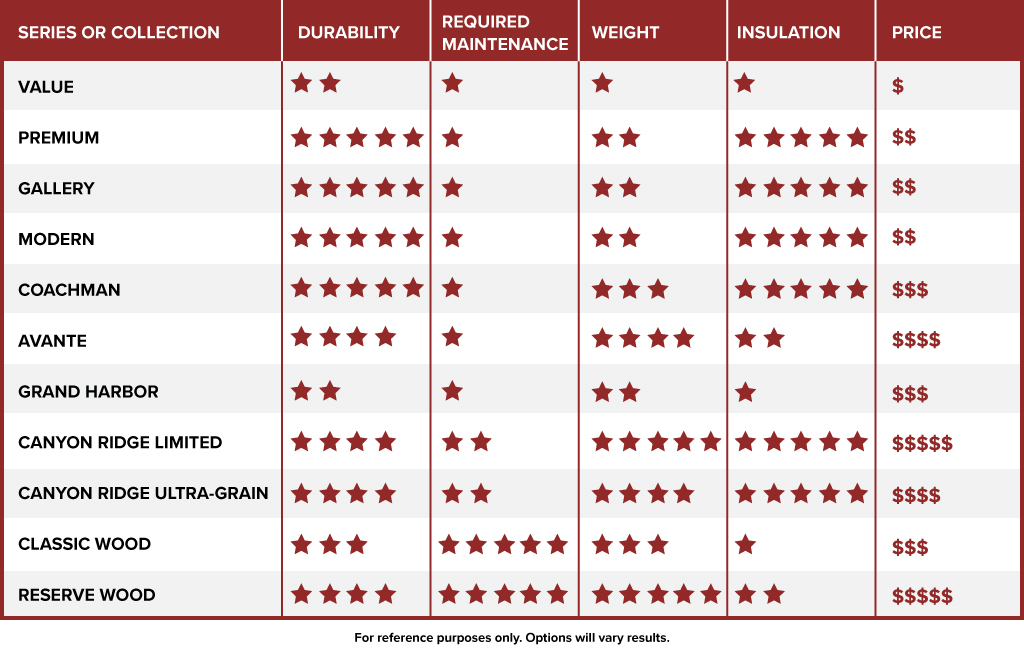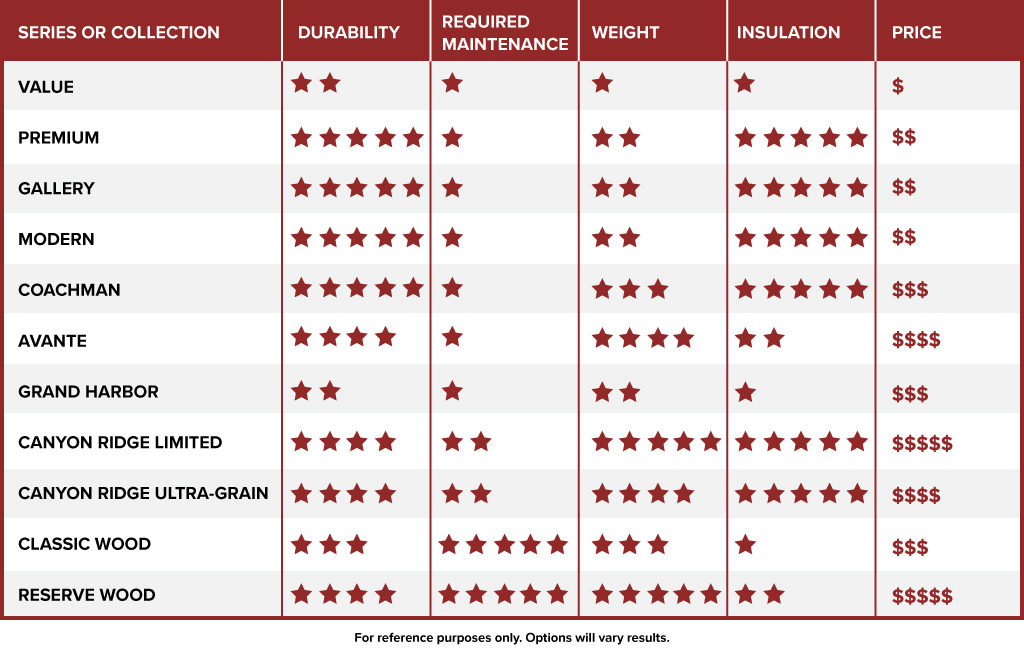 A-All Style Garage Door Co. offers a complete line of Clopay garage doors. This line includes a comprehensive selection to offer something for every taste and budget. Homeowners can choose from a number of different garage door styles such as:
You can even design your own customized door to create the perfect match for your home.
Should I Hire a Professional to Install a Garage Door?
Once you've decided which garage door will best suit your home and budget, the next question to consider is installation.
When considering how much it costs to install a garage door, many homeowners wonder if they should try to tackle this project themselves. Often, home projects are much cheaper if homeowners choose the DIY route. They contemplate how much they could save by installing their garage door on their own.

While there are many instances when DIY is a good option, this is not one of them. First of all, this is a two-person job. Absolutely no one should try to complete it on their own. Second, installing a garage door requires advanced carpentry skills. Third, the installation also requires knowledge of residential electrical systems. And most importantly, all spring systems are potentially dangerous to install if you haven't received the required training and certifications – always contact a garage door professional for help.
While some homeowners possess these skills, it is highly recommended that a professional complete the garage door installation. The homeowner is probably making a significant investment in their new garage door. This makes it essential to install it correctly. A professional will ensure the door is installed properly and functions optimally, to avoid future damage. Inexperienced homeowners may not realize a door is unbalanced or has other issues and will pay for this error in repair bills down the line.
Allowing a professional to install the garage door also saves time. While a homeowner typically needs nine hours or more to complete the installation, a professional can do it in about three hours. Why spend more than a day's work on a project that you may or may not get right?
For homeowners in the Chicago suburbs, the weather is also a factor. If you are purchasing a garage door in the winter, it is well worth the cost to avoid a day or more out in the elements.
While installing a garage door may seem like a home improvement project right up your alley, having a professional install your door is highly recommended. A professional install will not only save you time, but also save money by avoiding future repairs from an improper installation.
Is a New Garage Door Worth the Investment?
As you consider installation costs and various options that affect the price, you may wonder if a new garage door is worth the investment. Here are a few quick facts to help you decide:
A Garage door replacement offers an average of 91.5 percent return on investment.
Remodeling Magazine reports that a new garage door is among the most valuable home improvement projects you can complete.
A new garage door typically costs less than $2,000. This is an affordable option to improve your home when compared to other high-return projects such as kitchen and bathroom remodels.


This significant return on investment is created through increased home value and appeal. The new garage door:
Boosts curb appeal: Your garage door can either increase your home's curb appeal or detract from it. A tired door that is scratched, dented and worn adds nothing to the attractiveness of your home. A door that does not match the overall style of the property also diminishes its exterior appeal. A new door that is designed to match the rest of the home can send the property's curb appeal through the roof.
Offers resale value: A large portion of the home's exterior is made up by the garage door. It is often the first thing a potential buyer sees when they visit your home. A new garage door that is designed to accentuate your property's architecture and style makes a great first impression. Your home's sharp exterior makes it more attractive to buyers, makes a sale more likely and helps increase the price buyers are willing to pay.
Saves energy: An insulated garage door can greatly reduce utility bills. Investing in high-quality insulation can produce savings that more than pay for the garage door over time.
Reduces noise: Older garage doors are often quite noisy. As parts wear out, the racket increases. New garage doors run smoothly and quietly. You'll enjoy quieter surroundings and fewer interruptions. This is particularly helpful if the garage is under a bedroom or nursery.
Protects the home: Modern garage doors offer solid construction and new security features that help protect the garage and home from the elements and intruders.
Adds convenience and appeal: Some homeowners use their garage for purposes other than vehicle storage. If you plan to use this space for a workshop, garden shed, man-cave, sitting room or other unique idea, a new garage door can enhance this space. Enjoy extra sunlight through new garage door windows and a comfortable environment created by insulation.


How Much Does It Cost to Install a Garage Door in the Naperville, Bolingbrook Area?
Project costs vary in different parts of the country. That's why it's important to find a local garage door installer to help you determine the exact costs for your area. As mentioned, many homeowners spend around $1,000 on their garage door, but this price is affected by the myriad factors discussed previously.
In the Chicago suburbs, homeowners can expect to pay between $700 and $1,100 for standard single-door installations.
If you are considering garage door installation, request a free estimate from A-All Style Garage Door for a quote tailored specifically for your project.


Why A-All Style Garage Door
Established in 1981, A-All Style Garage Door Co. is dedicated to offering the highest-quality garage doors and garage door openers at affordable rates. We consider it a privilege to serve the residents of Naperville, Bolingbrook and the surrounding Chicago suburbs with customer-centric methods and unparalleled products. Our service advantages include:
Local business: We are locally owned and family-operated and take personal pride in every aspect of our business.
Quality products: A-All Style Garage Door carries all models of Clopay Doors as well as LiftMasterTM electric operators.
Warranty: We offer a three-year warranty on repairs and installations.
Professional service: Our team is insured and can service all garage door brands.
Promotions: We offer cost-saving promotions and senior discounts.
References: More than 90 percent of our current work comes directly from referrals and repeat business.
Industry leaders: We proudly hold an A+ rating with the Better Business Bureau.
Full-service expertise: As garage door experts, A-All Style Garage Door Co. offers garage door repair, spring repair and replacement, garage door opener repair, emergency garage door repair, panel replacement, garage door roller repair and replacement and garage door cable repair and replacement.
Free estimates: We provide free estimates based on your exact needs.
Taking the Next Step
When you need help with the next step and would like a quote on to find out how much to install a new garage door for your home, contact A-All Style Garage Door. We will listen to your needs and help you determine the best garage door solution for your setting. Contact our team to receive your free quote and get started on transforming the look and appeal of your home!